Burj Al Arab
Whether you arrive by helicopter …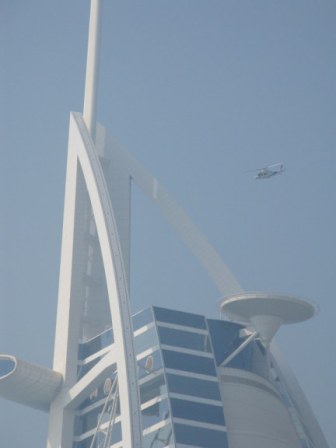 … to the helipad of Burj Al Arab…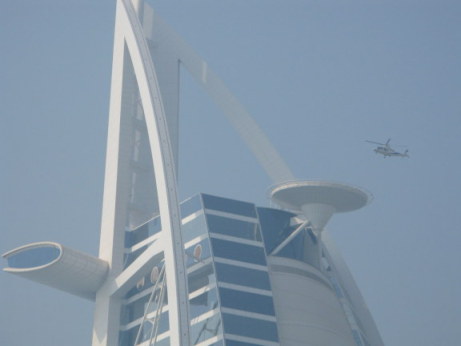 ..or by one of the hotel's Rolls Royce limousines,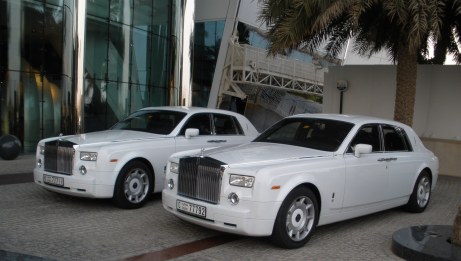 … drive yourself…like this person in a Mercedes-Benz SLR McLaren Coupé...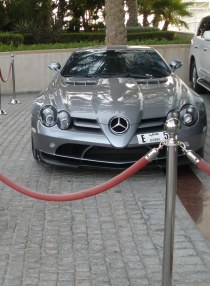 …or come on a golden camel…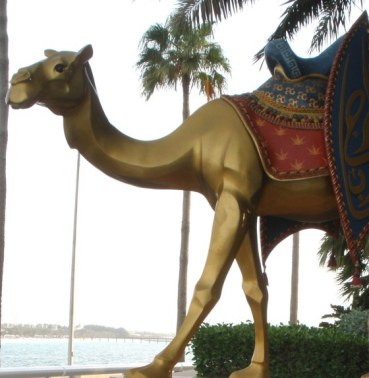 …the only way you can actually gain entrance to Burj Al Arab in Dubai is to be a hotel guest or have a printed document confirming your restaurant reservation.
Non-guests wanting to view the interior of Burj Al Arab can only do so from on the other side of the barriers.
The helipad of Burj Al Arab was made famous in the sporting world by the iconic images of Tiger Woods using it as a driving range before the Desert Classic in 2004 (images that appear to have been pulled after the subsequent scandal), and Roger Federer and Andre Agassi's friendly game.
Roger Federer and Andre Agassi tennis game on Burj Al Arab helipad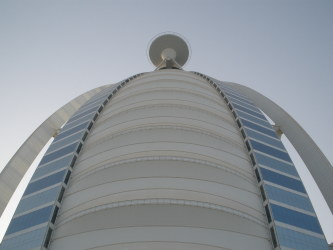 But we did have a reservation - for Afternoon Tea at the Burj Al Arab Sahn Eddar –the atrium Bar.
I had been working in Abu Dhabi and Doha over an 18 month period and on our last trip we decided to save up our Dinars and treat ourselves to something extravagant.
The commission to architect Tom Wright, was to develop an iconic symbol that would be immediately recognisable as Dubai. There is some controversy in that the concept was actually only developed by Wright from unsigned drawings from an earlier abridged contract in Dubai by the architect Carlos A. Ott. Nonetheless, the architects had many engineering challenges ahead of them in the construction and truly achieved well-earned fame for the results.
Designed to reflect the wind-filled sail of a dhow, the Burj Al Arab was built on a purpose built small island with interlocked blocks to protect against erosion. It took 3 years to build the island base with its honeycomb of protection – and less than that to afterwards build the hotel which sits upon it.
To hold the building in place without bedrock into which to secure the foundations, 230 forty metre long pipes were embedded into the sand - the friction of mud and sand creating stability.
The billowing sail of the building that rests between the two spans of the V-supporting structure is not glass, but consists of a two 7,500 square meter layered fibre-glass membranes which were installed vertically.
The surface is coated with a 3M German company's high-performance Teflon called Dyneon. As this doesn't allow any dust particles to settle on the surface, it minimizes maintenance in the desert fringe area of Dubai, keeping the gleaming whiteness of the outside while filtering to a milky quality the otherwise intensely glaring light inside.
An interesting problem in enclosing the interior was to avoid creating a cloud of condensation within. The solution was to cool the building during construction by incrementally reducing the inside temperature by half degrees each month with cold air nozzles that point down the 1 metre wide gap between the membranes, filling it with a cool air buffer against extreme temperatures outside.
Elegant from the outside and architecturally brilliant; inside, the Burj Al Arab appears to be a festival of excess. Oddly, after a while it starts to be appealing. It "grows on you". However, many still think the ambiance to be what a friend of mine used to call "Nouveau Gauche" (as distinct from the more traditional term: "Nouveau Riche").
Actually it is quite spectacular – as you can see.
Each floor is the equivalent of two floors high …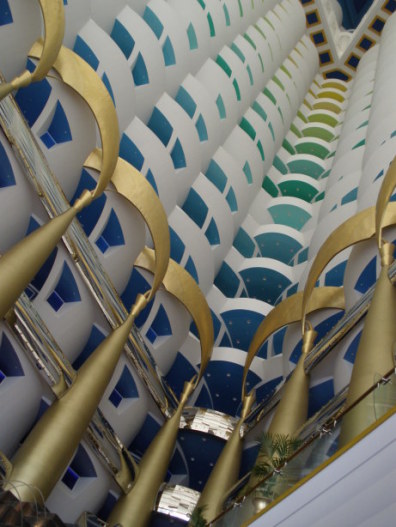 …rising to an apex at a height equal to that of a 60 story building.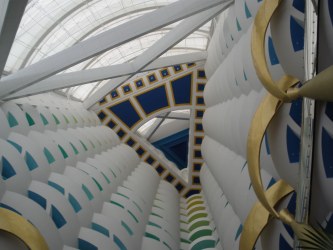 The afternoon tea at Burj Al Arab requires "Smart Casual" attire – and most people had made an effort to be somewhat smarter, befitting a hotel that bestowed seven stars upon itself.
We were suitably dressed, and as we took in the surroundings tried not to imitate these fish as they opened and shut their mouths at the guests.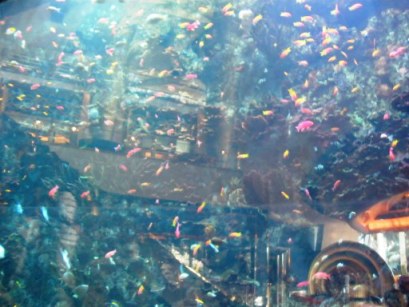 There are three aquariums inside Burj Al Arab. These, beside the escalator, are designed to be enjoyed by lobby visitors while at the same time providing a screen of ever-changing colour for diners on the other side.
The fish are all natives of the Persian Gulf - whose abundant sea life is showing signs of severe stress from industrial development, oil spillages and increasingly high water temperatures and salinity. One dreads to think that there is a risk that in the future, without careful marine protection, aquariums could become their sole habitat.
According to the World Wildlife Fund, a report of the Environmental Research and Wildlife Development Agency's Marine Environmental Research Center in 1996 and 1998 shows the extremity of temperature and salinity around fellow Emirate, Abu Dhabi:
"…surface water temperature … ranged from 20.6°C in winter to 35°C in summer, while salinity levels averaged between 400/00 and 450/00".
Good for a tourist who likes to swim in the sea at the temperature of a warm bath – but not for marine life.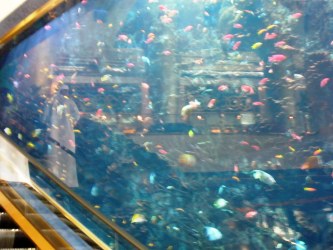 In the bottom right of the picture above you can see the arched entrance to the Al Mahara Restaurant which houses the largest of the aquariums.
Here the diner can be entertained (?) by sharks swimming in more than 1m litres (262,000 gallons) of filtered Gulf water.
The thought of a shark watching me dine - even though he is behind 18cm (7") thick-cast acrylic - is not my cup of tea, so we took the escalators past the smaller tanks to take our cups of tea in more serene surroundings.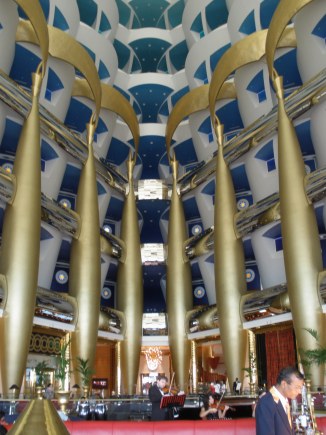 Here in the Sahn Eddar, musicians filled the 180 meters (590 ft) high atrium with classical music. This was the venue for the celebrated Afternoon Tea.
The silver plate holders started arriving - some in the shape of the billowing sail of Burj Al Arab, with various trimmings for the perfect cup of tea, and others laden with bite-sized sandwiches.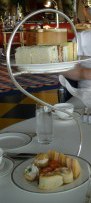 These were soon to be followed by a selection of cakes.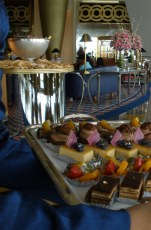 It is possible to opt for coffee instead of tea.
The silver handles of the coffee glass holder have small red padded covers so you don't burn your fingers.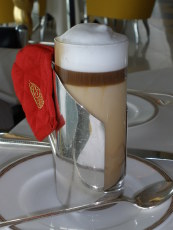 We found other uses for them – ranging from an imitation Red-Nose-Day-nose to eye patches – behaviour we found very entertaining - but that was probably quite beneath the expectations of the service staff.
However we adhered to the principle well quoted by Benjamin Franklin:
Wealth is not his that has it,
but his that enjoys it.
We were surrounded by 8,000 square meters of 22-carat gold leaf used in decorations of the building – like that of any of the 18 elevators…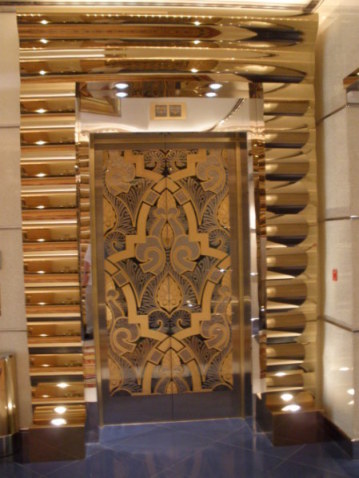 …and the chandeliers
…so I guess it should not have been surprising to receive a chocolate wrapped in edible silver that arrived at the table atop one of the cakes.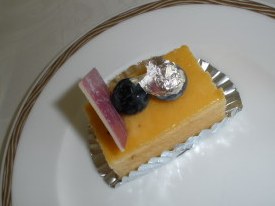 I am still alive, so it obviously was non-toxic!
Between courses we had mouth-watering sorbet…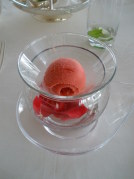 ..and finished with the tiniest taste of perfectly ripe fruit.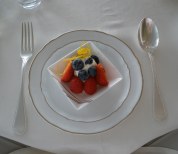 As we left, we paused to watch the fountains and to listen to the syncopated plopping sound of the water …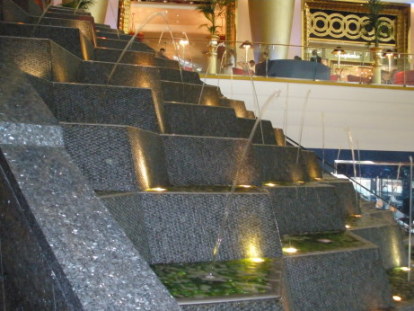 …making patterns not just of water, but of sound: quite captivating.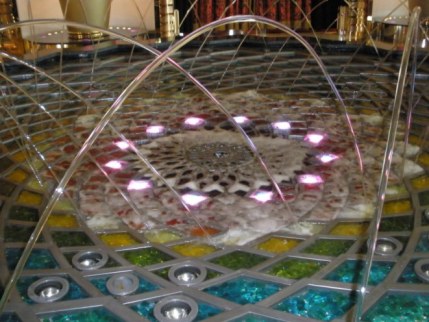 Even after the afternoon-tea there are things to delight. The guest panoramas are fantastic.
Across the water is the Jumeirah Beach Hotel, built like a wave in a sort of flattened "s" shape – by W.S. Atkins and Partners, the same architectural firm that created the Burj Al Arab.
In front, you can see Iftar tent for Ramadan which sits on the shoreline before the 19 more traditionally Arabian-styled beach villas of Beit Al Bahar.
I thought it interesting that the enormous electrical plant required for the air conditioning of this elegant building sits nearly half a kilometre away so as not to impede the fluidity of design with operational necessities.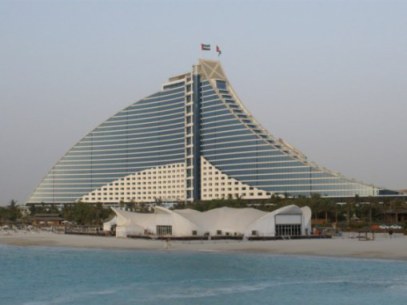 Beside it sits Wild Wadi Water World, the third of the Jumeirah Group's properties in Dubai.
Apart from adrenalin-pumping rides, several machines creating waves on which to practice your surfing, apparently there's a lot more serene water-based activity to enjoy there, including a water, sound and light show with a 60,000 litre flash flood creating an hourly waterfall.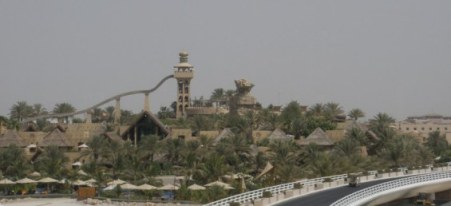 Burj Al Arab and its distinctive Dubai landmark partner properties seem to reflect the aspirations for the future of a region that knows that their current excessive wealth is based upon the non-renewable resources of oil and natural gas – and that another economic base needs to be established.
Burj Al Arab is an experience rather than a place.
As Wes Bentley said about the film 'American Beauty':
A reflection of an exact image
is the closest thing to you
so that you can see it -
but it's far enough away
so that you really understand it.
There is real life in this movie,
but it hovers just an inch above reality.