Madinat Jumeirah
Arriving at Madinat Jumeirah you are greeted by a colourful camel announcing the international position of the emirate of Dubai in the world.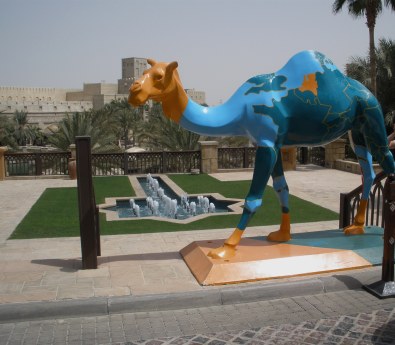 More than a shopping experience in the reconstructed old souk, an opportunity to stay in luxury, dine or meet friends in exotic bars, Madinat Jumeirah is a clever construction of what old Dubai could be – had it not been something quite different!
Madinet Jumeirah even has its own turtle sanctuary – and its visiting is like entering into a magic land of idealized Arabian delights.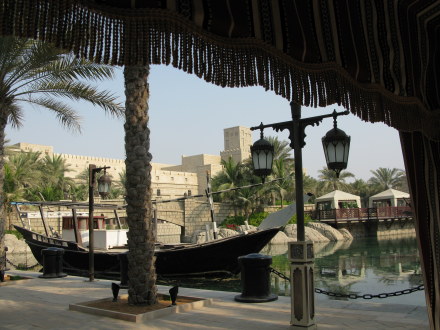 The resort has been designed to take advantage of its waterside location…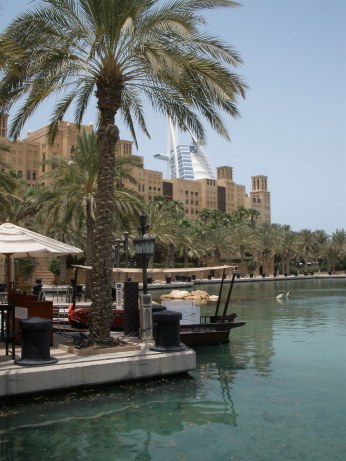 …with more than 5km (2.3miles) of waterways where traditional Emirati wooden ships are moored
The Madinat Jumeirah wooden ships are more decorative than functional, unlike those of nearby Dubai Creek, which range from small Abras or water taxis, to sturdy sea-going freighters.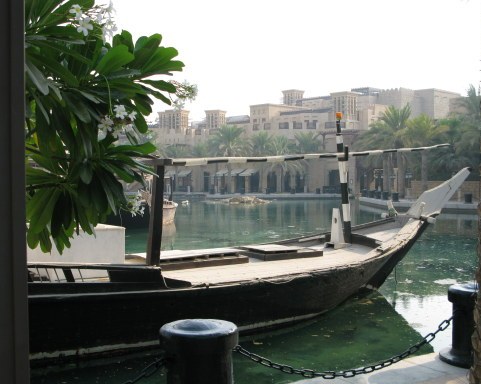 …complete with traditional wooden abras or water taxis (here electric powered) quietly moving people around the 40 acre complex.
There are luxurious hotels with marble floor gleaming coolly while outside the temperatures sizzle.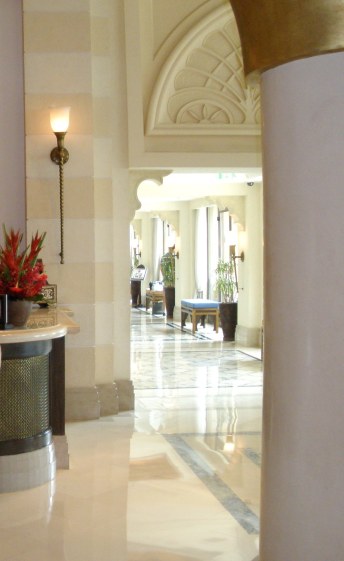 From Madinat Jumeirah there are stunning views towards Burj Al Arab.
The contrast of the reproduction of traditional architecture of Madinat Jumeirah and the landmark Burj Al Arab shape, reflecting a wind-filled dhow sail, seems to accentuate the apparent simplicity of each.
… the contrast of reproduction traditional architecture of Madinat Jumeirah…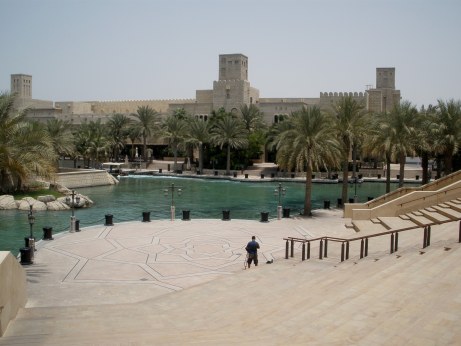 … and the landmark Burj Al Arab shape, reflecting a wind-filled dhow sail, seeming to accentuate the apparent simplicity of each…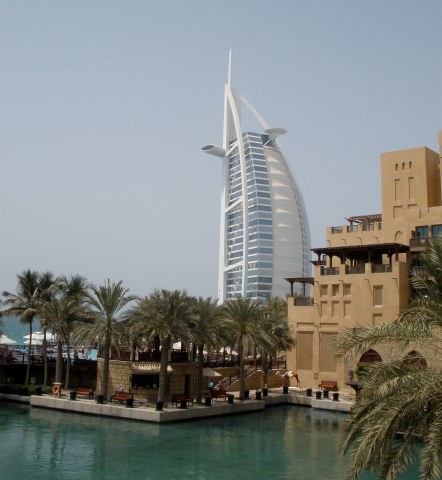 Recreated traditional wind towers jut high above Madinat Jumeirah, with the Burj Al Arab seeming almost to hover behind them, a contrast of reproduction ancient architecture and the best of modern.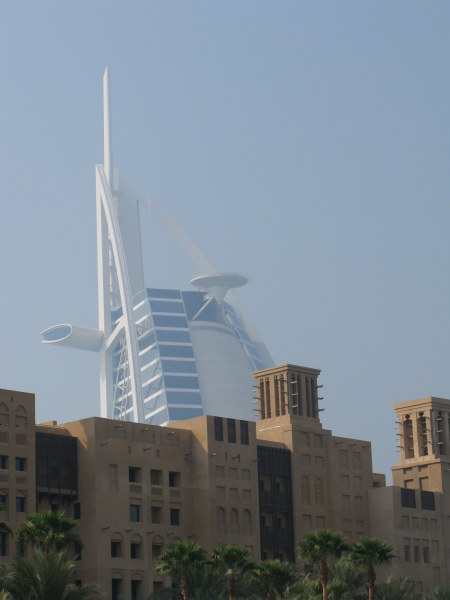 Fretwork over windows shades the extreme heat glare…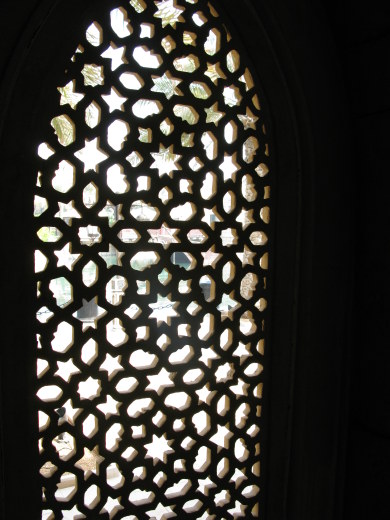 ..as do the wooden pergola verandahs.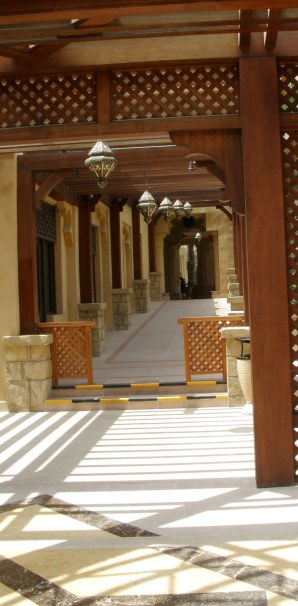 The arched lofty pathways of the Souk entice you in. Here it was Ramadan and a Friday during prayer time. With Friday being the Holy Day – equivalent to a Christian Sunday – this meant double quietness!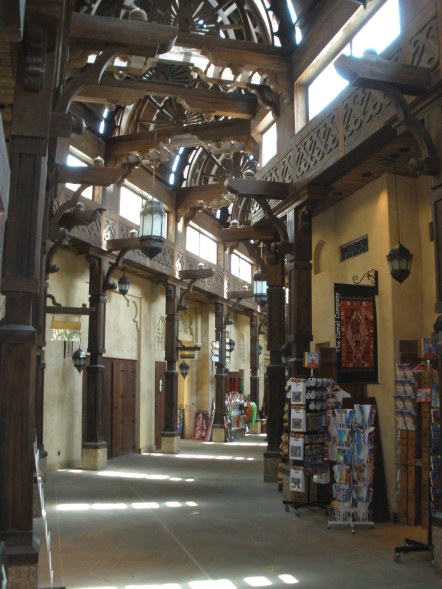 Madinat Jumeirah is exotic at every turn, from its lofty glass domes…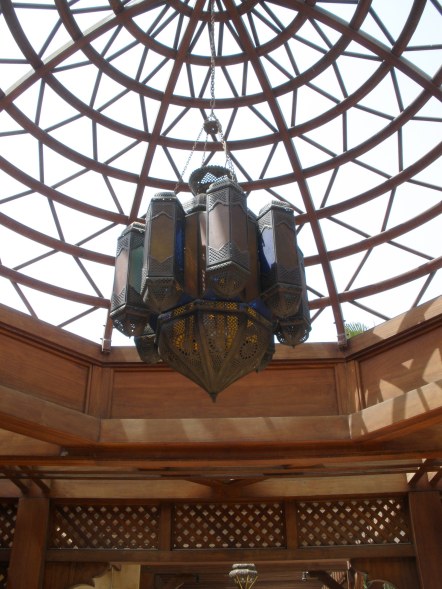 …heavily patterned and decorated arches and domes…
…to the beautiful chandeliers.
The light in the Souk filters down in coolness…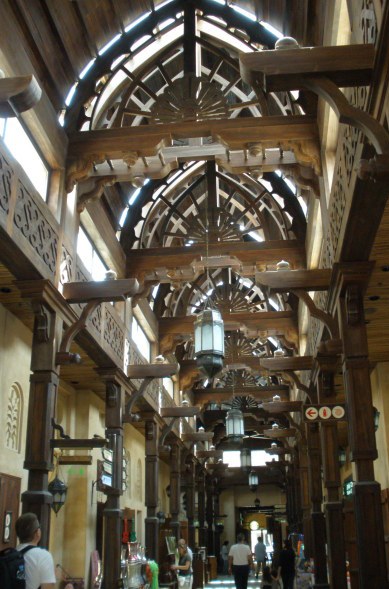 …and though it seems quiet – even then you might have to watch out for camels…
The Egyptians have a proverb that:
When a slave mounts a camel
he wants to ride on both humps at once
I hadn't previously coveted a camel, but found these soft toy versions appealing enough to invite one home.
If you get lost in Madinat Jumeirah, don't try using this reproduction of an ancient map in the ceiling to help you, for it maps an earlier Dubai Creek than that which we now enjoy.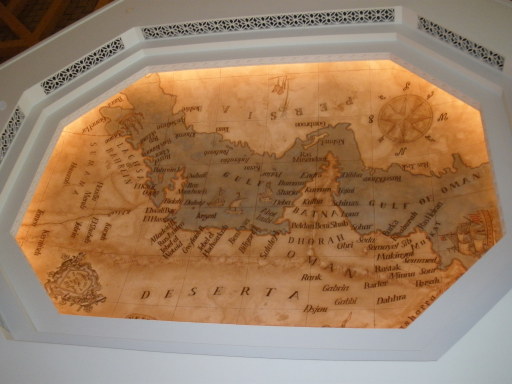 In Madinat Jumeirah there seem to be lots of entrances…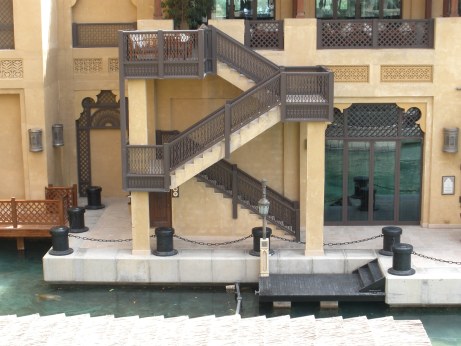 …outlooks …
…and quiet corners...
…where, like the birds, resting on their migratory flyway which passes over the Emirates…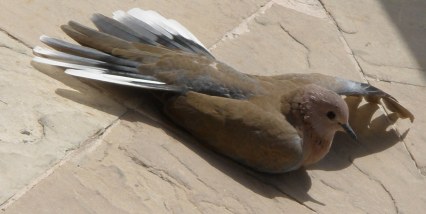 …you can bask in the sunshine - or better, take refreshments in the shade of one of the beautiful bars of Al Qasr.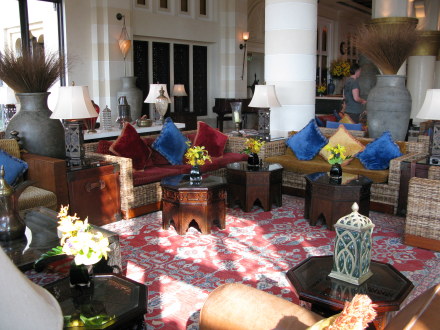 Madinat Jumeirah is a photographers delight – with patterns everywhere – even those of the palm frond shadows.
Whether you stay in the luxurious hotels of the complex, or just stop by for a shorter visit, Madinat Jumeirah will leave you with some wonderful imagery of an idealised Old Dubai.
As the writer Terry Brooks said of his own writing:
Fantasy is the only canvas large enough
for me to paint on.
I guess if you are a land which is suddenly transformed by incredible wealth when before the desert and its lore were all, you seek a big canvas on which to paint the fantasy of a life that may have existed only in dreams.