(For more New Orleans pages please scroll down)
Marathon New Orleans Style
For those who must run far, there is the New Orleans Mardi Gras Rock 'n' Roll Marathon – which actually takes place later in the year in winter when it is warm – rather than hot.
Emil Zátopek, the Czech three times Olympic Gold Medal marathon winner once said about his fellow athletes in this challenging race:
We are different, in essence, from other men.
If you want to win something, run 100 meters.
If you want to experience something, run a marathon.
Personally, I subscribe to a friend's theory that if you have to run, you left too late – but Emil Zátopek is right about it being an experience.
In New Orleans people of the same viewpoint as myself can also be seen enjoying that experience.
First come the Marathon stars – serious runners who come from many different continents to race here…
…then the aspiring challengers…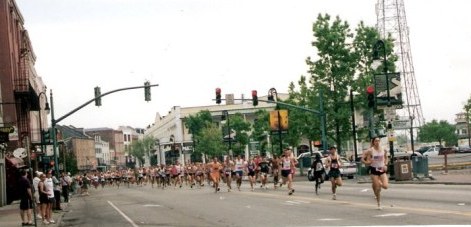 …followed by those sensible enough to know it is hot and humid – and a long distance – and set out accordingly.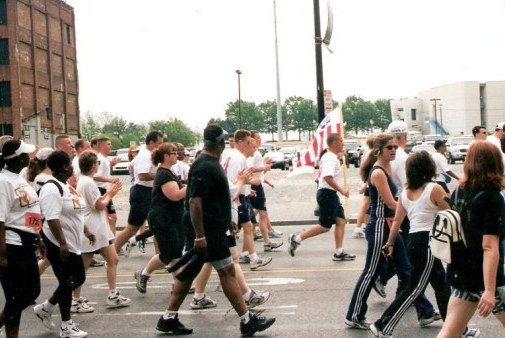 Runners come from around the world although the race is flat and relatively unchallenging.
It is sought after for its beautiful course – through the French Quarter, the Garden District and lovely Audubon Park - and to experience New Orleans sense of celebration of life ... and of course for the typically New Orleans Mardi Gras style event at the Superdome that celebrates the finish.
On the basis that all can participate in a festive event (typical of New Orleans – see my comment on the marching girls of Mardi Gras), there is a category specially for walkers, who set off with supplies, and the family dog…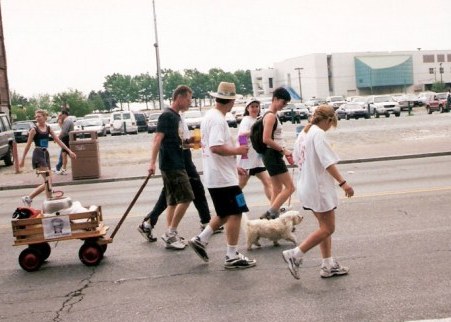 … the children in wagons – and they with their teddy bears.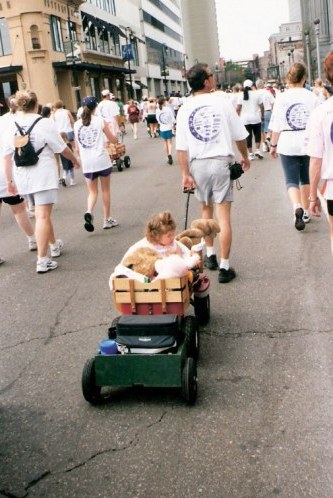 There are some great stories about runners.
During the Sydney Olympics, Kenyan-born Kip Lagat – who holds world records in 5000 metres road, 10 miles and 20,000 metres on road (but after emigrating to the Netherlands now runs under their flag), responded to the question so many have asked about why there are many outstanding Kenyan long-distance runners, by saying it was due to the road signs: "Beware of the Lions".
Joking aside, she also tells that before leaving Kenya, she was out training one night when she heard a noise behind her, and found herself being followed by a leopard.
I like this part. She was followed by a leopard.
A leopard can run at 40 mph (about 64kph).
How fast was she running?
At any rate she threw stones at it, and it departed.
Personally I think it was just embarrassed at being outrun.
I think the New Orleans attitude to a Marathon is indicative of their attitude to life:
Celebrate the champions – but experience it for yourself at your own pace.
Where else do you find a race category for walkers – and where everyone gets a medallion – just for finishing?
When I think of all that practice, I just like to ponder the thought someone once posed:
If you jog backwards, do you lose weight?
---
More Havana pages:


New Orleans Jazz Funeral

New Orleans Audubon Zoo

New Orleans Mardi Gras

New Orleans Krewe of Barkus

New Orleans Creole Mass

New Orleans The French Quarter

New Orleans Performers