Havana Angels
In the early 19th century, Havana was known as the Paris of the Antilles.
As you walk the streets, you note Havana angels abound. Each ahs her own characteristic and context.

One of the things about loving photography is that you view each structure through different frames, different angles to reveal something special. Yet each view seem original, striking, and beautiful.
The Gran Teatro and her angels set back behind these lovely gates and frameed by colonnaded walkways are a good illustration.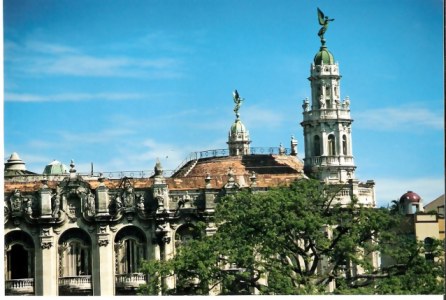 Havan These angels appear to be always guarding you.
From every perspective they look slightly different, whether through a balcony window frame, or looking upwards at one of them through palm fronds
This Havana angel is herself being watched - by a bronze man, from the steps of El Capitolio.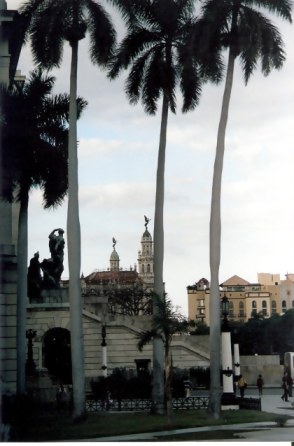 Again she appears behind a column in the square beneath.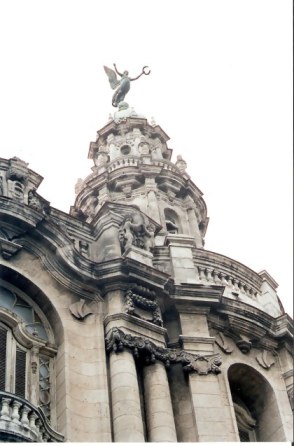 I never tire of the re-framing of something so lovely. Here with the Cuban flag flying…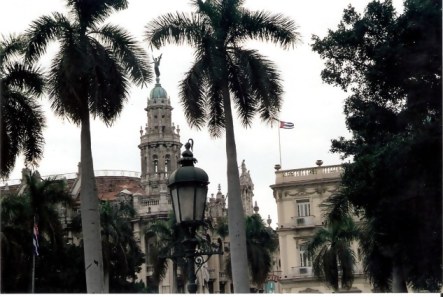 ..and again from behind the façade of the Gran Teatro with its marble statues, including four by the master sculptor Giuseppe Moretti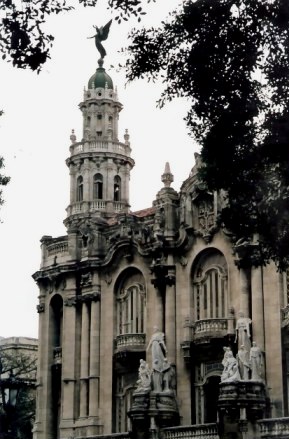 The Grand Theatre is one of the largest opera houses in the world, with seating for 1500 people. It holds memories of many famous performers: Arthur Rubinstein and Serguei Rachmaninov, Enrico Caruso, Anna Pavlova - and at the end of the 1870s, Sarah Bernhardt at the time of her infatuation with the legendary Spanish bullfighter, Mazzantini, slayer of over 3000 bulls.
As I look up at the angel from below and think of these famous people, it is Mazzantini whom I find the most fascinating.
There was an old Cuban saying to illustrate that someone was strong: he would be said to be "as strong as the bullfighter Mazzantini".
To me, that means more than having the physical daring that he had in becoming a bullfighter of legendary character and charism from an aristocratic upbringing.
It also means in having strength of mind beyond the bull ring.
On his way to stand as a candidate for Madrid in the Chamber of Deputies Mazzantini said he did not understand Americans and their horror of the bullfight. He said it was much less brutal than prize-fighting, and could never compare with the brutality of the Russo-Japanese War.
He went on to suggest that instead of organising societies for the prevention of cruelty to animals, they would do better to organise societies for the prevention of cruelty to men.
He has a very good point but I am not sure that the bulls would agree.
Mazzantini later became Deputy Mayor of Madrid, a Member of the Provincial Government, and Civil Governor of Guadalajara and Avila.
All this I discovered in learning about the angels of Havana.
---
More Havana pages:

Havana Capitol Building

Havana Creative Transportation

Havana Classic Cars

Havana Political Demonstration

Havana Fish and Philosophy

Havana Street Water-Skiing

Havana Grandeur

Havana Back Street Rambles

Havana Agricultural Fair

Havana The Art of Dominoes


Back to Main Page