New Orleans Performers
(For more New Orleans pages please scroll down)


Whatever ails your heart, I have a remedy:
Go to New Orleans and immerse yourself there.
Nido Qubein, a very charming man, Founder and Chairman Emeritus of the National Speakers Association Foundation and winner of the Ellis Island Medal of Honour, has been quoted as saying:
Wherever you are,
whatever your circumstances may be,
whatever misfortune you may have suffered,
the music of your life has not gone.
It's inside you
if you listen to it, you can play it.
Sometimes – being surrounded by the music of others helps you find the song in your own heart that may have been tucked away within you – kept safely for the time to remember it.
When I say music, I mean that in a metaphorical sense, relating to the lost song of your youth when all things were possible and days were sweet with the enjoyment of just 'being' somewhere, as well as meaning actual music you can hear.
Armstrong Park celebrates Louis Armstrong, who came from the Tremé (pronounced Tre-may) neighbourhood as a poor child to become a world-wide jazz music icon, and New Orleans's most famous son.
Tremé has produced many fine musicians, including those of many New Orleans Brass Bands. It is now the feature of a compelling HBO TV series of the same name.
This much photographed arch is a sort of symbolic gateway – but the performers of New Orleans are more widely to be found… and not just within the many music bars and restaurants.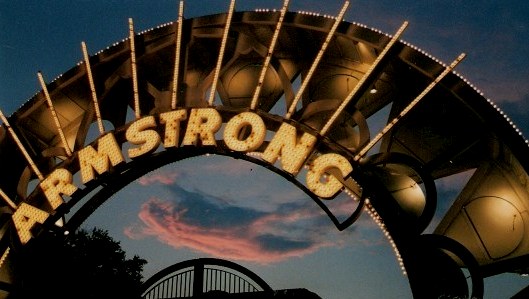 Don't stay on Bourbon Street and think you've seen the French Quarter or that you have experienced New Orleans .
There is far more to the city than what you can see there.
It might be at one of the many festivals with their outside stages, like this one with another of the Tremé sons, Kermit Ruffins, performing with the Barbeque Swingers – his jazz quintet.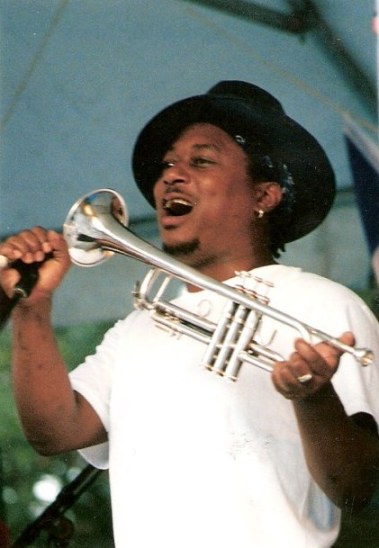 This is raw New Orleans music: Livin' a Treme Life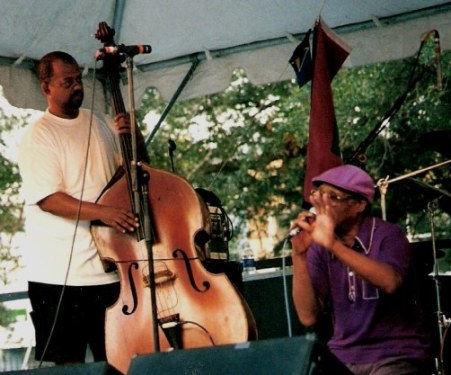 The band is named for the frequency with which a barbeque accompanies Kermit's performances, and a New Orleans Barbeque is something done on grand scale.
We were Kermit regulars. The sound is contagious – and Kermit has a totally New Orleans "How d'ya like me so far" type of attitude that says: This is me. Take me as you find me.
Kermit can be seen at Vaughans on Thursday night. Take a cab and get there in time for some bar-b-q. I hear from friends it is even better attended than before Katrina.
You can cool off after dancing by perching on the window ledges outside – where my friends and I were once recruited to dance for a video Kermit was making – he singing on the bar and we dancing below him. It was my birthday and the first time I ever drank good vodka over ice. The rest is self-explanatory – great dancing – clear head the next day (by some miracle).
Vaughans– that marvelous bar where I never went before 1:30a.m. at the earliest – usually after dancing at the Rockin Bowl.
New Orleans music is not all jazz - and a walk down Frenchman's Street was always something that consolidated that fact – for you could walk along from bar to bar, your drink in a plastic "go cup", and hear a wide range of music styles.
Where in the world would you find a music venue inside a Bowling Alley?
Where in the world would you find a Laundromat, Pool Hall and Bar all together?
New Orleans of course.
The first is the Rockin Bowl and the second is Lucky's Bar, Grill and Laundromat. Both great places to experience – not just to go to!
The Rockin Bowl on South Carrollton is another cab ride away and its re-opening was a symbol of the spirit of New Orleans following Hurricane Katrina. Fortunately most of it is on the first floor (second floor, if you are American – or to clarify - the first floor above the ground!)- so much of it was saved from the floodwaters.
When it re-opened, the city was in total disarray and in darkness all the way to the waterfront from Carrollton– even on the Interstate Highway that runs beside it.
A special license had to be sought to allow it to open – with special arrangements.
That night, when a lone neon Bowling Pin illuminated the night of a tattered and torn section of town – over seven hundred people came to show their defiance of the odds and to hear music and dance.
Here is the story. It is worth reading (Scroll down with the arrow at the right of the text):
I used to go there to dance zydeco – which somehow just seemed to adopt me as a dance – as much as I did it.
Rockin Dopsie Jr and the Zydeco Twisters were always a favourite. When they performed Dopsie Jr used to roam about at the doors welcoming people – and a very acceptable sight he and his brothers are as a welcome – as any woman can see.
I guess you have to be fit to perform like this:
Rockin Dopsie Jr & Zydeco Twisters
Speaking of barbeque - I remember many nights at Donna's Bar and Grill on Rampart- not far from the Armstrong arch – closed for a year and reopened in 2011.
I was a Monday night regular and used to go there alone to stand in a back corner and listen to the amazing performances – often with talent form all over the world performing with Bob French & The Tuxedo Jazz Band (I always loved watching the bass – my favourite bass player!)
By the way – Bob French lost everything but his two sets of drums in Hurricane Katrina so if you buy CD it would help!
Apart from the performers in bars – there is often some sort of magic happening on the streets of New Orleans as well.
There are always festivals and parades of some sort happening.
When I first went there I used to think the police sirens were indicating something of a dangerous nature – but then I realized that they were indicating something of a festive nature instead.
It might be that you are sipping a drink in the French Quarter and a spontaneous parade passes by, like this one celebrating something, that appeared - and disappeared almost as quickly!
Some people just listen to music with their ears. I listen with my whole body and that does not mean just toe-tapping - so I always had to secure a small corner of my own where I could "listen" accordingly.
It was a great deal: $15 entry which included some of the best music and musicians – as visiting performers used to come there and form spontaneous new sounds together, and the house band was fabulous – and at the break between sets – Charlie's famous BBQ chicken, red beans and rice. What memories.
I used to think it was a special place. Go there and see for yourself how the new place is going – sadly without Charlie's cooking.
Classical music also thrives in New Orleans.
The Louisiana Philharmonic Orchestra is the only musician owned and operated orchestra in the USA – and guess what? Quite apart from their exceptional performances over 21 seasons, the Louisiana Philharmonic is one of the few that is profitable.
Get a taste of their talent with these short Podcasts and talks with Musical Director Carlos Miguel Prieto.
Louisiana Philharmonic Podcasts
Celebration seems to be everywhere in New Orleans – and hearty celebrators are the Irish and Italians, whose previously separate parades are now one .
March 17th is St. Patrick's day – and also the Italian National Day – resulting an a sort of excess of charm.
Given the two nationalities, a girl is bound to be kissed!
In former years, I met with friends for a Crawfish Boil between the two parades.
A Crawfish Boil is a typically Louisiana event with fresh-water-crayfish (lobsters) being cooked in a spicy Creole sauce…
..and eaten in the open air at tables with plenty of paper towels and a big hole in over the rubbish tin so you can throw the shells and heads down.
Crawfish boils are something of an institution in New Orleans, being held by all sorts of groups all through the summer.
Both Tulane University and The University of New Orleans hold Crawfests for students – Tulane in April and UNO at the end of Spring Semester.
The one for UNO is named in a way symbolic of the attitude of residents of a city not called "The Big Easy" for nothing:
Students Unwinding on Crawfish
and Unprecedented Fun
S.U.C.A.U.F.
Say it out loud - and that is basically how you eat the crawfish.
At a Crawfish Boil you just keep eating until you literally cannot face another crustacean.
As you can see, we are festooned only by green beads thrown by the Irish in the morning parade and not red hearts stuck on you by the Italians.
To the amusement of all standing by, later that afternoon as I watched the Italian parade, and amidst a wave of laughter - one such heart was strategically placed with infinite charm and ceremony on my left breast by a dark-eyed Italian Krewe member…but how could one complain?
There are other types of performances to capture your imagination.
From time to time the streets are closed off to traffic for street performers.
..which vary in their levels of creativity – here with marvelous harmonics from rubbing the rims of different shaped glasses to perform tunes familiar – and original.
You can be browsing in an antique shop and looking out of the window see a band.
Though you can step outside and listen…
…but somehow the view from inside creates a kaleidoscope of imagery that seems typical of this city of creativity.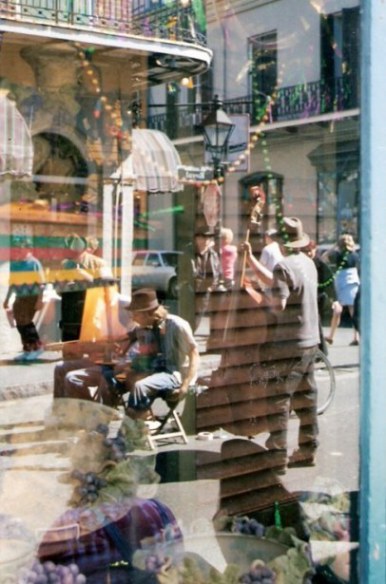 Further up on Jackson Square, where for more than 50 years artists have shown their work, there is usually some sort of performance going on – along with the Jackson Square All Stars...
…and maybe this presumably overheated imitation statue, standing still in the humid heat.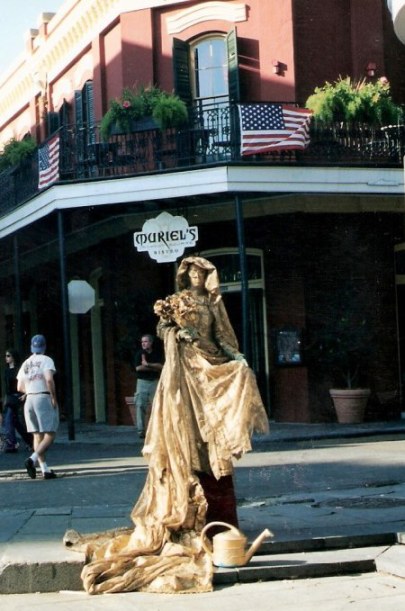 Sometimes a performance is just too much clowning around and a person needs a break…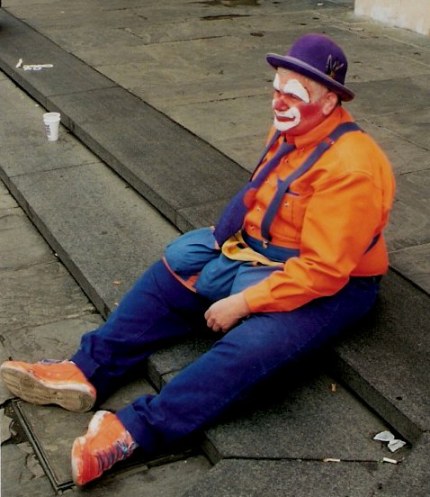 …and sometimes even Voodoo can leave you exhausted from its blessings.
These two are resting at a corner of St. Louis Cathedral.
It was this same corner that I was approaching on my homeward walk in the early hours of the morning when I heard the racing hoof beats of a galloping horse.
It was coming in my direction so I flattened against the cathedral walls.
Around the corner came a sprinting man and seconds later, the mounted policeman at full gallop.
Just another event in an eventful city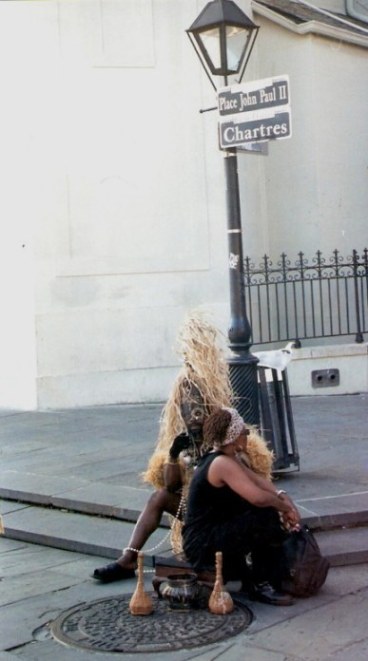 You can also be part of the performance of theatre-at-large in New Orleans.
This spontaneous face-painter was a master craftsman and hard to resist as I was scurrying along to meet friends.
When we talk about performers, we don't often think of a VW Beatle – unless it is Herbie, immortalized in the Disney films of the same name.
However, in the French Quarter you may be lucky enough to spot this beauty.
Created by Kelly Israel, this classic used often to be seen on the streets of the French Quarter.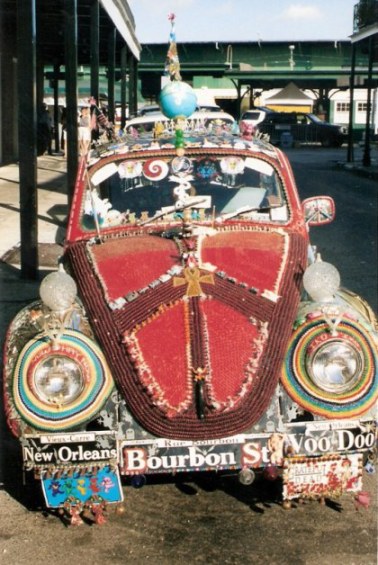 The designs combine slogans, beads and bits of this and that.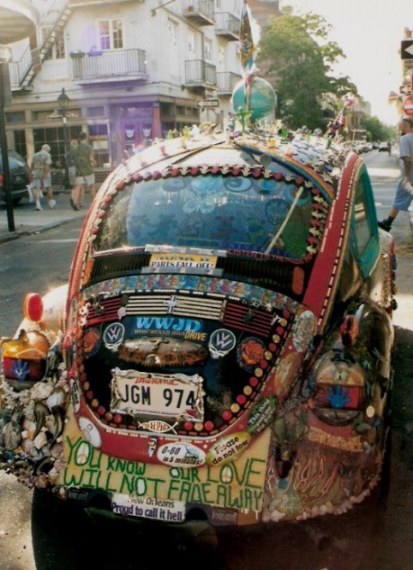 The decorations are modified from time to time.
On the side window, tiny little "letter beads" spell out this message:
If you like the art
Show sum heart
Do your part
Leave a donation
It's a start
This is my every-day car and any help you can give to keep this masterpiece on the road is gratefully appreciated.
Please slip donations through side window
The little triangular wind window is left ajar so you can "post" your donation – and who wouldn't?
There are other types of street performers always appearing – and this troop were brilliantly agile.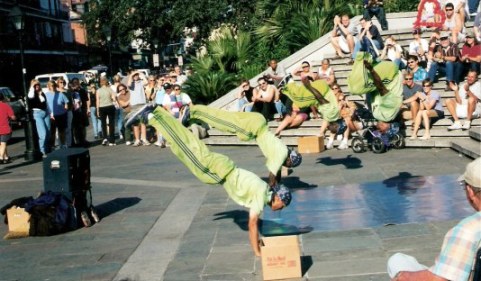 Their performance had split second timing that must have taken hours and hours of practice to perfection.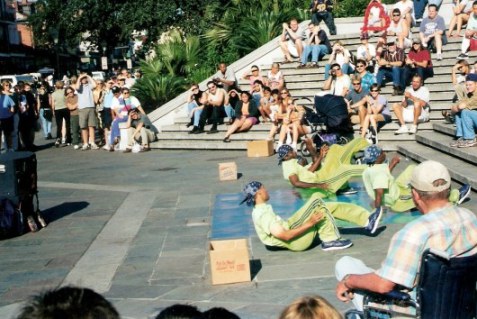 No matter what sort of performance you are looking for, whether it's JazzFest...
…or whether you are just looking for what's on tonight - check out the OFFBEAT guide to see what's on.
Started by Jan Ramsay, one of the many icons of an icon-filled city, it is the bible of what's happening in New Orleans.
OffBeat Guide to New Orleans events and music
We appreciate the music – but the reality is that for many New Orleans musicians, even those who are well known globally, life is a constant financial struggle.
Given the cost of private health care in the USA, many performers find themselves in a difficult position when they fall ill.
The Musicians Clinic is a project initiated by the profoundly humane medical doctor and highly accredited researcher Dr. Jack McConnel, who brought us Tylenol and was a pioneer of Magnetic Resonance Imaging, more commonly known as an MRI scan.
The Musicians Clinic was developed in conjunction with Johann and Bethany Bultman (two more New Orleans treasures) - and has been a significant benefit to the musicians and artists of New Orleans.
NBC News Report Musicians Clinic
Since 1998 the Musicians Clinic has been caring for the health needs of musicians who could not otherwise afford it.
This heightened with Hurricane Katrina, when so many lost their instruments, equipment, collections – and with visitor numbers falling off and a diminishing number of musicians returning to the city following the devastation – limited their working opportunities.
The Musicians Clinic was founded as a charitable foundation (enabling tax deductions for US taxpayers for their supporting donations) and it is now faces threats of closure.
It needs our help. Please donate – even just a few dollars will make a difference.
If every reader did so, we would all be paying a tribute to the music and character of a wonderful New Orleans heritage that we should cherish not just as bystanders – but by being involved.
Please consider a donation:
Another "helping others help those in need" project was started by New Orleans icon and generally lovely person, Dr. Stephen Heinrich.
As a paediatric orthopaedic surgeon at the New Orleans Children's hospital, he saw what a difference a cap signed by a sporting celerity made to a scared child who lost his hair as a result of chemotherapy treatment.
The subsequent charitable foundation he began, "Caps for Kids", has now reached over 100 US hospitals.
New Orleans has always had a mix of affluence and poverty – like most port cities.
On the edge of the French Quarter you can see still some of the derelict warehouses that used to line the river.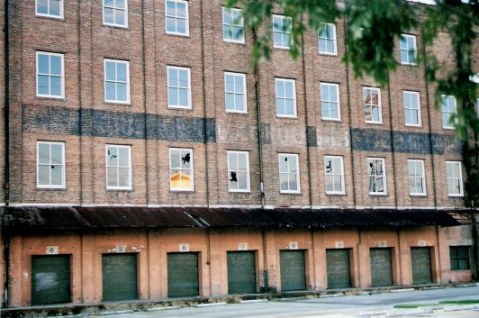 It is just such an empty building – blocking the river view which is now one of its key features – that one of New Orleans real "living treasures" saw as being an opportunity to redevelop as a center for creative arts – giving local young people an opportunity to train, learn, practice in their art and become the best that good tuition could foster.
So was born NOCCA – The New Orleans Centre for Creative Arts.
A catalyst who gathered other like-minded community leaders together to create NOCCA was Shirley Trust Corey, former head of the Arts Council New Orleans.
Amongst other things, under her direction, the Arts Council of New Orleans also tackled one of the eternal problems of the arts community – how to make art your business without sacrificing the key elements of your art.
The ensuing Arts Council of New Orleans "Arts Business Program" – run with a lot of relevance of content and networks and not so much money – won national recognition from the National Business Incubation Association in 1999 as "Business Incubator of the Year".
Shirley was also the inspiration and fund raising driver behind Louisiana ArtWorks in the Warehouse District, where you can visit, be inspired, see artists at work and take home some originals as your New Orleans treasure.
It's not easy having ideas that require millions to achieve their goal – and the way is fraught with obstacles, less-than-helpful commentary from the sidelines – and probably even moments of self-doubt.
So what drives these people who create the catalytic institutions of the future?
Shirley Trusty Corey comes from a teaching background and is driven by her belief that:
The arts must be considered an essential element of education.
They are tools for living reflectively, joyfully,
and with the ability to shape the future
I had the very great privilege to work with Shirley – and she is one of those people who inspires others to achieve the very best for their community – and like the others mentioned on these pages on New Orleans, she deserves our thanks.
Thanks - not just on behalf of the hundreds of students and artists that benefit from the new opportunities she and her dedicated teams opened up for them – but for the fact that these facilities – and others under her direction – feed the creativity we so much treasure in New Orleans.
It is hard to single out individuals who excel in New Orleans – or who have made generous and imaginative contributions to the city – for there is such a long list – just of those I had the benefit of coming to know.
Another is Irvin Mayfield – musician, composer, University Professor – and since 2003 a New Orleans Cultural Ambassador for New Orleans and the state of Louisiana - and ambassador he certainly is.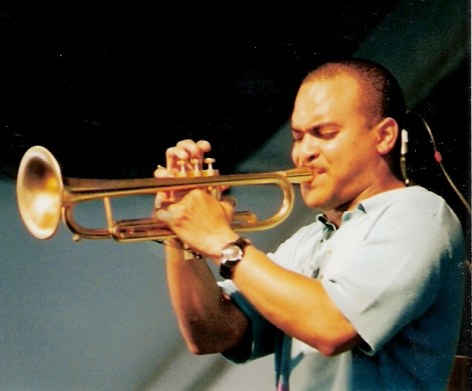 Irvin's band Los Hombres Caliente used to be regulars on Frenchman's Street.
Here is a link to their music: Los Hombres Calientes, Vol. 1
Irvin Mayfield's new club "Jazz Playhouse" at the Royal Sonesta Hotel is worth checking out to make sure you don't miss out on some fine performances.
If you want to check out the sound of the city, you can listen online to the New Orleans public-supported community radio station WWOZ. Here is the link:
You might even become a member yourself – most of the supporting membership is from outside of New Orleans - and a substantial number from other countries.
Performers need good food – and there is good food aplenty in a city that prides itself on its rightly famous cuisine. However there are some places that become as iconic as the performers that frequent it, and The Hummingbird Grill used to be just such a place.
You would be plowing through a sizeable breakfast with your friends and suddenly realise that the people at the next table were members of a famous band, in New Orleans to give a visiting performance.
Sadly no longer open, the Hummingbird Grill and hotel cum guest-house on St. Charles Avenue was something of a New Orleans institution.
It was sought out by those "in the know" for its authenticity, good food, low prices (3 eggs, a grilled pork chop, choice of grits, hash browns or rice, biscuits and coffee – for $7.50) and hearty staff.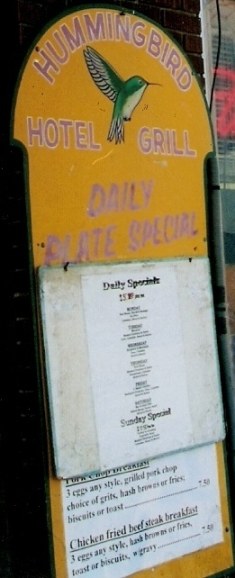 The more you read the "Discover Interesting Places" pages on New Orleans, the more you will have come to understand that New Orleans is a city where people get out there and contribute. They 'own' their city by such contributions.
One such is the typically New Orleans approach to addressing racism.
When I first arrived I was really impressed by this bumper sticker that I kept seeing on the rear bumper-bar of vehicles of every type and every price range:
The clever combination of words says it all.
Eracism: What is it?
It is a group of like-minded people who gather together at various coffee houses around New Orleans (and now on the web) to discuss issues from the press and air viewpoints on whether this is a racist issue or not - and discuss how it is perceived from the viewpoint of different cultural backgrounds.
It all started in 1993 when a white woman, Rhoda Faust and a black woman, Brenda Thompson, decided that there were too many hate-filled letters appearing in response to the Times-Picayune newspaper's series: "Together:Apart -the Myth of Race".
The two women met after an exchange of letters and decided that they had common views. They wanted to create some sort of symbol that proclaimed that from whichever background such hate-filled statements were made, they did not speak for the majority: the bumper sticker became that symbol.
The Erace members discussions are based on that word which we have almost lost in our English-speaking countries : Respect.
The person speaking is not to be interrupted while speaking. You can disagree with what is said but not be personal against the person saying it: All colors with love and respect is the byline to ERACISM.
This is a chance to stretch your perspective and challenge your own viewpoints.
My friend who had introduced me to Erace went as the Eracism representative to a forum at Tulane University, where various groups addressing racial issues made presentations of their work.
Following his overview, a student asked skeptically:
"You mean you just talk?
You don't DO anything?"
He replied:"Talk is a verb"
Eracism has grown from its New Orleans roots and now has new global membership.
You could also become part of the effort to ERACE racism. Here is the link to the website.
Louis Armstrong summarized his philosophy in the spoken introduction to his 1970 recording It's A Wonderful World:
"And all I'm saying is,
see what a wonderful world it would be
if only we would give it a chance.
Love, baby, love.
That's the secret.
Yeah."
---
More Havana pages