Porsche Days 2012
Note to participants: Please contact me if you would like to have copies of photos of your vehicle in high resolution at no charge- the selection is wider than here shown so even if your Porsche is not on the pages, I probably have a photo of it..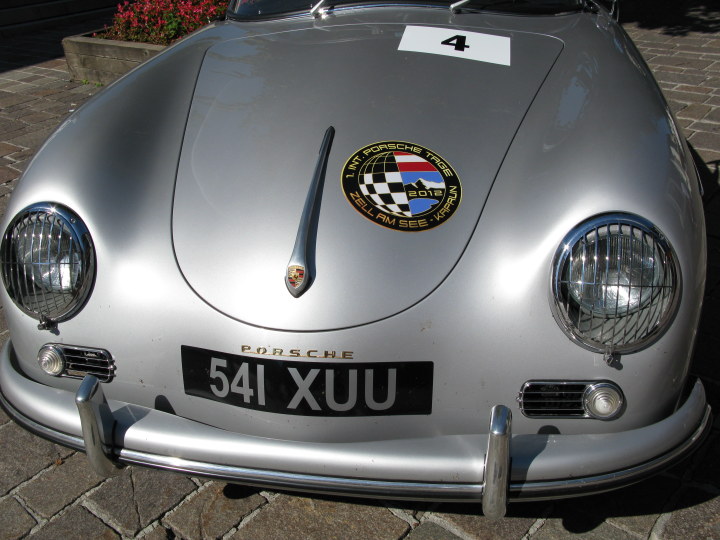 In gorgeous late summer weather in September 2012 an international array of Porsche vehicles started arriving in the beautiful Austrian city of Zell am See, hometown of the Porsche family.
Not all who visited were Porsche owners, and not all could even drive.
My traveling companion Balu, was developing his driving ambitions but there seemed to be Porches everywhere.
..and it was hard to work out where the actual event was, for not all the visiting Porsche cars were entered.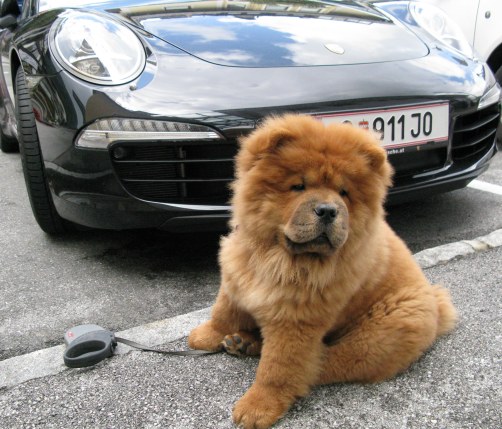 I was unsure of the location of the time trials and hailed an arriving Porsche driver, asking later if he would be so kind as to have his photo taken beside his German Porsche Cayenne since he had been kind enough to direct me.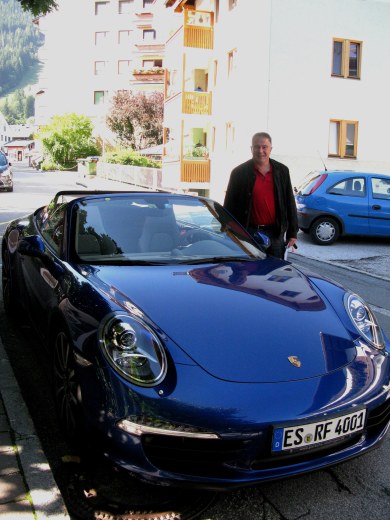 The vehicles I saw were from Austria, Germany, Italy, France, Switzerland, Belgium, Ireland, England and one bearing what looked like a US number plate from South Carolina. All the visiting Porsches participated in the 3 day event hosted jointly by Porsche and Bose. Apart from the social activities the events included time trials, a Concours d'Élégance, and a drive over the highest road in Austria – the Großglockner, the second highest peak of the Alps at 3,798 metres (12,460 feet).
At the Time Trials it was difficult not to take photos of every participant, and even more difficult to select the few for this page, so there is a general gallery page for those who like to savour great design and classic style over the Porsche eras.
It must have been rewarding for Dr Wolfgang Porsche when he arrived at the Porsche Congress Center in the main street of Zell am See …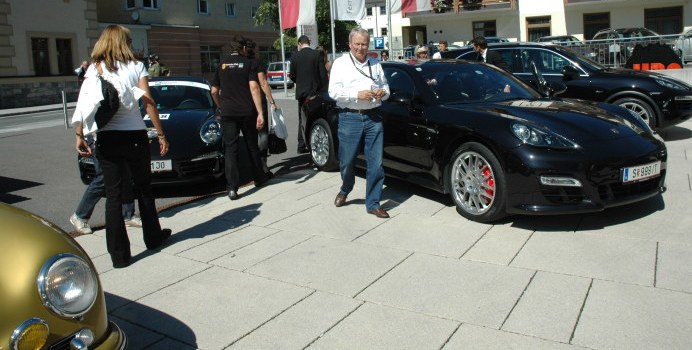 … to see the turn out of car club members from so many countries: people who respect the fine engineering and elegant style that has maintained Porsche as a distinctive vehicle in times of the increasing homogeneity of design of other brands.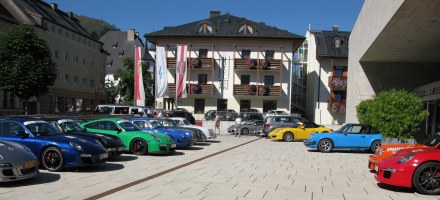 The Porsche 356 was to continue to be produced even two years after the introduction of the Porsche 911 in 1963.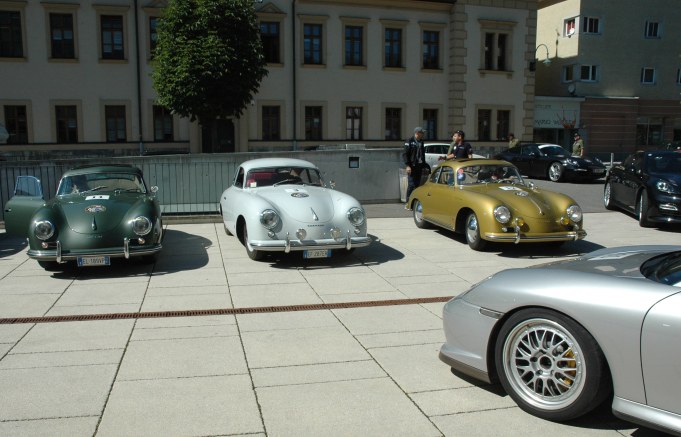 The Porsche 356 has a proud history of success in racing, including the 24 hours of Le Mans, the Targa Florio, Mille Miglia and the Carrera Panamericana.
Number 3 for the Anniversary Celebrations at Zell am See, was the Italian-owned Porsche 356, 1100 - of a limited production series in 1954. The 1100 series ended production mid 1954.
The Porsche 356 was heavily influenced by the design work of the Austrian Erwin Komenda, who had also had a great deal of input to the design of the VW Beetle. Komenda rose to become Chief Engineer for Daimler-Benz, his influence amongst other things reducing the Mercedes-Benz body weight.
Komenda left the security of this respected position to work with Ferdinand Porsche in the establishment of the Porsche Company, whose future at that time was uncharted territory.
The pleasing lines of the Porsche 356 stayed a hallmark of the company for 17 ensuing years.
The first of the lineage, like Number 3 here, are known as "Pre-A" and most have a steel Reutter body.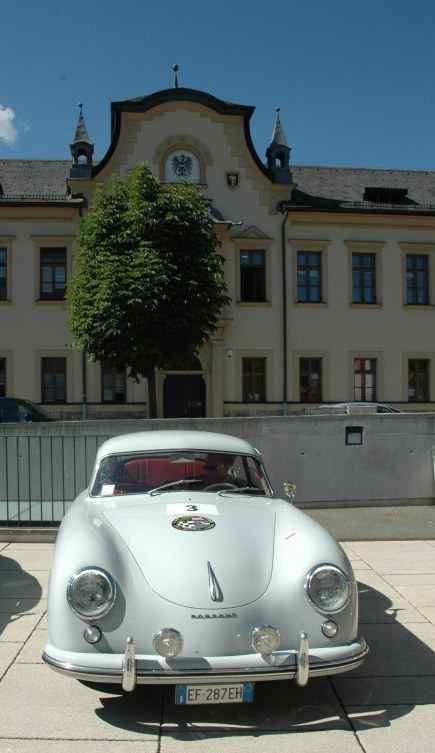 Sitting below the Ferry Porsche Congress Centre sat Number 4, equally fine.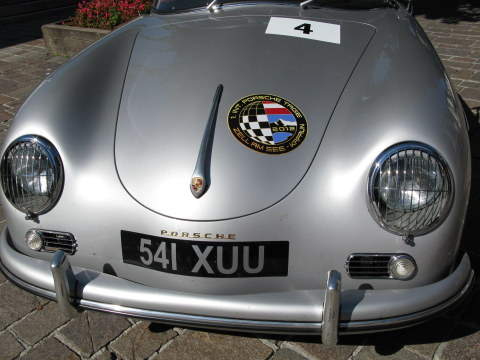 Back on the forecourt, Number 12 was also a Porsche 356.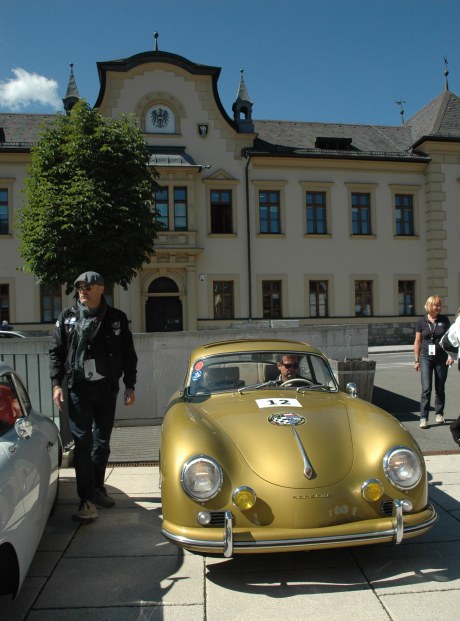 A classic of elegant design and functionality, by 1955 the Porsche 356 model included a Coupé, Cabriolet and a Speedster – the Convertible D, with a choice of 5 engine variants.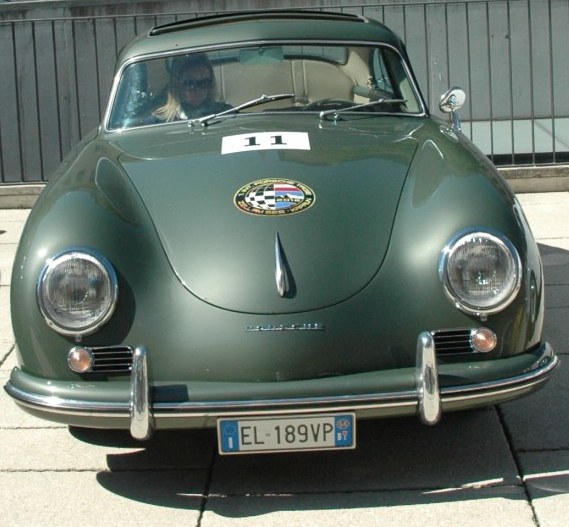 Another 356 sat below the main forecourt…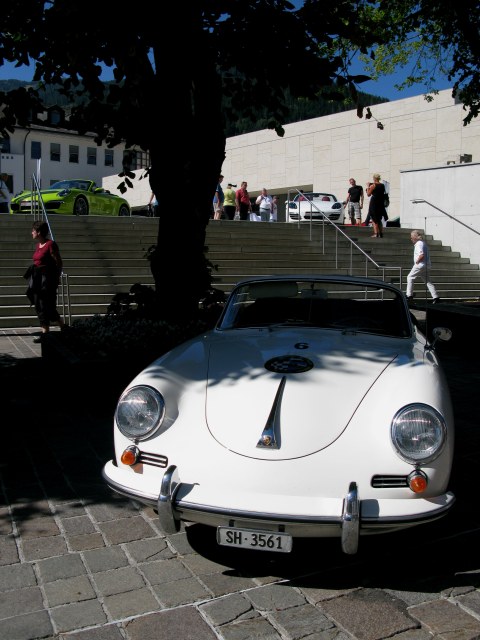 Family dynasties that create a product that become a world "Marque" do so through dogged perseverance to proven principles of integrity and attention to exquisite detail, elegance and innovation – and so it is with Porsche.
Dr Wolfgang Porsche was interviewed by several media representatives.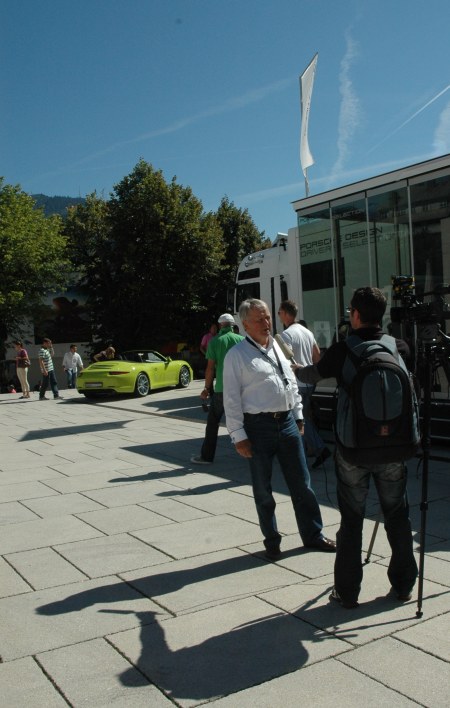 Like many of the chiefs of German industry Wolfgang Porsche understands in his genes the business on the Board of which he now chairs, not relying on MBA-type theoretical approaches, but knowing every aspect of the business, especially how the cars are engineered – and why.
Wolfgang Porsche has previously said that a Porsche 356 was his childhood playroom. He accompanied his father, Ferry Porsche many times from the family home at Zell am See across the Großglockner, the highest alpine road in Austria to the workshop in Gmünd, where it had been relocated to be out of range of World War II bombing raids.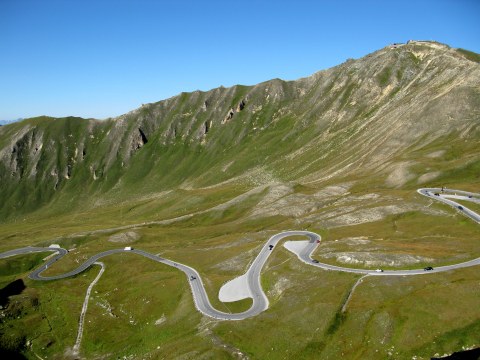 The Grossglockner has 92 turns and 14 hairpins over about 14.5 km (9 miles), climbing in that distance over 1,300 metres (4,265 feet) and since 1935 has been the site of a world famous Hill Climb which will be revived in 2012 with many classic vehicles taking part.
With roads like this as part of everyday life, it is little wonder that Porsche cars were designed with extremely good suspension and responsive handling. As Ferry Porsche once said when asked why the focus of Porsche was more on braking and handling than on acceleration:
It is better to go into a curve slowly and come out fast
than to go into it fast and come out dead
For a little boy from such a lineage, for Wolfgang Porsche to be car sick must have been a rough start!
This is obviously no longer a problem and the Wolfgang Porsche of today is a relaxed and natural man who chatted easily to the guests with no air of superiority.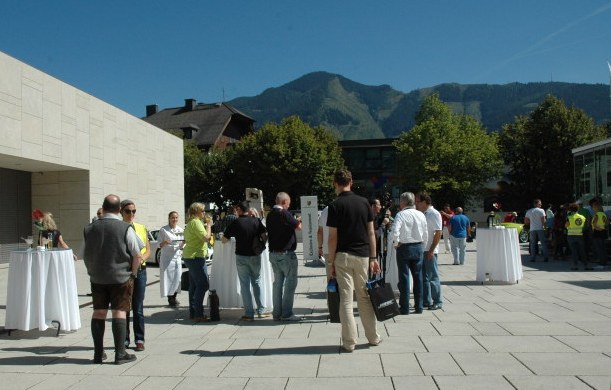 To mark the 60 years of Porsche Clubs, Porsche announced the launch of a very limited edition series of just 13 special models of the Porsche 911 Coupé.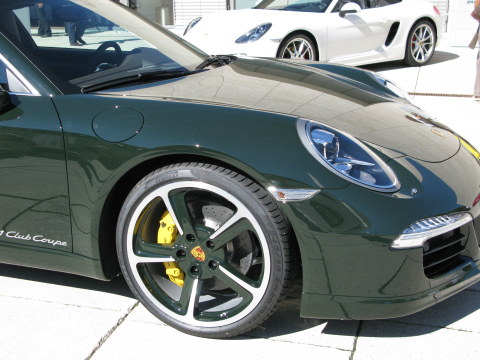 The number 13 reflects the fact that in 1952 in Germany 13 Porsche drivers founded the Porsche Clubs which have now grown to 640 world-wide.
In honour of this global loyalty, the ability to own one of the available 12 Porsche 911 Anniversary edition vehicles is through lottery, with entry limited to existing Porsche owners.
Some aspirants were photographed beside the display model of the series that will remain with the Porsche Museum in Stuttgart.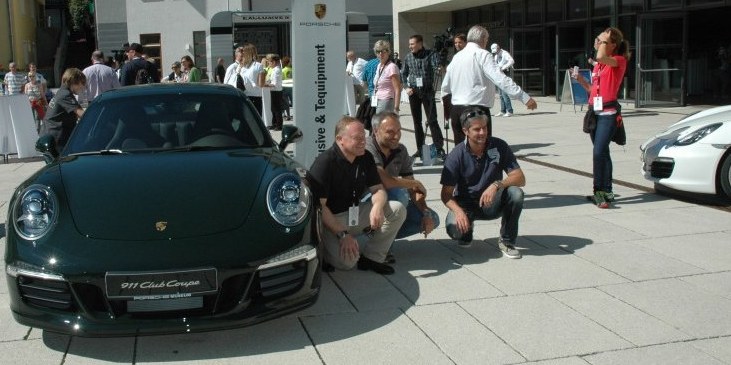 Presented in "Brewster Green" each anniversary edition Porsche 911 Coupé will have the owner's name embedded within the trim and the anniversary logo within illuminated door entry guards.
Balu was keen to be seen by such a rare vehicle. In the process of being photographed for this website, he was also photographed by the official photographer who caught his attention by making Donald Duck noises so the Chow Chow puppy sat like a model, turning his head quizzically for a pose with first this profile, and then that.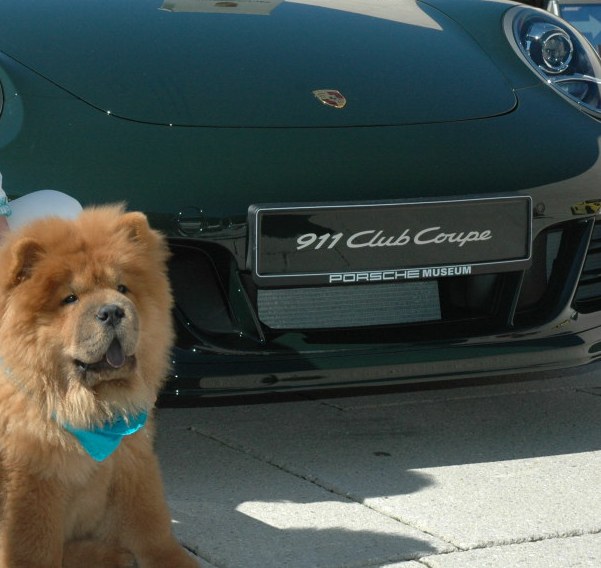 Porsche stands for fine design, and this is reflected, as are some of the visiting Porsche cars, in the design of the Ferry Porsche Congress Center that sits on the main street of Zell am See...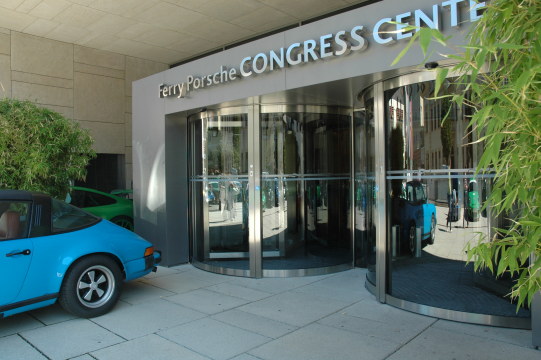 …where even the ventilation pipes for the underground parking garage are elegant.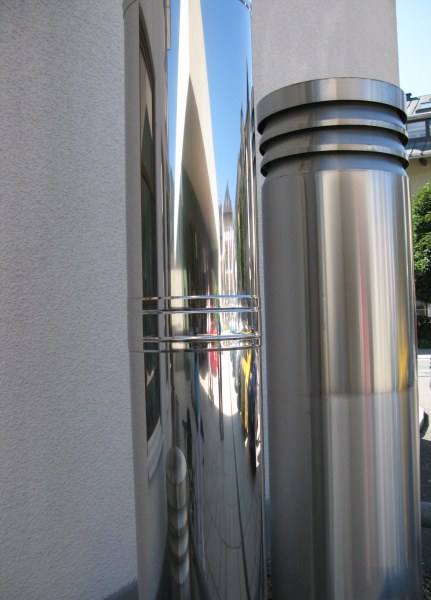 The array of Porsche models on the forecourt reflected the evolving style of one of the great automobile "marques".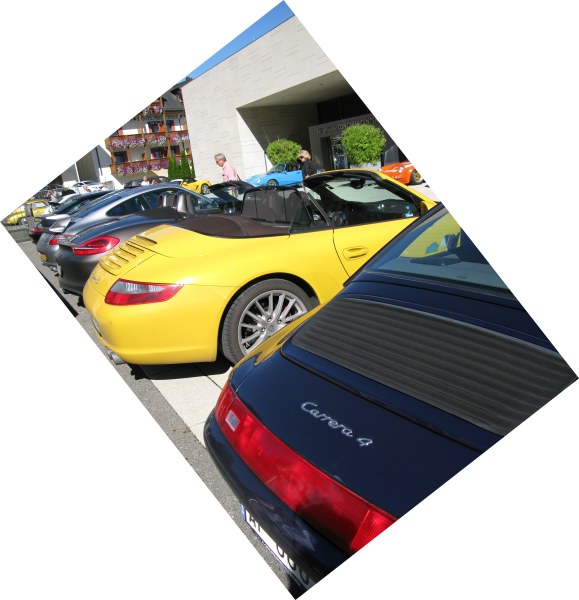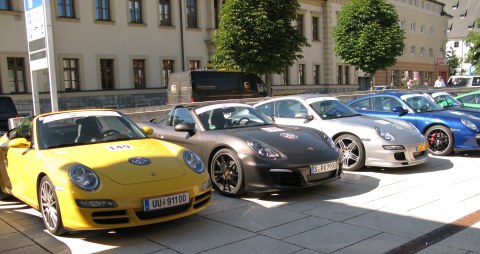 For the Porsche Days muster in Zell am See, the cars were numbered in order of age, the oldest being a Porsche 597 Jagdwagen loosely translated "Hunting car" that actually never reached production.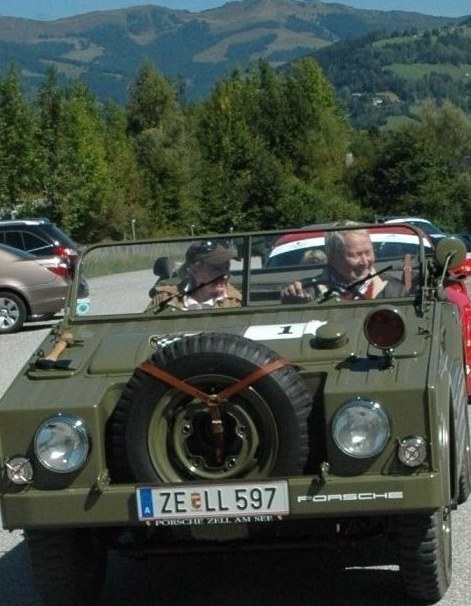 With speeds of up to 100kph, no doors or sills so it could be amphibious…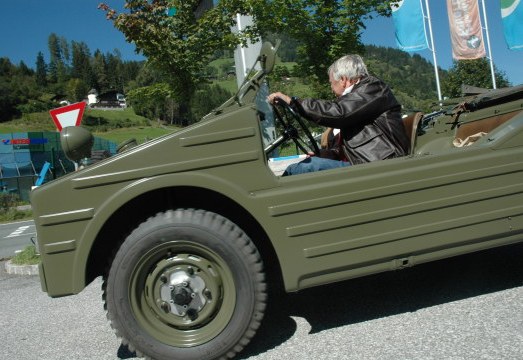 … and a short-wheel base enabling it to climb gradients of 65%, the Porsche 597 was designed to compete with the Land Rover and Jeep. It lost out during military purchase selection to faster in production and less expensive DKW vehicles and as a result, only 79 Porsche 597s were produced.
On the side court from the Porsche Congress Center sat the modern models. Here, directly from the Porsche stable in Stuttgart and travelling here within one transporter sat Porsche models in the German colours of black, red and yellow – and one in white.
Perhaps the white one was there as a metaphor for purity, for Porsche has never lost its distinctive and always recognisable features – even though outside design has evolved over the years.
As one of the Porsche advertising slogans goes:
Porsche: Power of Identity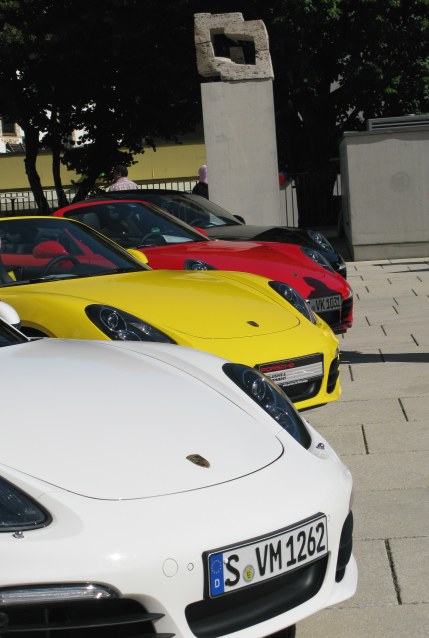 It seemed somehow fitting in the home city of the Porsche family that the street beneath the Porsche Congress Center should be filled with Porsches which had been marshaled here following the Time Trails.
It was a lovely way to incorporate the classic vehicles of many series into the everyday business of Zell am See.
It was a relaxed way for owners to discuss with other owners the design specifications of various models of Porsche and to share the proud history of racing success of each.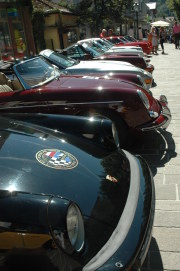 For the rest of us, those like myself who had come especially, as well as those for whom this wonderful array was a splendid surprise addition to their day, it was somehow extra special to wander amongst the classics …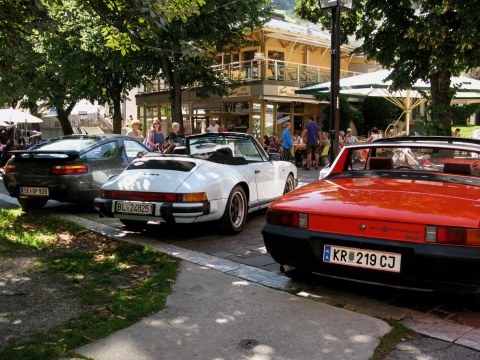 …and take a refreshment while watching others delight in the beautifully presented vehicles in the heartland of Porsche.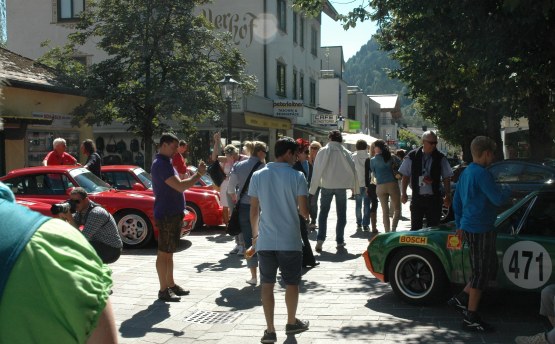 The elegance of each model was reflected here in two models parked side by side.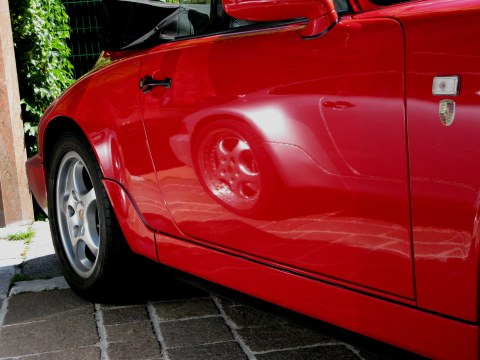 …and again a little further on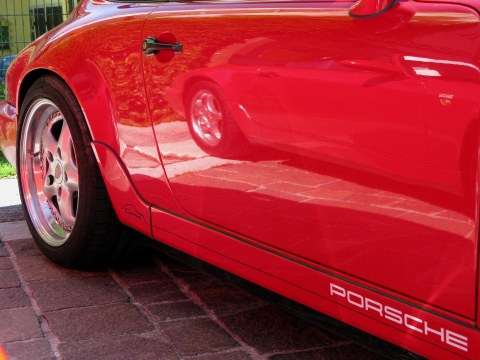 The Porsche 356 C series was produced up to 1963, although from my research it appeared that only one model was produced that year. The "C" has a top speed of 185kph(115mph) and accelerations from 0-60 in 11.2 seconds.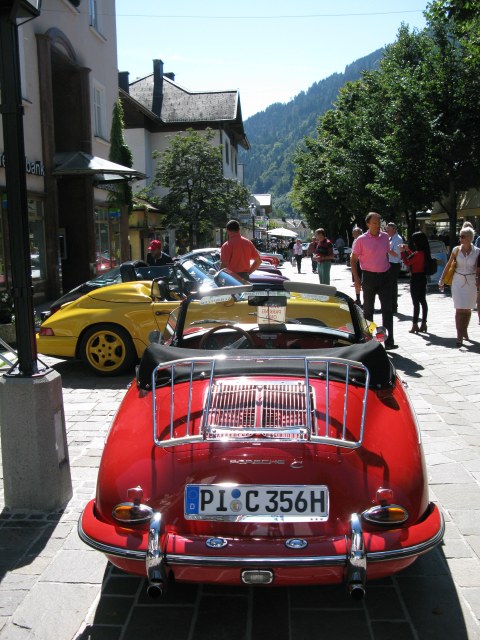 All that apart, it is a beautiful vehicle…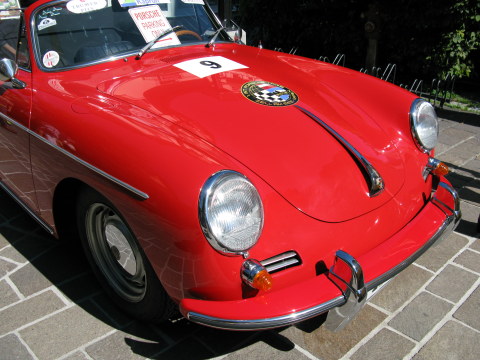 …and as with all the 356 series, the slender centre chrome carves the front lines with elegance.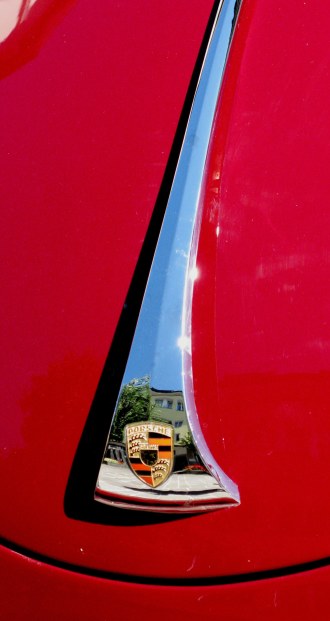 As Fred Schwab, former President and Chief Executive Officer of Porsche Cars North America said in 2001, the most important part of the car is the Porsche crest - for all that it represents.
"The tradition of excellence in engineering, innovation, and design; the skill and dedication of a small group of highly talented engineers, technicians, and drivers; and the toil and sacrifice put in by all of them to make Porsche the best….our customers purchase that Porsche crest and all the winning motor sport tradition and heritage it stands for."
In a day of corporate slick-speak about employees being important despite behaviour to the contrary, it's refreshing to see another German example of what are coming to be termed by other parts of the world as "old-fashioned" values. In fact such values never go out of fashion, and Porsche's market success demonstrates that they can go hand in hand with both high profitability and, as this anniversary of 60 years of Porsche Clubs demonstrates, of developing passionate brand loyalty.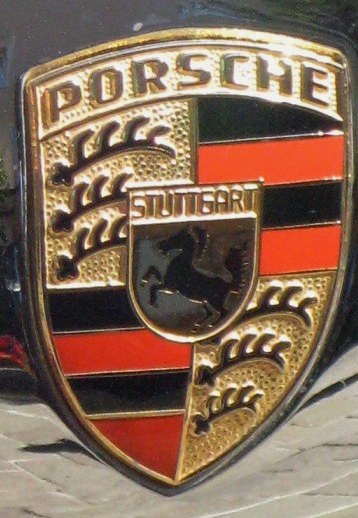 To quote another Porsche slogan, this means:
You get more performance with less of everything
For a little girl who grew up in Australia beside a big brother with a passion for classic cars, and whose dream of being in person at Silverstone and Brands Hatch came true in an unexpected fashion, this was a lovely way to celebrate my birthday.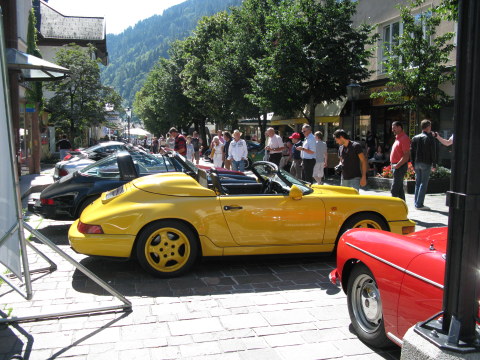 Just like the vehicles that bear the name Porsche, the Ferry Porsche Congress Center has been designed with the same attention to purpose, the smallest details of ease of functionality for an event centre having been designed into the final effect.
Certainly it's a fine place – and a topical one – for a conference or special event.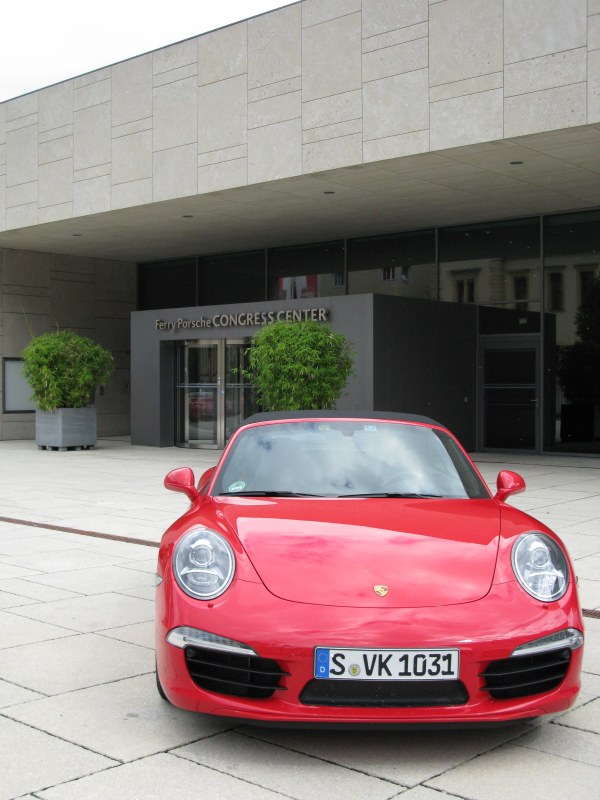 As branding consultant Alina Wheeler is quoted as saying:
Design is intelligence made visible
The Porsche Days 2012 in Zell am See brought together loyal Porsche Car Club enthusiasts, we who admire family values that build great companies, and those who love style made manifest to celebrate all that the remarkable three generations of the Porsche family have given us as legacy in automotive design.