(For more New Orleans pages please scroll down)
New Orleans Mardi Gras
Dog Parade
The Krewe of Barkus
When parades go to the dogs:
The Krewe of Barkus
In the 12 days leading up to the big New Orleans Mardi Gras Parade, there are many parades each day.
One of the most delightfully in 'N'awlins' is the New Orleans Mardi Gras Dog Parade. 
Wandering through the French Quarter is a 'tail of delight' for onlookers. I am not sure the dogs all agree – though they seem to enjoy the attention.
Naturally, the parade of the Krewe of Barkus starts with a band.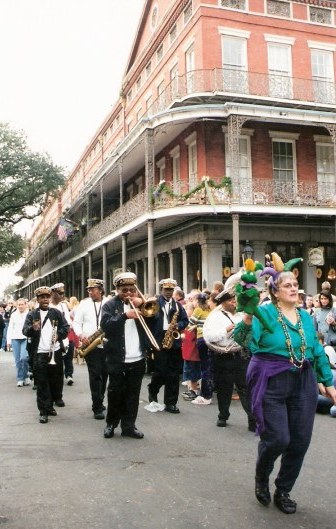 This is followed by an assortment of locals who have outdone themselves in their costuming of their furry friends.
Costumes range from those where dog costume matches those of young owners...
…through to the always popular fire-fighters…
…one, quite perky…
…but still retaining a sense of purpose as he marched briskly on.
There was also a traditional fire-engine 'spotted dog' - a pretend Dalmatian mounted on the front of a toy fire engine behind which sat as driver a hefty chap - half Rottweiler and half Labrador.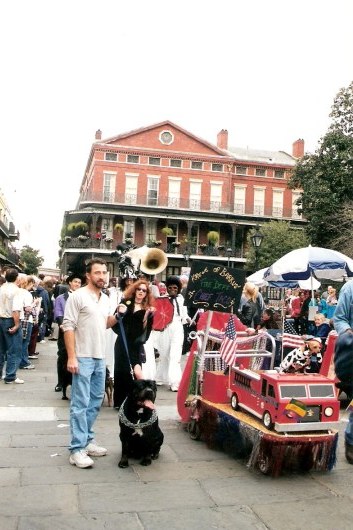 There were some unlikely looking rescue dogs.
I guess they could sniff people out of collapsed doll houses.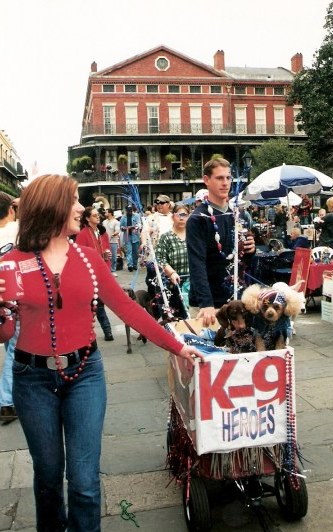 Others were obviously just party-dogs, bedecked with Mardi Gras coloured feathers...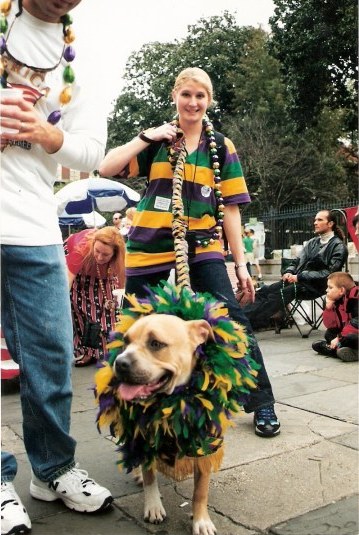 …and beads.
The  New Orleans Mardi Gras Dog Parade Krewe of Barkus is a patriotic event, with national icons…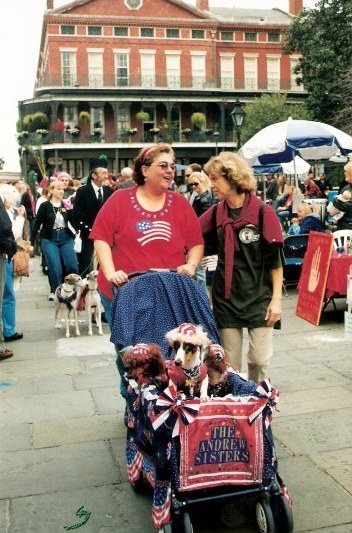 …and lots of red, white and blue…
…and stars and stripes…
…though some of it was more pink than red - maybe the colours ran in the wash.
Although this pink poodle seemed unabashed,  I thought of the question often posed, as to whether other dogs think poodles are members of a weird religious cult.
There was even a patriot leading the Nasdogs.
Who let the dogs out?
Krewe of Barkus
fancy dress excess and dignity

One went for a more formal approach.
He reminded me of the quote from Robert Benchley:
Dachshunds are ideal dogs for small children,
as they are already stretched and pulled to such a length
that the child cannot do much harm one way or the other.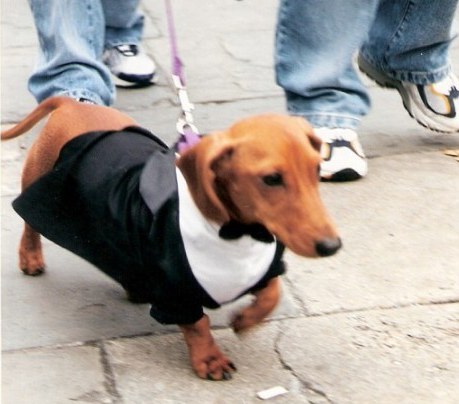 Others were just plain 'too too' – in tutus…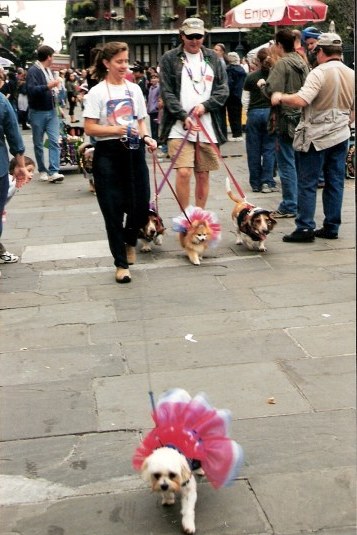 ..or having really gone 'over the top', with all-over body paint.
Higgins Hounds capitalised on the 'Hogans Heroes' TV series…
..escorted by a camouflage hound.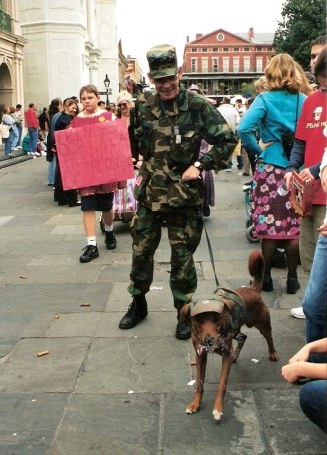 Some owners had suggestions … like this:
'...just send dogs - they don't blow things up'.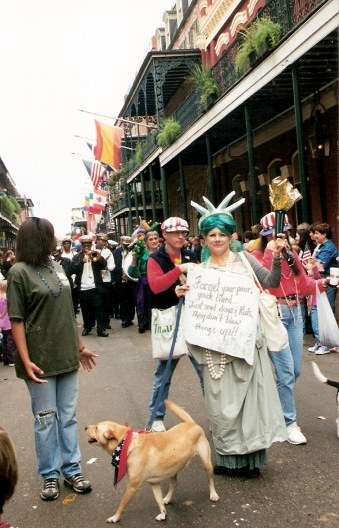 Others were just root-tooting along.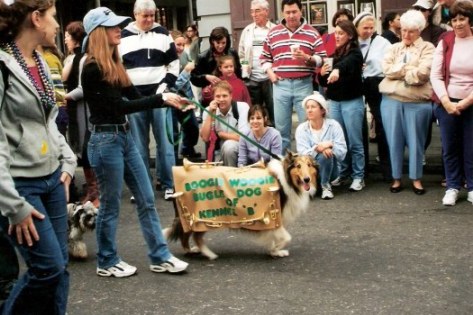 Tunes to get the hounds baying
in the Mardi Gars dog parade
Each year the New Orleans Mardi Gras Dog Parade of the The Mystical Krewe of Barkus grows in size and creativity.
It is a parade of the people as well as a parade of the pooches, and it always has the ability to put a smile on every face.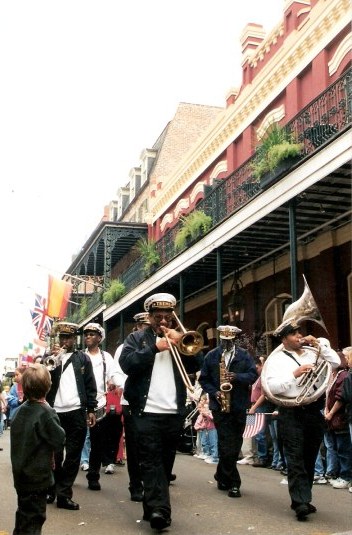 Here is a video:
Barkus
As Samuel Butler wrote in his "Notebooks":
The great pleasure of a dog
is that you may make a fool of yourself with him
and not only will he not scold you,
but he will make a fool of himself too.
---
More New Orleans pages:

New Orleans Jazz Funeral

New Orleans Audubon Zoo

New Orleans Mardi Gras

New Orleans Creole Mass

New Orleans The French Quarter

New Orleans Rock n Roll Marathon

New Orleans Performers

Still more New Orleans performers