(For more New Orleans pages please scroll down)
New Orleans Mardi Gras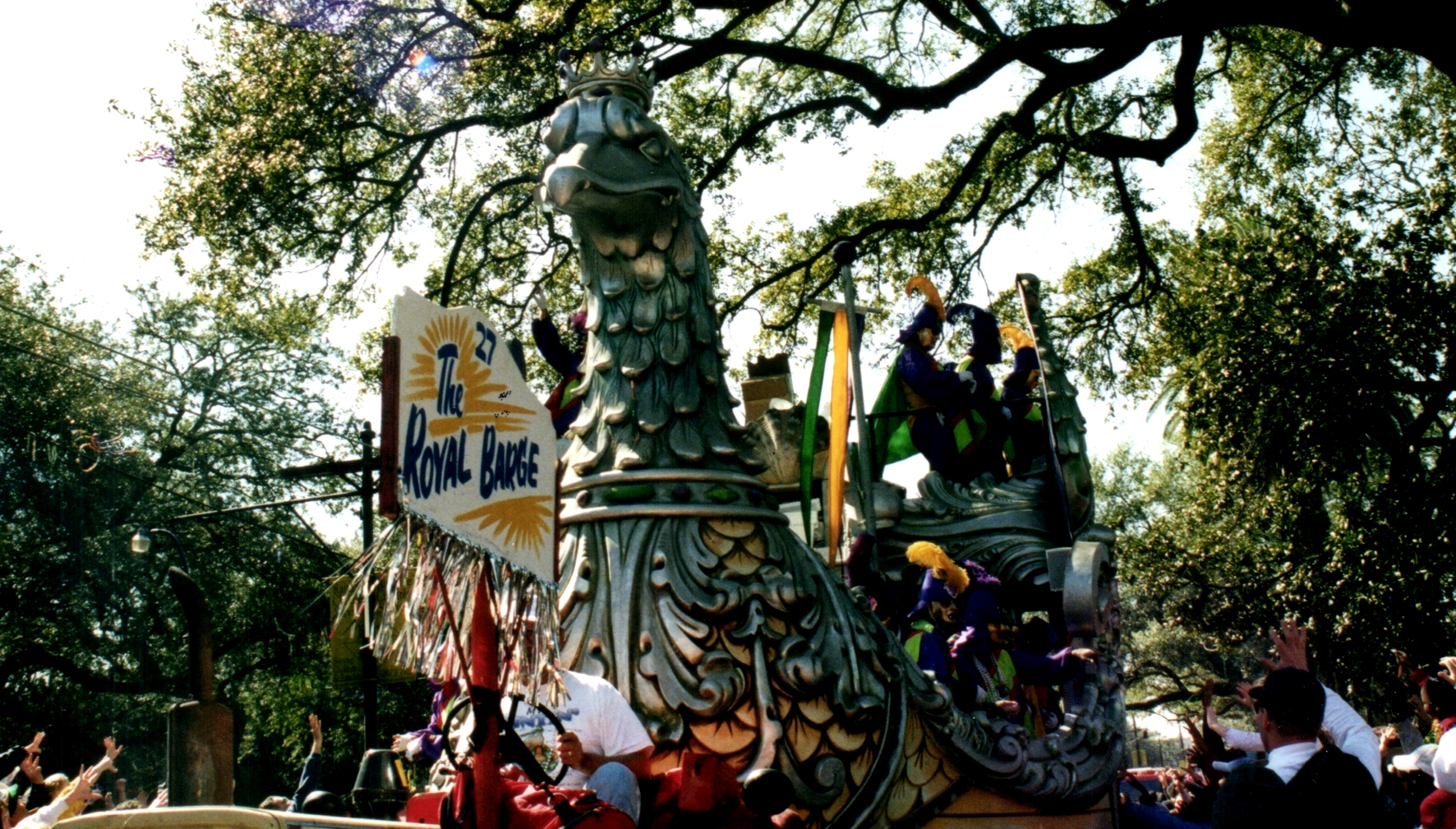 Mark Twain said:
So far as I can see,
a procession has value in but two ways-
as a show and as a symbol,
its minor function being to delight the eye,
its major one to compel thought,
exalt the spirit,
stir the heart,
and inflame the imagination.
Twain was actually talking about Queen Victoria's Jubilee - but the quotation applies more widely.
In New Orleans, a parade is a part of life, and although people not used to the Mardi Gras tradition think of it as a one day affair, in fact there are 12 days of parades in the Mardi Gras season – so you are bound to catch one in February even if not there on the actual day.
New Orleans Mardi Gras is most famous (and infamous) for the celebrated Mardi Gras Parade of Shrove (or Fat) Tuesday.
TV footage tends to focus on the Bourbon Street rabble – made up of visitors who come to the city with an intention that appears to be to get excessively drunk and behave badly.
However, the real Mardi Gras parade that day is a joyfully family oriented event of quite a different character, as you can see from these photos of one of the many parades of the season.
On Fat Tuesday, nearly everyone is in costume. (Sadly the best of my photos got rather soggy in Katrina and I just had some undeveloped film in my camera case).
Dressing New Orleans for Mardi Gras
For the Mardi Gras season, the city dresses up.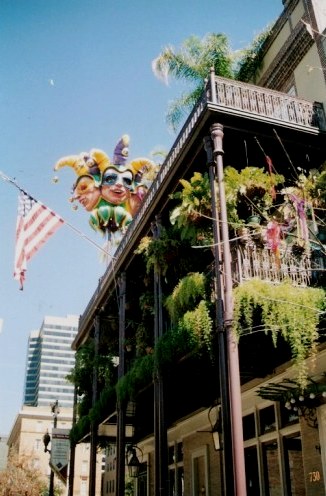 Ladders and families along the Mardi Gras parade route in New Orleans
Families gather along the route of whatever parade is happening that day.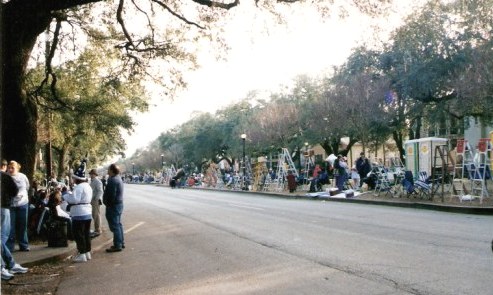 All along the route, the locals gather with their ladders and picnic baskets.
Some of the ladders have small seats built on the top for young parade-goers to be at a better height to see the passing spectacle and reach little hands out with the familiar call: "Throw me something Mister".
A word of warning:
It's useful to know not to think you can leave your ladder along the route unattended. The city workers have long handled bolt cutters that will shred any chain you think was making your perch securely reserved.
Take you ladder home and come back again bearing it. That way you will have a ladder come the day!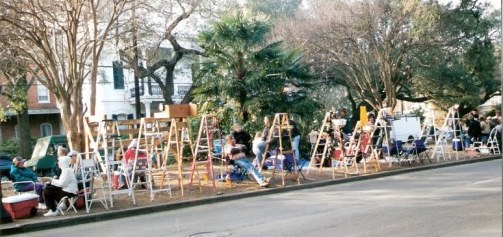 It is a really festive atmosphere.
This young parade-goer already had his hat…
New Orleans Mardi Gras feathers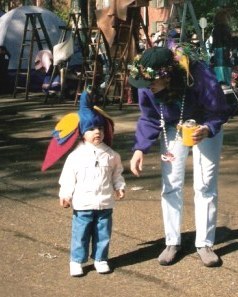 …but others could can check out fantastic masks at stalls in the French Quarter in anticipation of the big event.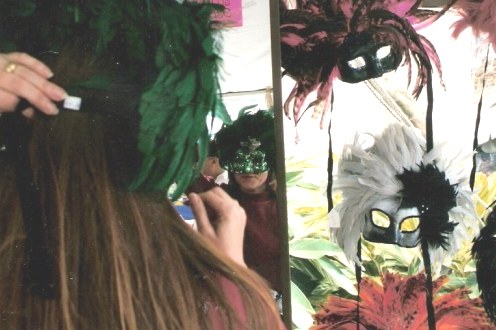 ---
New Orleans Mardi Gras rules: don't mess with them.

Another warning:
There are two more important rules to remember for New Orleans Mardi Gras:
Do not park illegally – even a fraction over the allotted legal space – or your car WILL be towed and impounded.
Never disagree with a policeman, or accidently push one – or do anything that breaks the law – and this includes drunk & disorderly.
There is a very straight-forward rule of law during Mardi Gras.
Transgressors are arrested and held initially in a portable holding pen – a sort of porta-cabin-lock-up - until transported to a lock-up of a more permanent kind.
Here, they must wait until the end of Mardi Gras – for there are no judges sitting until then. Then there is a backlog of cases to be heard.
It will not be the festive event you had planned!
---
Who is that masked man?
During the parades, the New Orleans tradition is that the masked Krewe members riding the floats throw beads, medallions, dubloons, cups and stuffed animals – and sometimes other witty things.
Sometimes famous personages are guests of a Krewe - and young children and young ladies never will know that they were thrown a favour from a star, a sports champion or a world leader.

Masks are seldom worn on the earlier parades before Fat Tuesday.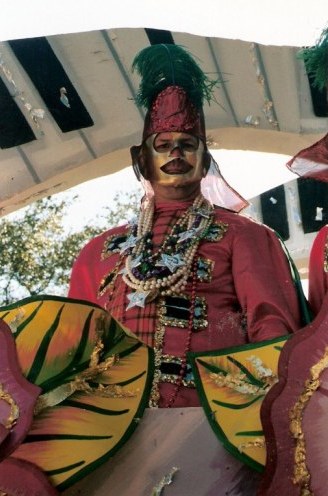 The Krewes have a long history back to the early 1880s and are now social clubs that host their own parades and for the most part, appear together on Mardi Gras.
The crowd surges alongside the floats arms reaching out to be lucky enough to catch a throw.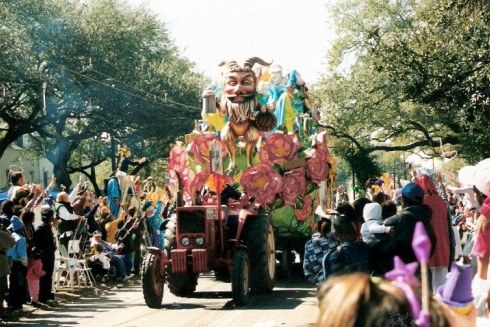 A New Orleans Mardi Gras bead is not a trinket but a treasure.

We used to gather at the house of a friend who lived almost on the parade route, and kept having to go back to the house every little while to 'de-bead' and store our hoard before going back for more.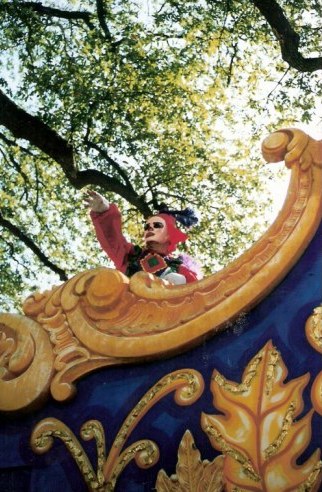 I found that the trick was to make eye contact with one of the masked Krewe – and dance as I called for my beads.
This resulted in a spectacular collection of some of the most prized types.
No longer living in this magical city and having had a few rocky years my treasured bead collection and I were parted.
Knowing my Mardi Gras bead collection was lost, a kind friend sent me some from hers. They hang in my office and always bring a smile.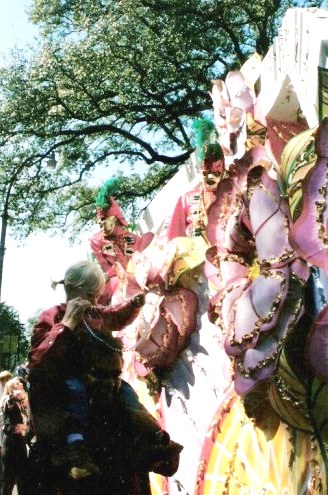 ---
The floats of New Oreans Mardi Gras

The building of Mardi Gras floats is a small business in itself. They are quite spectacular.
You can tour Brian Kern's Mardi Gras World, bedecked with the Mardi Gras colours of purple, green and gold. This is where the floats are made – and restored.
Here's a video. It takes a while to load but it's worth the wait!
A New Orleans Mardi Gras costume department - incognito
Similarly, the costumes of the marching girls are works of art.
In developing the Film and Music Strategy for New Orleans it was interesting that when we were discussing the availability of underpinning local skills and services for the movie industry, someone said regretfully that one of the problems of trying to develop the film industry was that there was no costume skills.
I pointed out that the ability to costume all those young marching girls suggested that there was indeed a robust 'Costume Department' in New Orleans: it just wasn't labeled as such.
The other remarkable thing about the marching girls is that in this vibrant city you don't have to be slim and gorgeous to be a marching girl.
In New Orleans, every young lady has an equal chance to be a princess in a lovely costume at Mardi Gras.
It is not what we usually see of other American cities where such roles are reserved for the beauties alone.Here, everyone has a part.
As the Mardi Gras parade gets closer to the city centre it passes Lee Circle. When I was there General Robert E Lee watching over events.
The General was removed by official decree in 2017 and his destination was 'an unknown location'.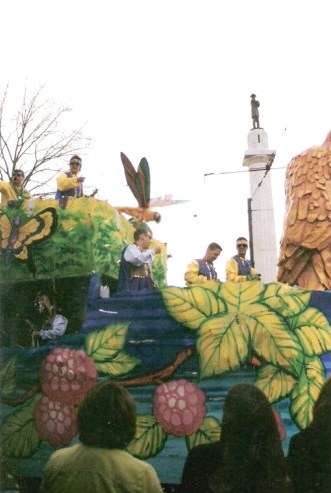 Lee Circle was close to my apartment in the old Cotton Mill.
On Mardi Gras Day I could start at the beginning of the route, drive quickly back to my parking place, see the parade again at Lee Circle and then take a short-cut on foot through to the balcony party of the French Quarter.
New Orleans Mardi Gras French Quarter Balcony Party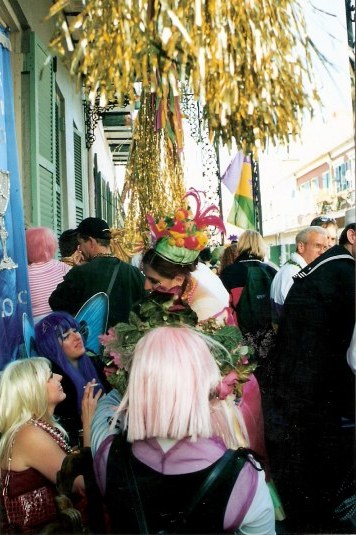 These gatherings are not those of the Bourbon Street flashers, but more elegant affairs for locals - and strictly on invitation only.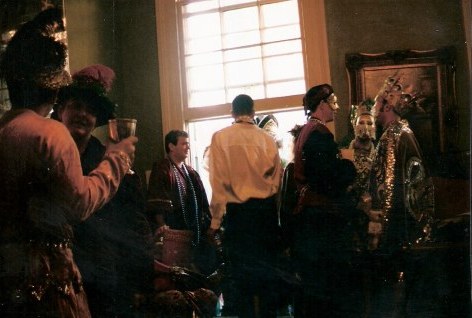 If you are lucky enough to be invited, they are like a waltz back into another century, with spectacular Mardi Gras costumes…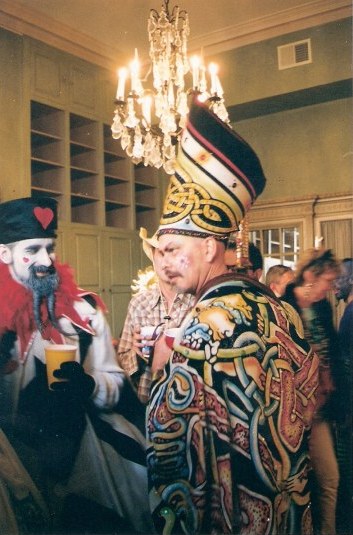 …set into an atmosphere of 1800s elegance…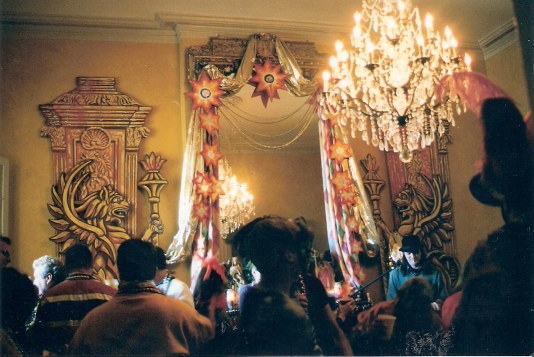 …with live music, delicious food (for which the city is almost as famous as it is for its music), drinks, and a general air of total festivity.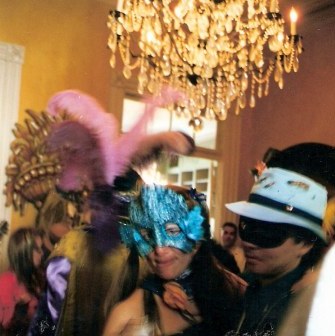 My friend Lisa went dressed as Gumbo, that marvelous New Orleans fish soup/stew usually made of all sorts of shellfish and the southern cook's 'Holy Trinity': onions, bell peppers (otherwise known as capsicum or paprika) and celery.
Lisa had fishing net wrapped around her with various crustaceans held within it, wore a gypsy shawl, and had a felt crab on her head: she was a feast for the eyes!
Some wit stared at her in mock horror and said:
"Lisa, you've got crabs!"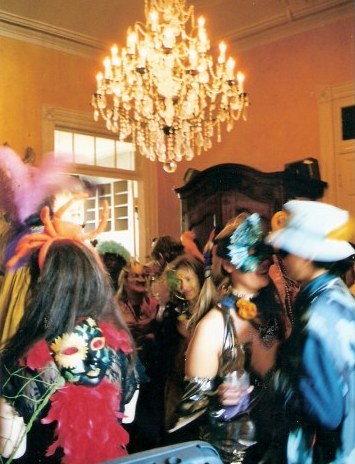 It is a whirl of strange figures…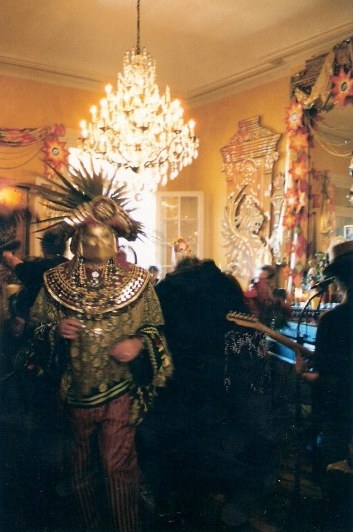 … colour, music, laughter and dancing - and a memorable experience.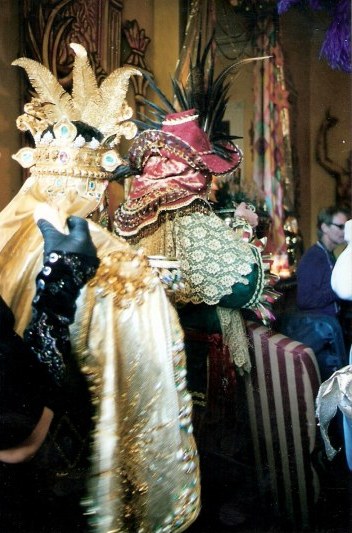 What is Mardi Gras in New Orleans?
I love New Orleans. To me, the real spirit of Mardi Gras is totally symbolic of the soul of one of the most wonderful places I have ever had the great good fortune to live
My home is in Europe now, but if I had a work visa to stay longer I would never have left this city of passion, fun, creativity and talent.
This quote of local, Chris Rose, says more than I can:
Mardi Gras is not a parade.
Mardi Gras is not girls flashing in the French Quarter.
Mardi Gras is not an alcoholic binge.
Mardi Gras is bars and restaurants changing out all the CD's in their jukeboxes to Professor Longhair and the Neville Brothers,
and it is annual front-porch crawfish boils hours before the parades    so your stomach and attitude reach a state of grace,
and it is returning to the same street corner, year after year,
and standing next to the same people, year after year-
      -people whose names you may or may not even know -                but you've watched their kids grow up in this public tableau
and when they're not there, you wonder:
Where are those guys this year?
It is dressing your dog in a stupid costume and cheering when the marching bands go crazy and clapping and saluting the military bands when they crisply snap to.
It's mad piano professors converging on our city from all over the world and banging the 88's until dawn,
and laughing at the hairy-shouldered men in dresses too tight,
and stalking the Indians under Claiborne overpass
- and thrilling the years you find them
and lamenting the years you don't
and promising yourself you will next year. ..
Mardi Gras is the love of life.
It is the harmonic convergence of our food,
our music,
our creativity,
our eccentricity,
our neighborhoods,
and our joy of living.
All at once.
---
More New Orleans pages:

New Orleans Jazz Funeral

New Orleans Audubon Zoo

New Orleans Mardi Gras

New Orleans Krewe of Barkus

New Orleans Creole Mass

New Orleans The French Quarter

New Orleans Rock n Roll Marathon

New Orleans Performers

Still more New Orleans performers