Sancti Spíritus fiesta


Whether inspired by politics or tradition, in modern day Cuba, a fiesta offers a chance to show off the talent of its youngest citizens - and for others to showcase their artistic talents and sell their wares.
Before the big event with its state sponsored stage and loud speakers of massive proportions that were being set up in preparation for the music celebrating revolution, there were other more endearing events to be enjoyed in Sancti Spíritus.
Young street performers of
Sancti Spíritus
My visit to Sancti Spíritus coincided with a big music event that had the support of remarkable supporting infratructure that arrived on vehicles such as would support any massive gig of huge audience draw pop stars, anywhere in the world.
Earlier in the day I accidentallly found myself part of the audience of what to me was a much more delightful performance, as children of the city performed with the composure of seasoned actors.

The audience were obviously delighted - as was I.

Everywhere there were proud smiles as the young performers told their tales on the stage which was attached to steps ouside the bank.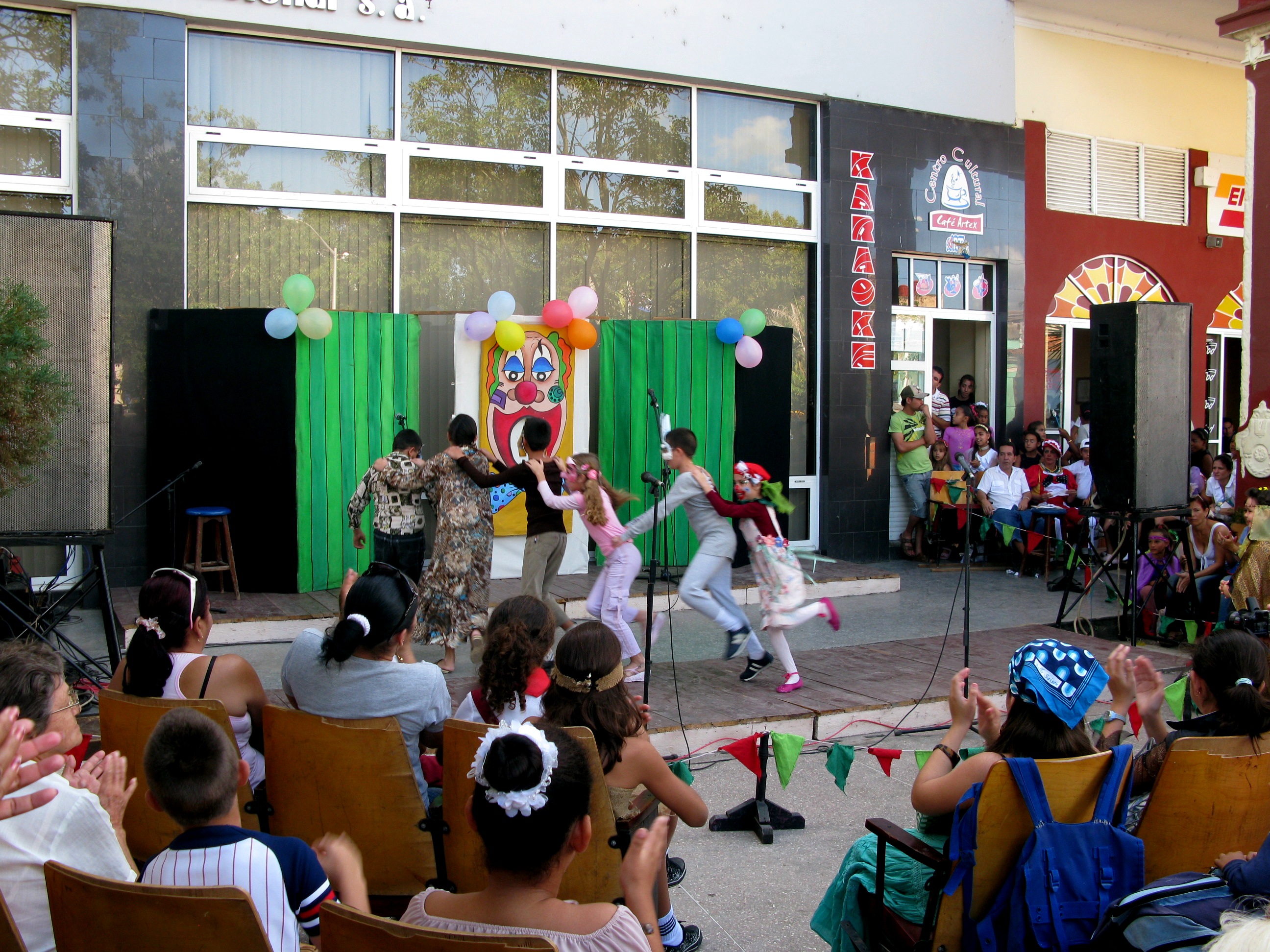 I took it that the announcer-clown was perhaps the teacher.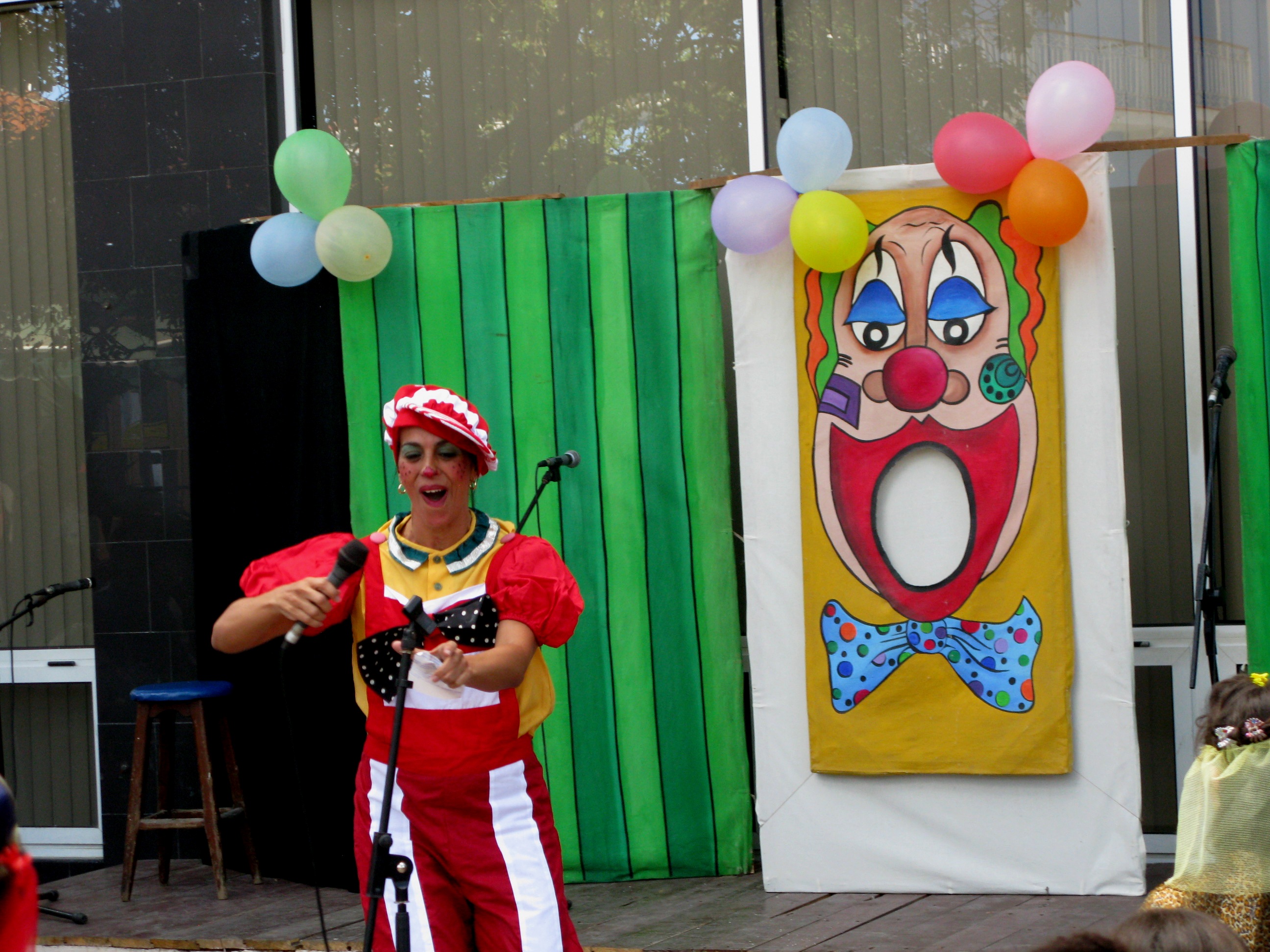 A junior clown awaited her cue in the wings as she watched her schoolmates perform.

In a country that is one of the best educated in the world, I found it wonderful that young students were so accomplished at live performance.
Certainly, confidence is a great gift to give any child and there was utter composure amongst all the young performers of the school play on the streets of Sancti Spíritus.
The German SciFi writer Andreas Eschbach is quoted to have said:
It only becomes art if it touches other people.
By that definition, this school play, to me, outweighed the lurid scenes of wartime suffering shown as backing video to the big music performance than night. 
That performance didn't engage people to a fraction of the extent that did this enthusiastic play with its wonderful hand-made animal masks and costumes.
Street market in
Sancti Spíritus
Now that some elements of private commercial activity are allowed in Cuba, the street markets act like a magnet to me - and to others, for this one in Sancti Spíritus was certainly crowded.
I was fascinated by the miscellanea of goods displayed. This stall was a good example. I especially liked the warning about explosives on a box just below the counter.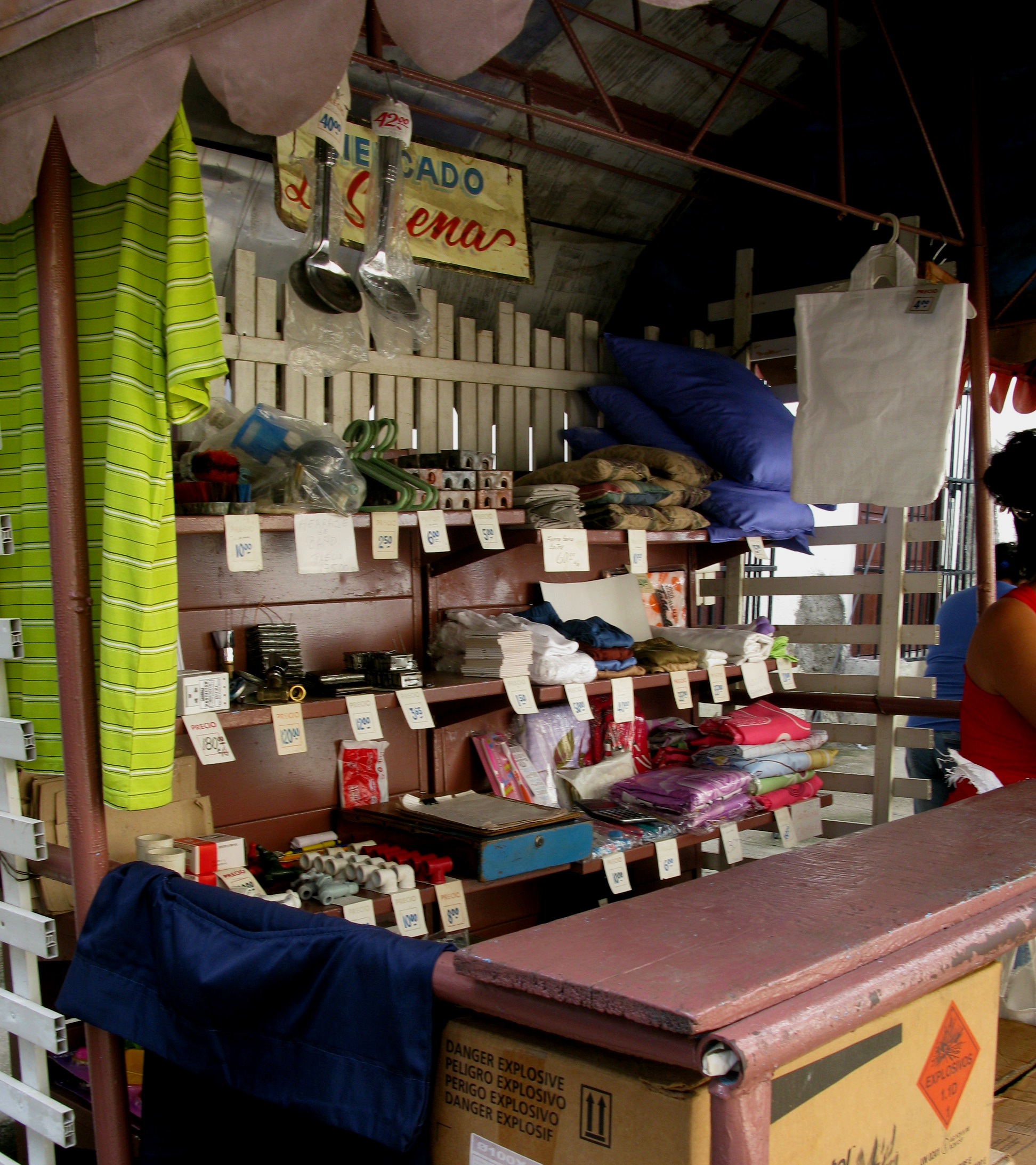 Nearby was a stall selling everything kitchen-related - plus a rather smart, well-padded bicycle seat, and some hand-tooled leather belts.

There was another selling what looked like brand new scuba diving gear.

Next door was equally new looking fire service and emergency equipment.
Cuba never ceases to fascinate me about how things actually work!

Further along, there were beautifully tooled cowboy boots and leather sandals that sat beside a table of what looked like knock-off designer sport shoes and sandals that seemed to be made in China.
This sort of juxtaposition came to be familiar with me, the longer I travelled in Cuba.
I had seen beautifully hand-crafted saddles in Havana at the agricultural fair, and yet when I make a web search for Cuban leather work to learn more about it, there seems very little written about this beatifully worked craftsmanship.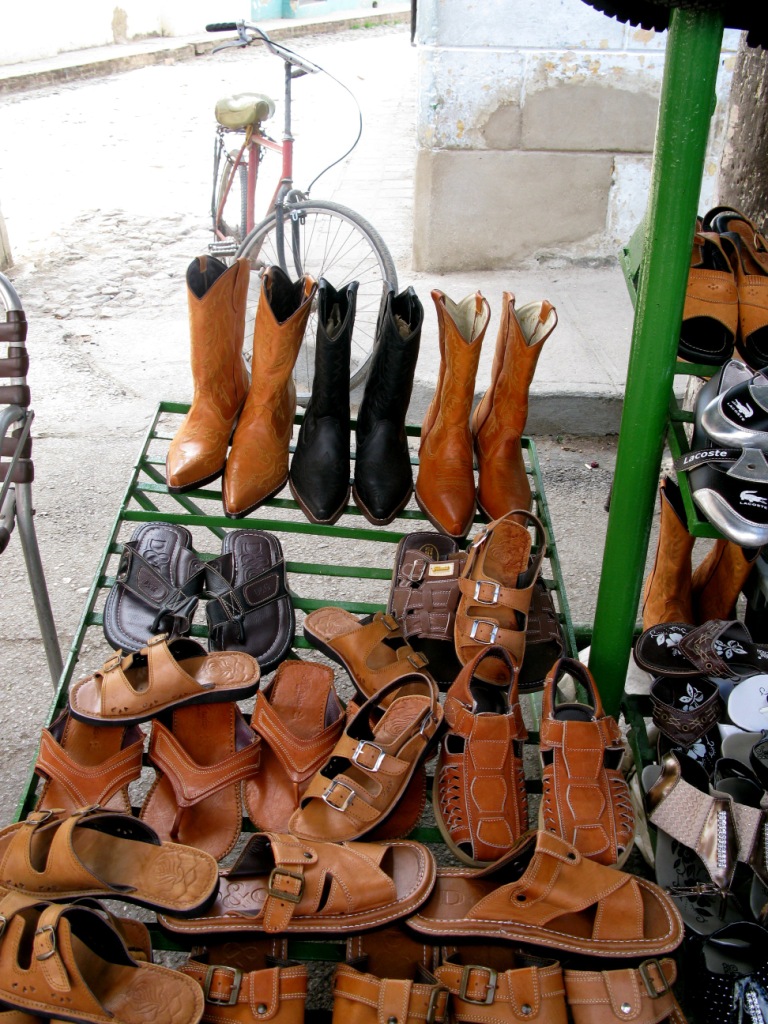 Further along the street was a second-hand goods shop with everything from a collapsable baby stroller to a sewing machine, a 20 litre carboy bottle, a fancy wire café chair, baseball caps, handbags of various styles, a panama hat and pairs of sneakers.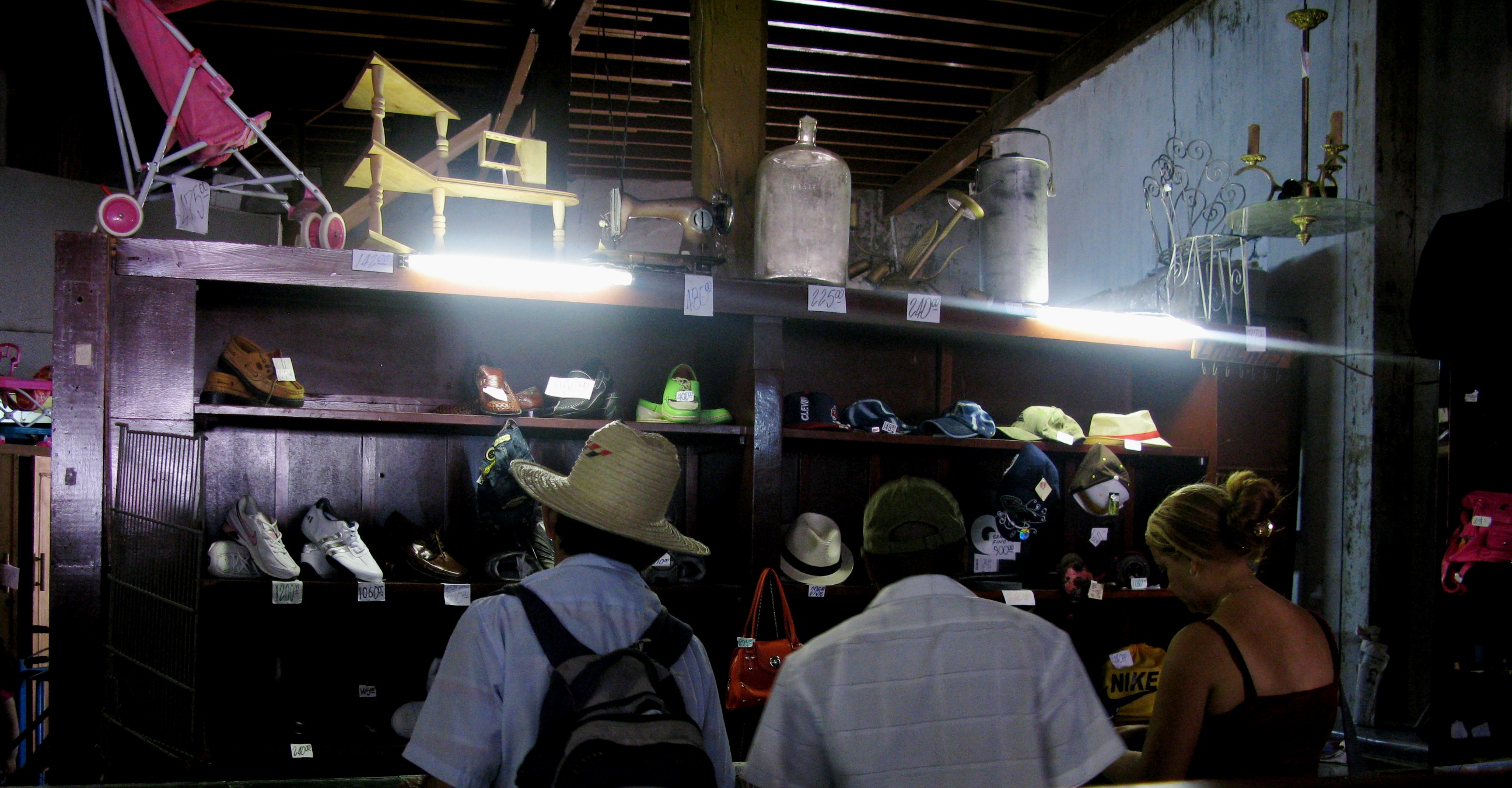 On the back shelf were ladies shoes, and in the display case in front of them, sat a heavy-duty wrench, packages of hinges, and what looked like an antique - and definitely inoperable - rifle.

Along a pedestrian street were the stalls of the craftworkers and artists. I was drawn to this lovely hat and the chair inserts of raffia, and the broom whisks.They seemed to tell a story of an artisan making the best of limited resources to swell the family income, and as such I felt them to be more than a simple souvenir but an insight into the maker's life.
There were crafts of all kinds and these colourful papier-mâché items were perhaps designed to brighten a youngster's bedroom.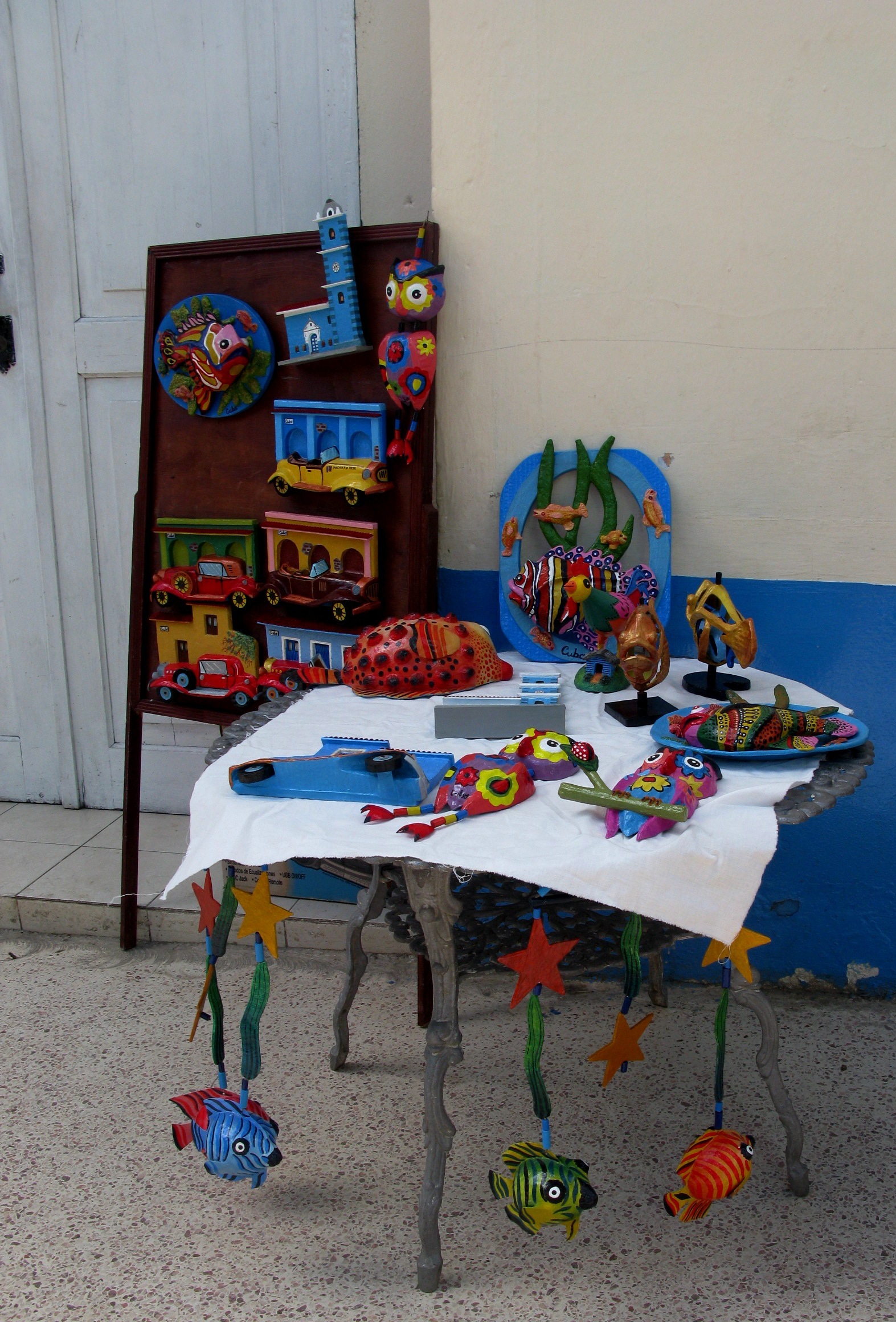 Further along were the detailed miniatures in oil of the artist Nelson Wuenselao Garcío Pérez. These are really detailed and best viewed through the magnifier.
They demonstrate reality magnified - almost as a metaphor: If you only have limited supplies of material, you paint accordingly, in sizes that offer more canvases.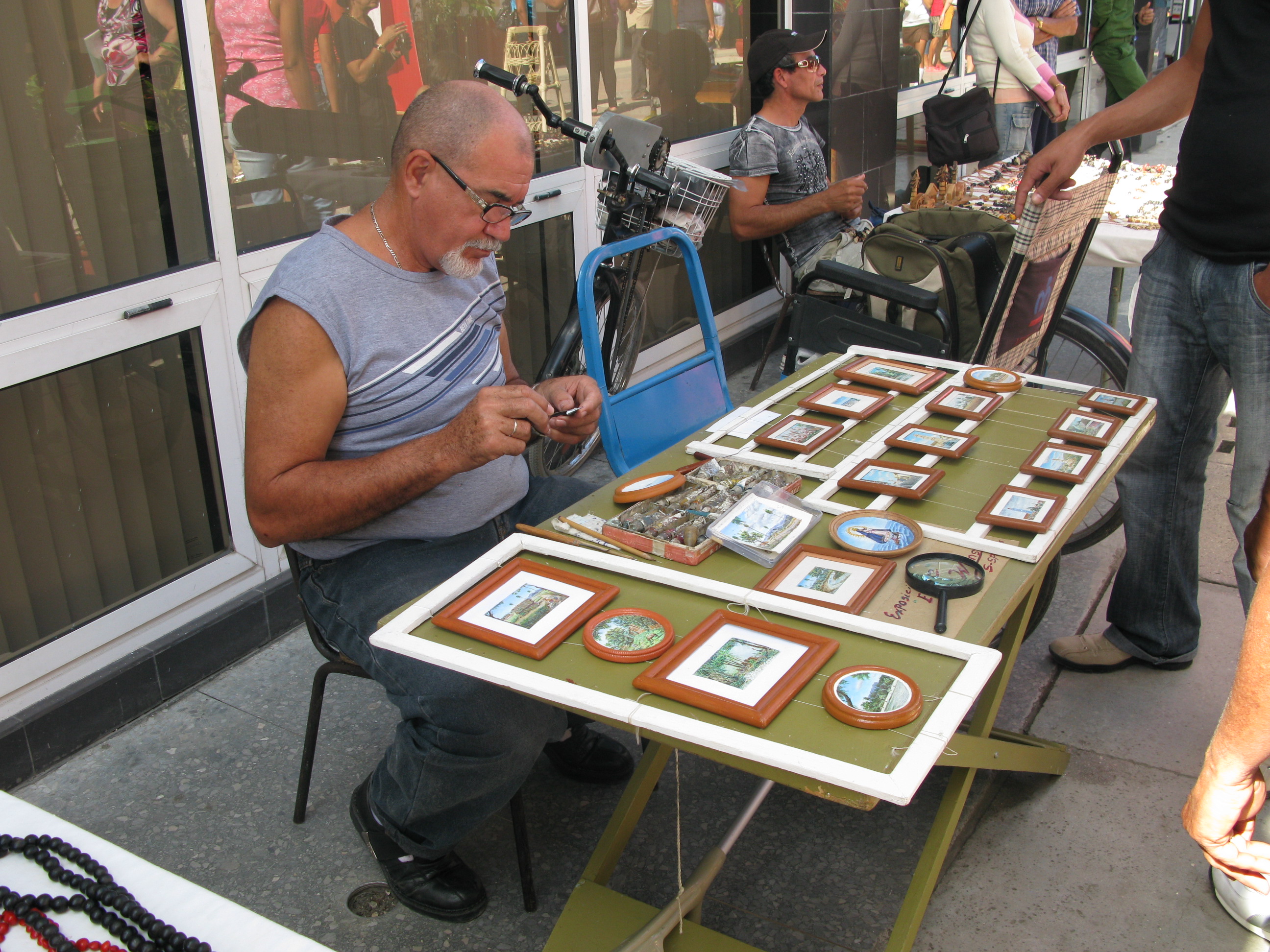 Here is the artists address. I commend his works to readers visiting the city.If you go there please thank him for the pleasure his painting has given to me and visitors to my home.

Nelson Wuenselao Garcío Pérez: Edip. No 3, Apart. No.12, Los Olivos 2, Sancti Spíritus.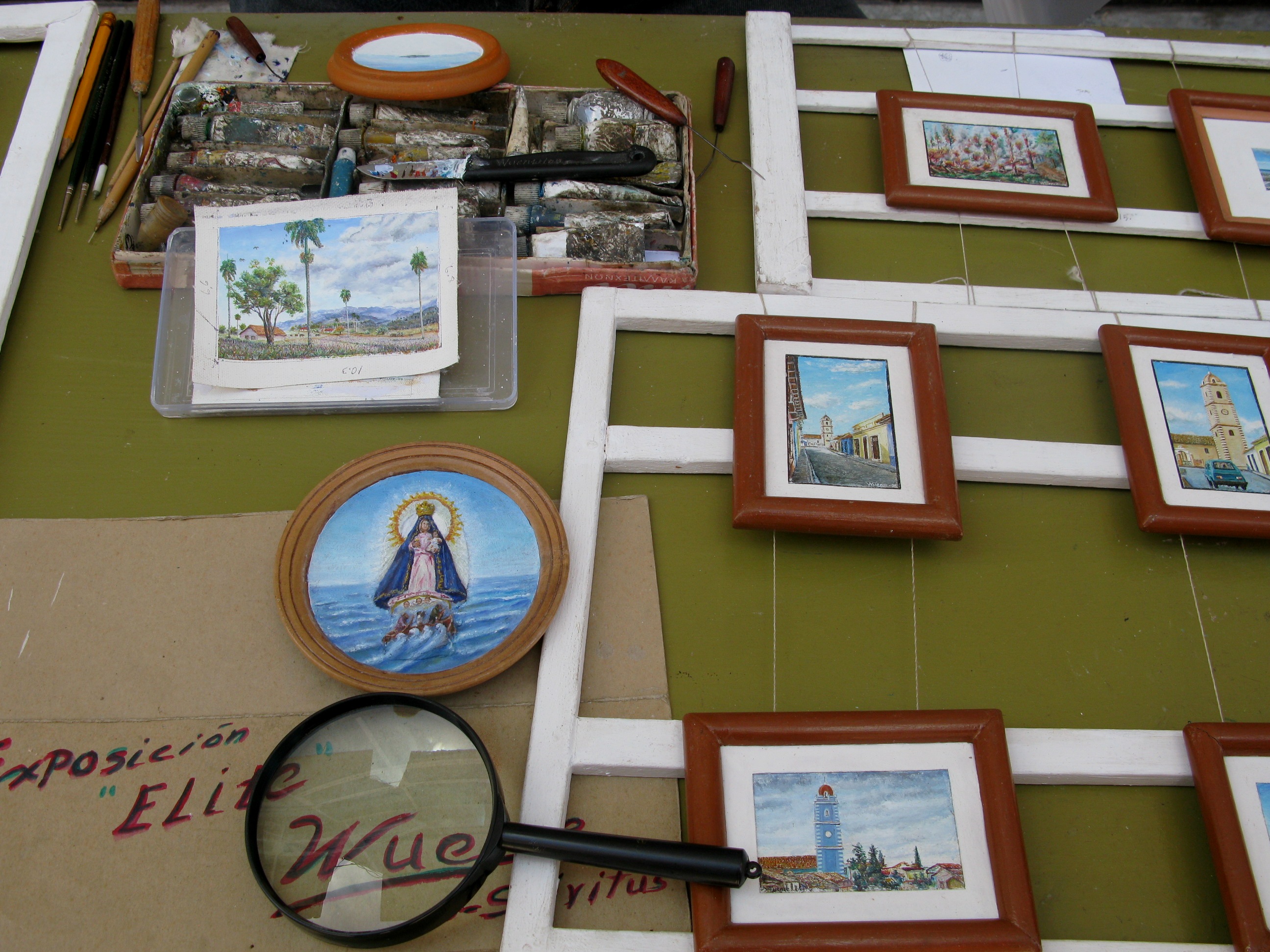 This work of his, carefully framed with the things available to do so,  hangs on my dining room wall.
It reminds me not just of pleasant wanderings around Sancti Spíritus, but that the desire for cerativity overcomes all obstacles.
I was glad that on this trip I had brought to Cuba some beautiful quality sketch books, oils, and charcoal pencils, to give to an artist who would otherwise not have the opportunity to work with this media.Sadly - they had been given earlier, before I left Havana.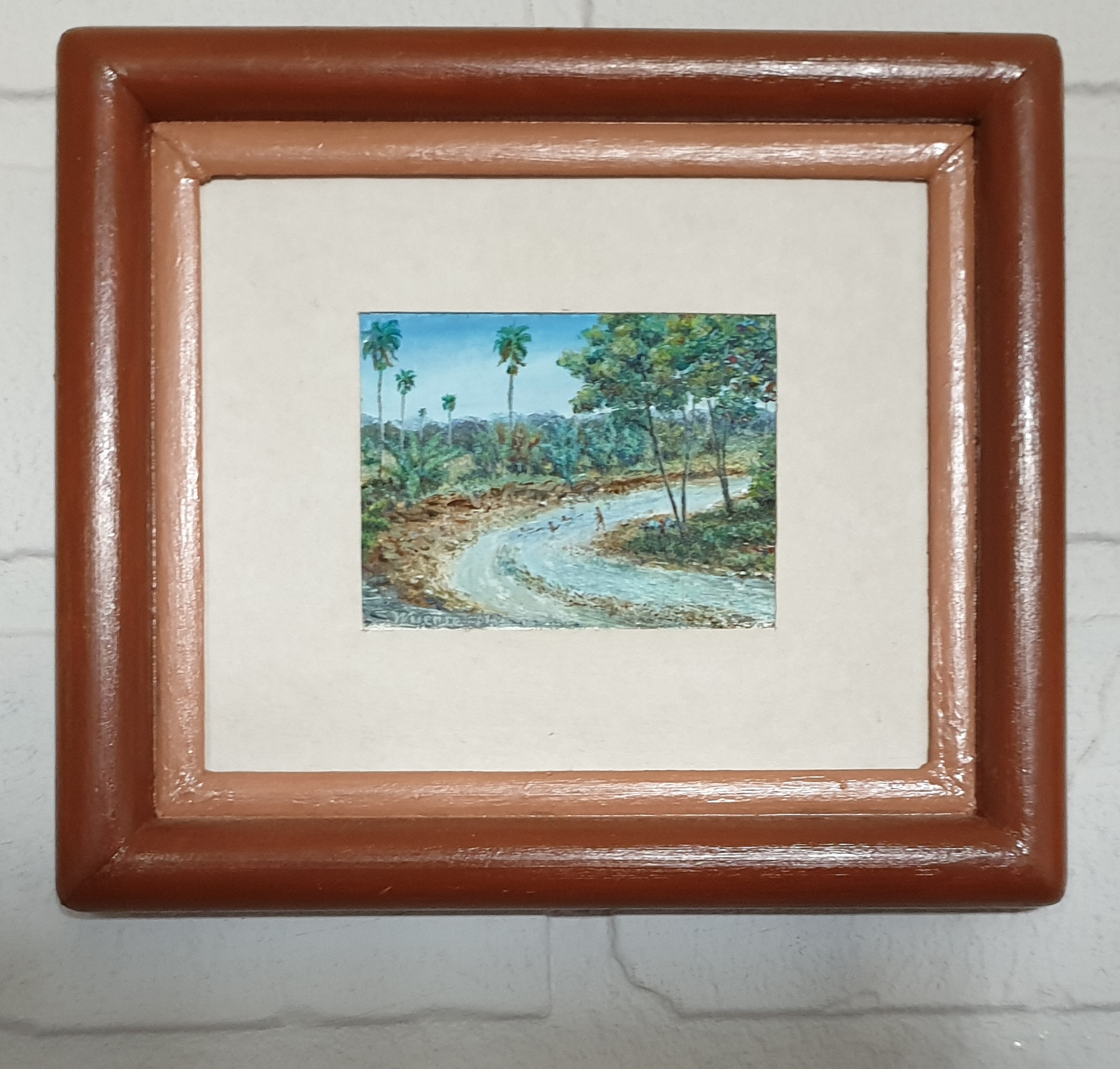 The detrmination to create with what is available reminded me of the saying of Coco Chanel:
There are people who have mony
and there are people who are rich.

---
More pages on Sancti Spíritus
Sancti Spíritus and celebration of its past

More Pages on Cuba here:
Havana pages
Agricultural Fair
The Art of Dominoes
Havana Back Street Rambles
Capitol Building
Havana Classic Cars
Creative transport in Havana
Malecón - Fish and Philosophy
Havana Angels
Havana Grandeur
Political Demonstration
Street Water Skiing
Trinidad de Cuba pages
Palacio Cantero Museum
Trinidad de Cuba
Remedios
Remedios churches
Parrandas & Pedlars
Other Cuban pages
Cienfuegos
Backroad Travel
Bay of Pigs
Viñales - Pinar del Rio