Viñales in Pinar del Rio
I am never averse to organised trips to interesting places with small groups of no more than 10 people.
Just as well, as I might not otherwise have the chance to make the trip of some 180 km (about 2 hours drive) from Havana to explore Viñales and the surrounding area of Pinar del Rio, with its tobacco farms, mountains, and caves.
I travelled there with my dancing friends in a van and there are much-loved pictures of some of us sleeping en route (after very little sleep the night before) with slices of cucumbers over our eyes for refreshment!
First stop was in Viñales at the Horizontes Los Jazmines Hotel.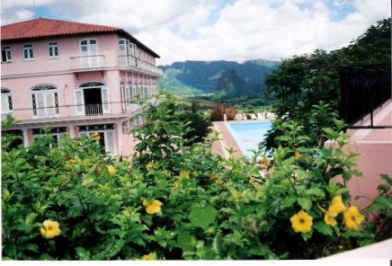 This is one of the most famous hotels in the whole of Cuba - for its stupendous views over the Viñales valley …
…and the lovely character of its beautiful Mediterranean neo-colonial style.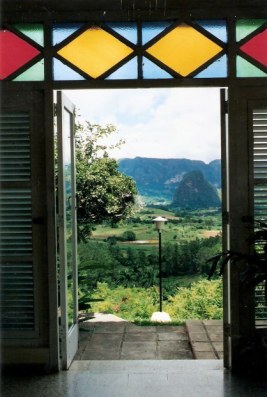 The food was unexceptional but with views like this no one was likely to complain.
Horizontes Los Jazmines Hotel - and a pool with a view

This fascinating place slumbers high above the beautiful Viñales valley, its pool suspended on the edge of the valley so even when swimming, no moment of viewing is lost.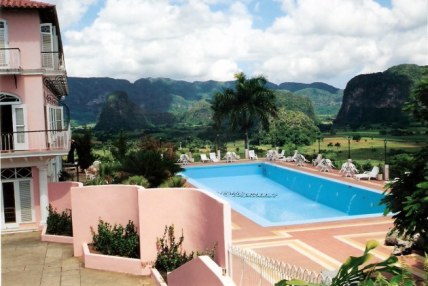 Outside stood another classic 1950s car in immaculate condition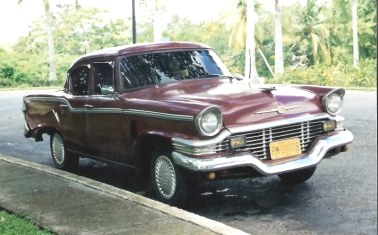 Farming in Pinar del Rio
We travelled into the valley, which is surrounded by mountains of limestone (mogotes )of up to 300m.
Being a volcanic region there are lots of caves and underground rivers that run through the channels carved by early lava flows.
Although cave tours are popular – my interest was more for above ground.
Farming here still follows traditional methods.
… especially in farming tobacco.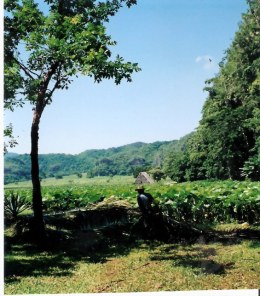 ..and though this water buffalo was harnessed as a festive greeter of tourists, he is representative of a more everyday use.
Crafts here are elegant and intricate, like these clever cicadas made from palm leaves…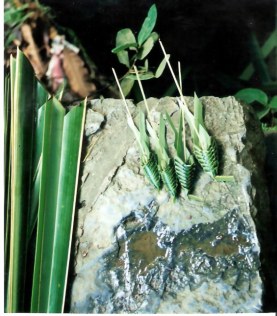 …or these baskets.
I preferred them to the paintings, evocative though these were.
Tobacco farming in Pinar del Rio
Our tour took us to a tobacco farm and our host was a character of some note.
I wish I could recall his name but he was even then a grand age.
He claimed his obviously robust health was due to good cigars, good rum, and good women.
He told us he had recently re-married – and that kept him fit!
Fit he definitely was.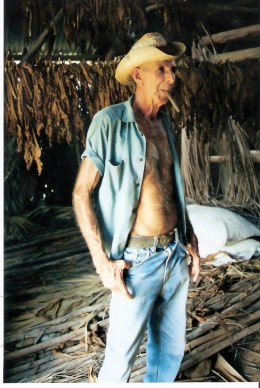 The building itself was thatched and in a most magical setting on the mountainside of the Viñales Valley.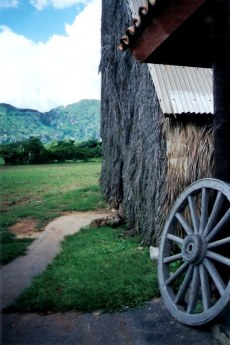 The tobacco was drying slowly on beams straddling the building…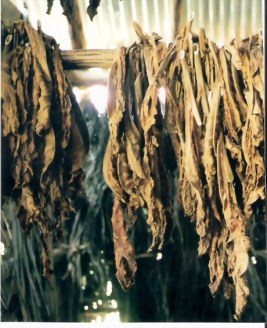 … while above, corn dried on the rafters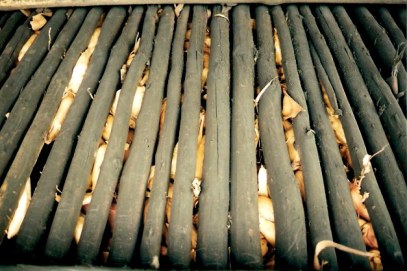 The dried tobacco was then rolled – one wonders whether, as the saying goes, over a virgin's thigh – into these quality Cuban cigars.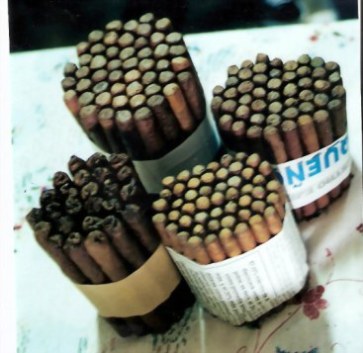 The packaging of the finished goods was another traditional method, with the banded 50-cigar bundles packages being wrapped in banana leaves.
In an afternoon shower I saw banana leaves making great impromptu umbrellas as well.
In Cuba, car restoration is an ongoing reality
Our host was hugely proud of his Chevy …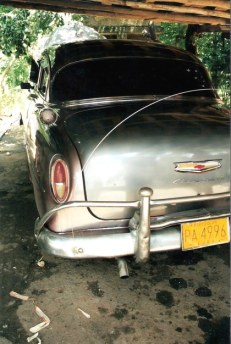 …and eager to pose in it…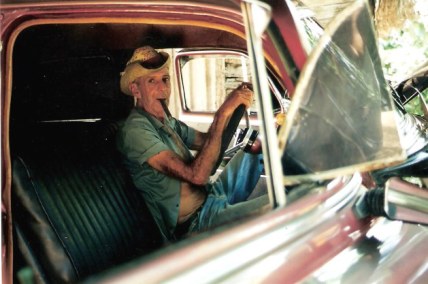 …though it was actually currently having engine repairs done.
Mechanical organ with paper punch music in Pinar del Rio
We ended the visit there dancing to a live band and an old mechanical accordion player as our host looked on, smiling and drawing slowly on his cigar as we danced.
I was mesmeerised by the intricacy of the old mechanical organ and its long continuous sheet of folded punched music card.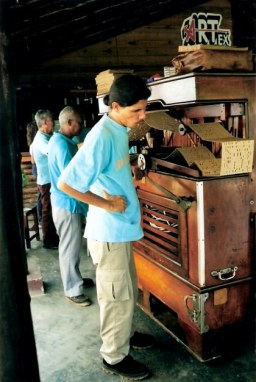 Watching thisCuban tobacco farmer as he pulled on his cigar, I thought he certainly didn't look his age.
As John Barrymore said:
A man is not old until regrets take the place of dreams.
More Pages on Cuba here:
Havana pages
Agricultural Fair
The Art of Dominoes
Havana Back Street Rambles
Capitol Building
Havana Classic Cars
Creative transport in Havana
Malecón - Fish and Philosophy
Havana Angels
Havana Grandeur
Political Demonstration
Street Water Skiing
Trinidad de Cuba pages
Palacio Cantero Museum
Trinidad de Cuba

Remedios
Remedios churches
Parrandas & Pedlars
Other Cuban pages
Cienfuegos
Almendares River Voodoo
Backroad Travel
Bay of Pigs