Rüdesheim Christmas Market
As with all German Christmas markets, when you visit the Rüdesheim Christmas Market there are lots of wine cellars, local beer drinking haunts, or a range of cafés where you can warm up out of the cold
If you choose to take an outdoor pause from your explorations of the Rüdesheim Christmas Market, there are lots of blanket bedecked chairs calling to you to tempt yourself at the outdoor cake display.
Perhaps you prefer to take home a few slices of some of the local cakes: here you could choose from a Black Forest cherry cake, a Frankfurt Crown Cake (with layers of buttercream within its circle), fresh cream cheesecake, strawberry cream torte, praline and hazelnut cake, or a wonderful German apple pie.
At the Rüdesheim Christmas Market  they obviously subscribe to the old adage that says:
The only thing better than a cake
is two cakes.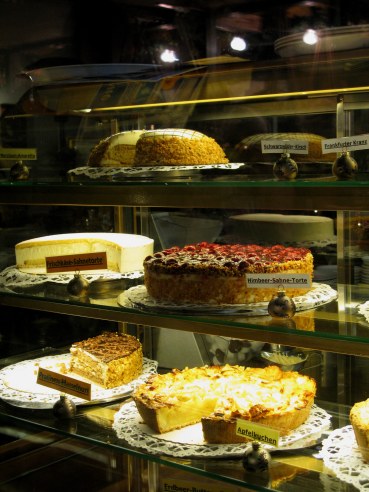 Good food being a hallmark of the region, it is unsurprising that it tempts you at every step of your explorations of the Rüdesheim Christmas Market either in festively decorated restaurants or at market stalls.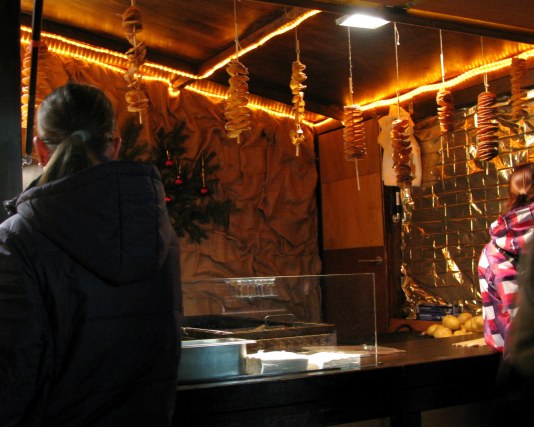 If you are after local wine, liqueurs, or regional brandy – or jams made with them as ingredients – then there are lots of stalls for you too.
Or perhaps you have been waiting for the chance to taste and choose a range of authentic German sausages?
There are stalls at the Rüdesheim Christmas Market to stretch your taste buds to levels the Master Smokehouse Butcher keeps exceeding with sausages for every palate.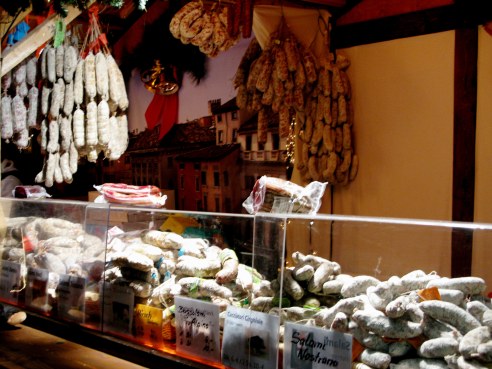 Whether at a beautifully decorated restaurant or buying from one of the stalls, good food and drink will add to your memories of your visit to the Rüdesheim Christmas Market.
When I was 21 my parents and I took a Rhine Cruise from Basel to Rotterdam. Like so many others from afar, I thought the whole Rhine to be what I had seen in documentaries and tourist brochures. Instead, I discovered that there was one spectacular section that coloured my expectations and it is the section known as The Romantic Rhine.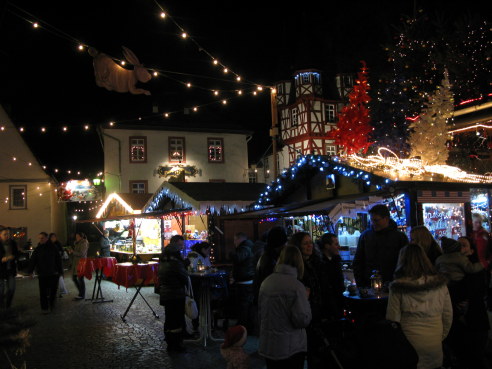 Our Rhine Cruiser berthed for several hours in this section of the Rhine at Rüdesheim, a small wine town that is better known to the world than Heidelberg, with over 3 million visitors a year. Rüdesheim is the central town of the Rheingau wine region of the middle Rhine – part of a UNESCO heritage region. Here I followed the sounds of contagiously foot-tapping music into a restaurant. Before I knew it I was swept into the arms of dancing locals and hardly paused for breath before another partner emerged from the laughing group to dance some more. It was such fun and the people so full of bonhommie and laughter that another of my stereotypes was shattered – that of an always dour German character.
At the time I never knew that many years later I would end up living here during some of the happiest years of my life. My seven years in Germany as a resident meant that I could drive up and down The Romantic Rhine and get to know it in all seasons.
Despite Rüdesheim being a real "Tourist Town", it has never lost its charm for me and never does it charm better than when in full festive Christmas decoration – for the Rüdesheim Christmas Market is a little piece of wonder sparkling in the most romantic of settings beneath the rows of grapevines on the banks of the Rhine.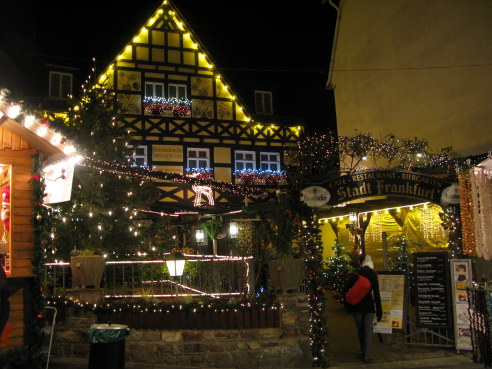 This Rheingau area is one of wine growing and tourism, and the European Business School located nearby with magnificent castle-like Schloss, stunning vistas along the Rhine and low-cost commuter ferries across the river from Rüdesheim to Bingen or further along my favourite at Oestrich-Winkel across to Ingelheim.
The skills of the barrel makers – the coopers - are ever present in the wide range of wine barrels and associated tools of the trade of wine growing that decorate the restaurants and the alleyways.
I lived in another wine town further down the Rhine the same distance from Mainz in the opposite direction as Rüdesheim. In the Yellow Pages of this small district there were still 16 coopers and 22 smiths plying their traditional trades.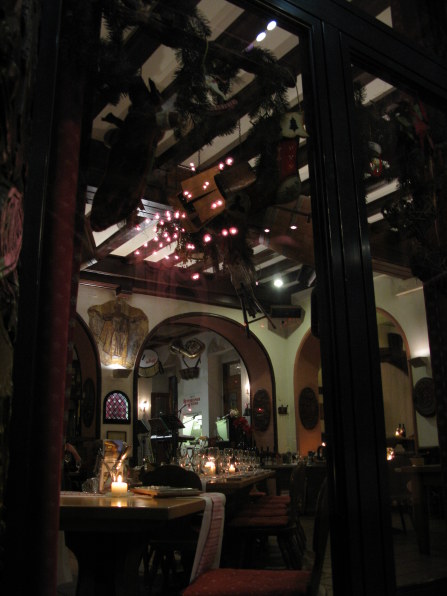 The barrels once retired make ever-present decoration along the Rhine at restaurants and festivals.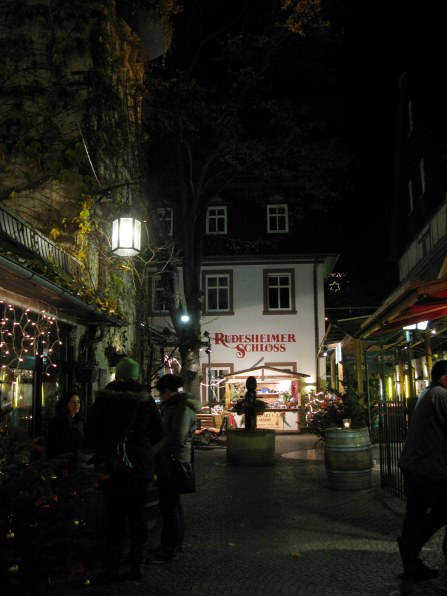 Known to the French and those in English speaking countries as a Carillon, the Glockenspiel is also known in Italy as a campanelli. Here at the Rüdesheim Christmas Market you would think the Rüdesheim Glockenspiel in the tower of the Breuer's Rüdesheimer Schloss Guesthouse had been orchestrated just to set off the Christmas ambiance in this mosaic of sound and colour.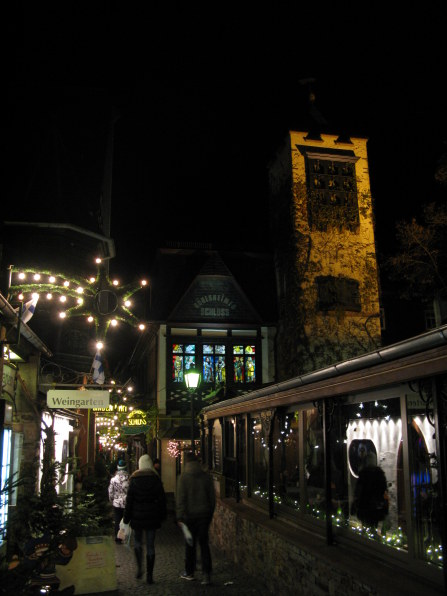 The stained glass windows seem to be as ancient as the Drosselgassse itself, this famous laneway that is just 2 metres(about 6 ½ feet) wide and about 144 metres (a little over 157 yards) long as it stretches from the foot of the vines to the banks of the Rhine.However, most of the buildings along the Drosselgasse were hit by Allied bombs in November 1944 – and the whole area rebuilt to its historic character in the 1950s.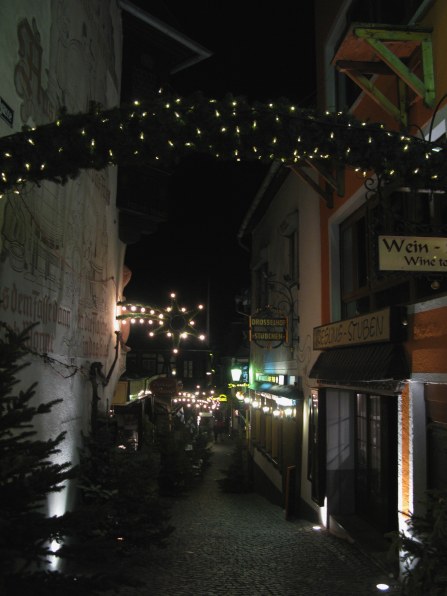 During WWII this beloved area full of live music was an attraction also to the National Socialists who ordered only German traditional music to be played or sung here – banning the rich culture of jazz and in fact forbidding the playing of drums, cymbals, or saxophone . This was a hard duty for the music loving locals who believe that through music we connect in ways that deny national edicts.
Beyond music and great wines, this is an area of gastronomy – and prize winning gastronomy at that.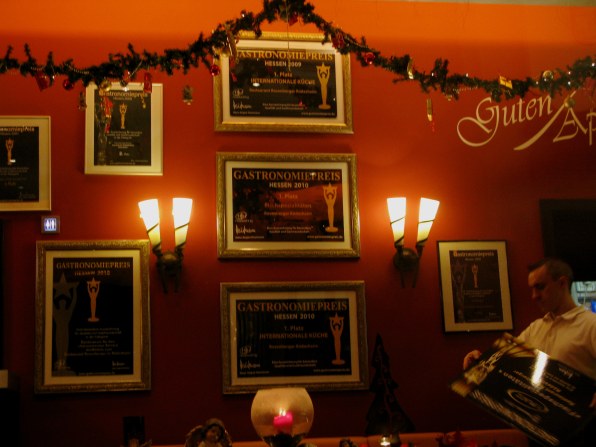 But not all the good food enjoyed at the Rüdesheim Christmas Market is in restaurants, for like all German Christmas Markets, there are bratwurst stands with their range of barbequed sausages, Glühwein, and other temptations for the taste buds.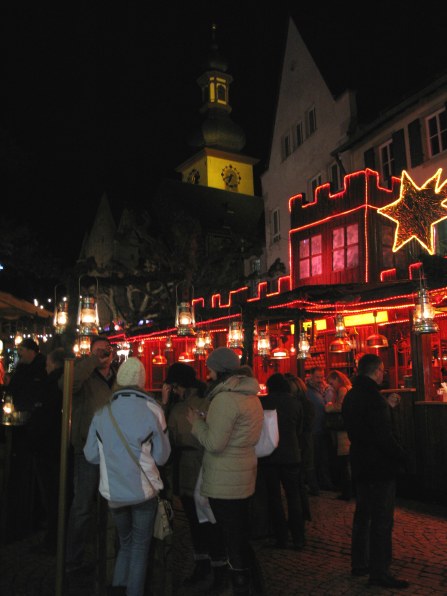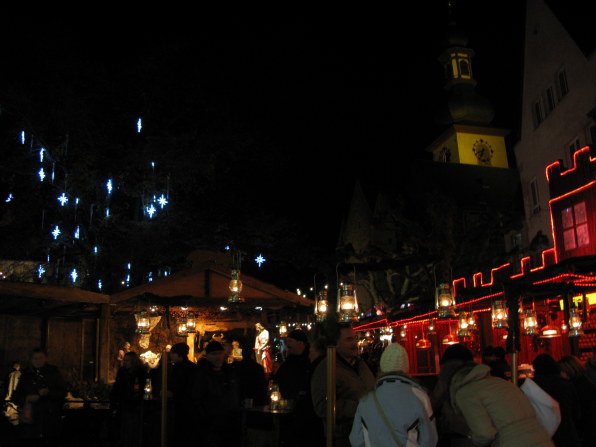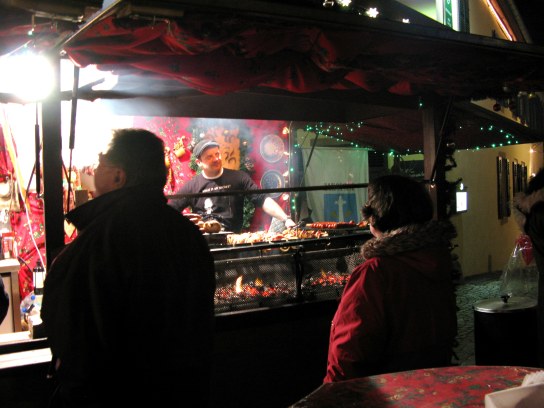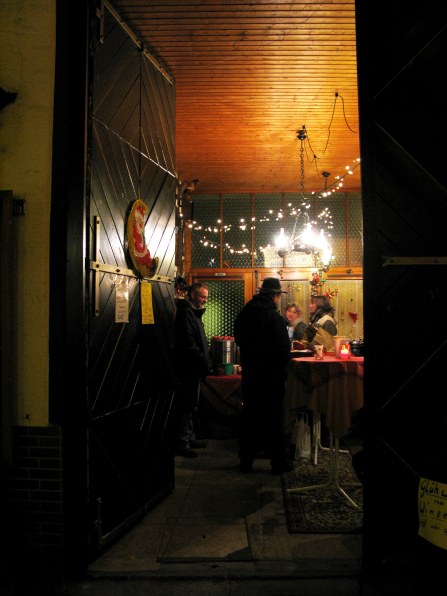 When I moved to this beautiful part of the world I was told I would like it here for they were known for good food, good wine – and singing.
Conviviality is the hallmark of the region and to me it holds a higher status than that of being a World Heritage site. This is a place where you are welcome and can count on conviviality and – well, good food, good wine – and singing.
The Rüdesheim Christmas Market is not just for visitors though, for like all German Christmas markets it is where you meet your friends and while away some memorable times on the banks of the Rhine in a fairytale setting.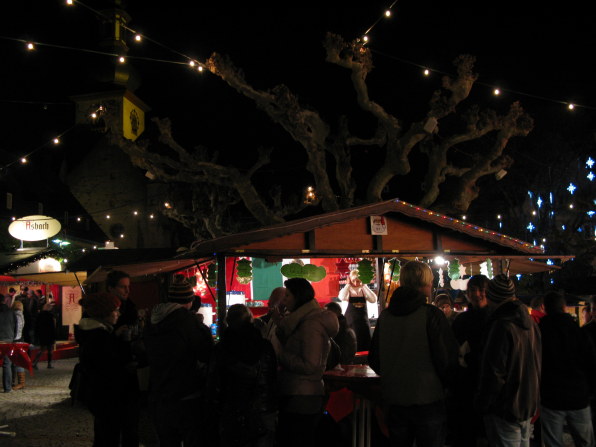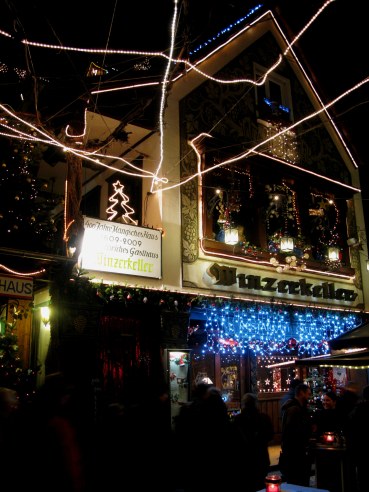 Even if it is a winter where the snow comes after Christmas, and not before, the setting is a mosaic of colour, history – and quirkiness unique to the Rüdesheim Christmas Market.
Quirky?
It's not just at the Rüdesheim Christmas Market that this horse graces the Rhine bank window of a shop that sells all sorts of quirky things to remind you of a visit to a fun and beautiful German wine town.
A gift horse?
Not to be expected at a German Christmas market – but here at the Rüdesheim Christmas Market you can shop in a yurt for traditional crafts from the steppes.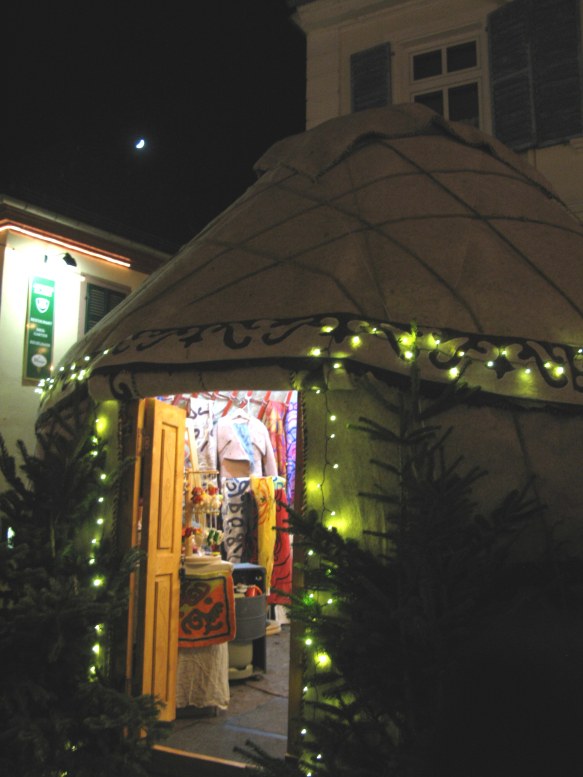 Another part of that quirkiness is the special and clearly advertised elf stopoff .
After all that work getting Santa ready I should thinks the elves work up quite a thirst, so why not stop in with the rest of the world for a good drink of local brew or Glühwein on a quick visit to the Rüdesheim Christmas Market for, as the German proverb says:
Water quenches the thirst
but doesn't teach you how to sing.
You could park your reindeer close by and stop off for a few pints and a few choruses and it would all be well in keeping with the season.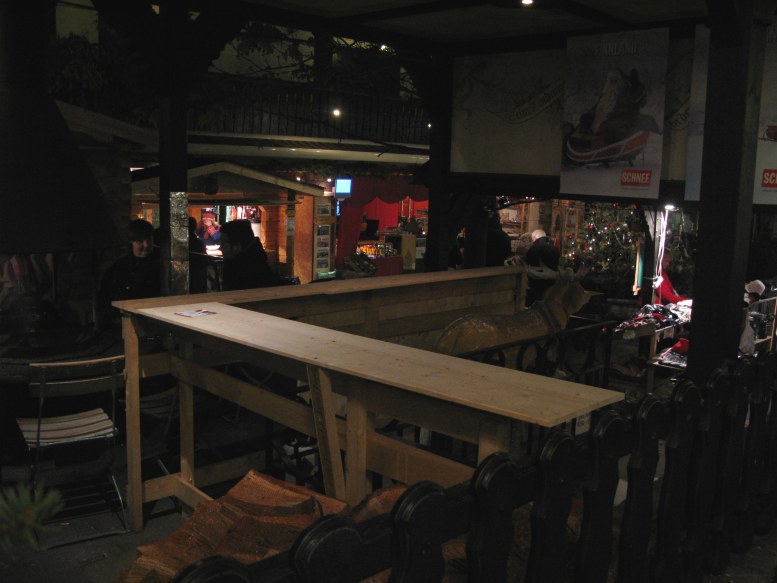 There is even a small area called Children's Paradise where the little ones can get into the fun of the season – but not when I was there which was well past the bedtime hour for young people.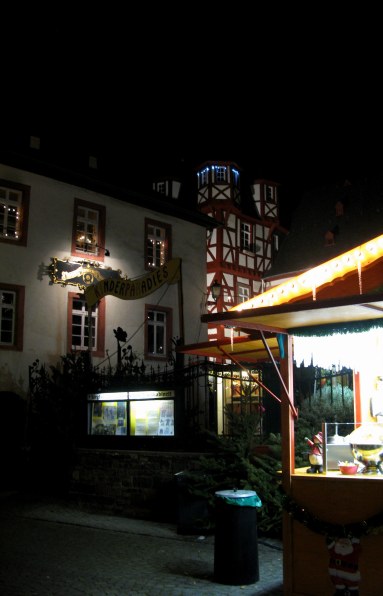 This was an ideal time for the parents to buy something for Christmas that would become a much loved family heirloom: a toy hand-crafted in Germany bought from the magical Rüdesheim Christmas Market.
Perhaps a carousel?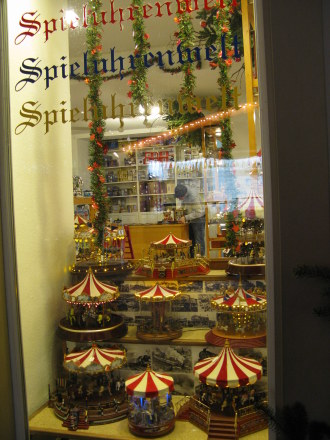 Or even a snow globe in the shape of a retro TV set – or within an old boot – or a skating rink on which the skaters glide effortlessly, or a famously branded bear, or a wood carved revolving music box?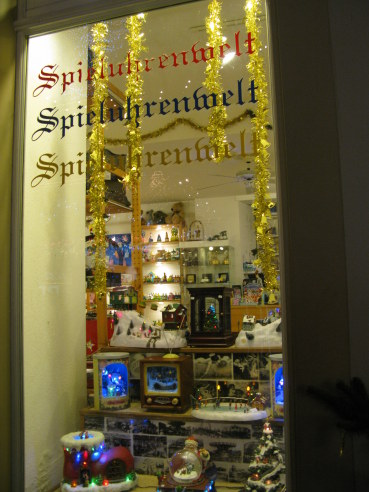 If the circus is part of your childhood Christmas memories, then this is the toy shop where you can immortalise those images.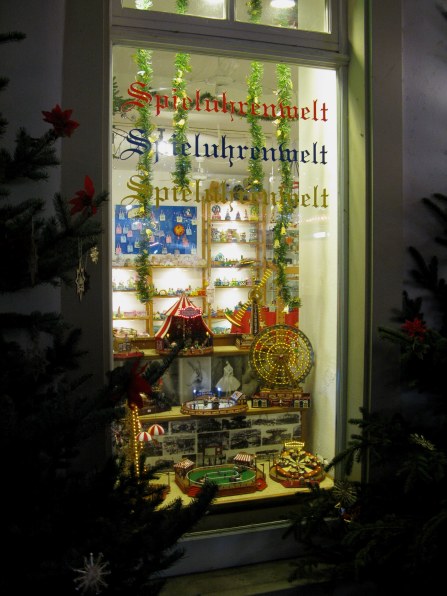 There is so much to choose from at the Rüdesheim Christmas Market – whether from the market stalls or from gifts shops or art shops or wine shops or chocolate shops or hat shops...it is a mosaic of lovely things in a dreamlike setting.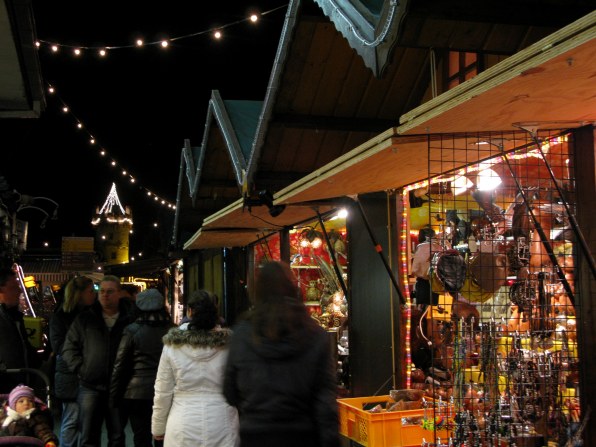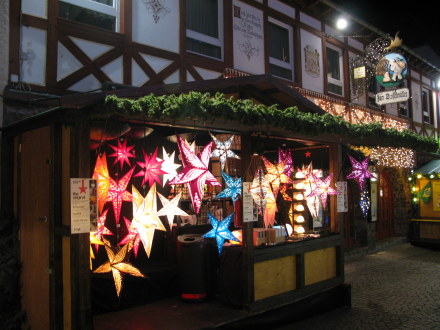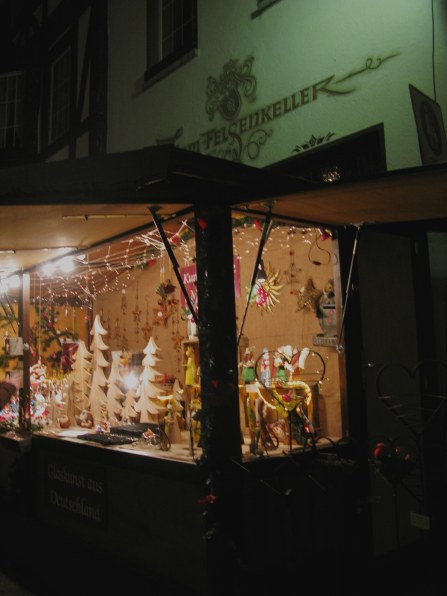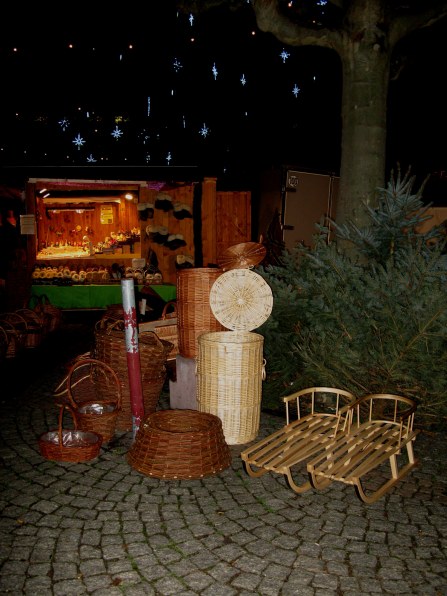 My Pompidoo camera bag was easily sitting on my shoulder in its festive red when I spied one of my favourite stalls- the wooden animals!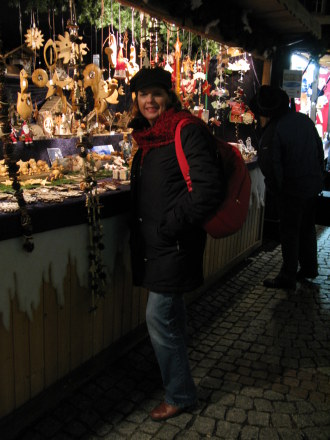 Even Santa fancied the Pompidoo red camera bag .
This Santa at the Rüdesheim Christmas Market had very taking ways and I had to gently reclaim it!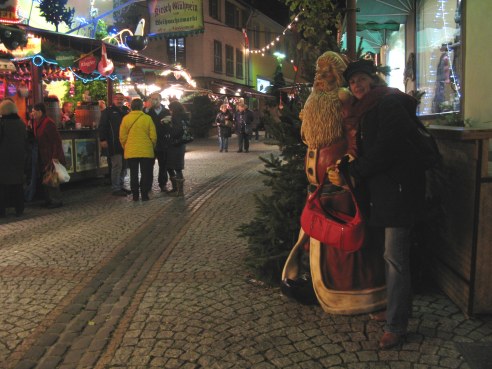 Like all Christmas Markets in Germany there is so much to enjoy just by strolling and soaking up the atmosphere.
I find myself loving the opportunity to window shop.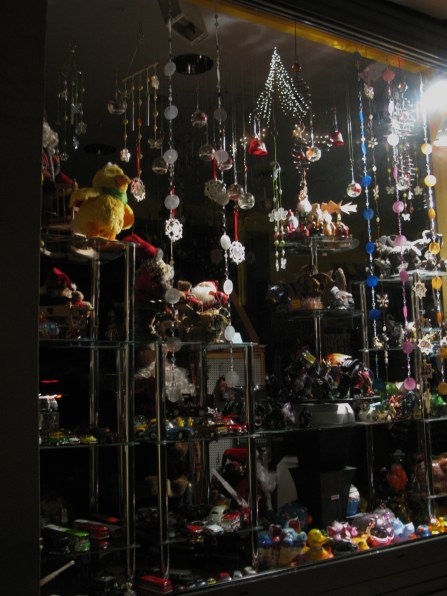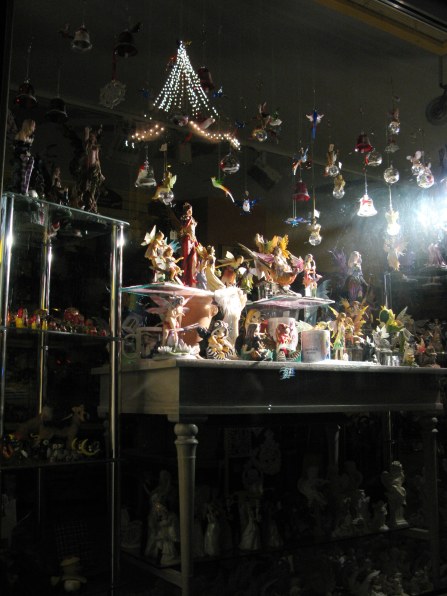 My memories of the Rüdesheim Christmas Market are vivid.
If you cannot plan a trip there yourself, I hope you travelled happily alongside me in a short trip of a very special nature – and may Christmas always live in your hearts.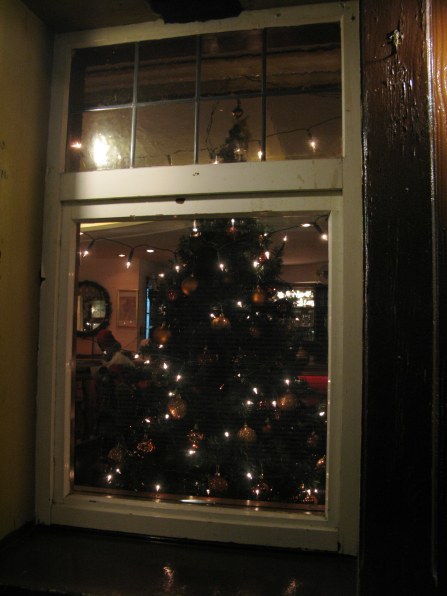 It's not just at Christmas that we should treasure the happy memories of times shared with those we care about, of laughter, wine, bubbles, food well-shared, and perhaps a song and a silly game.
Leaving the Rüdesheim Christmas Market I was smiling about the magic that this ancient city beside the Rhine adds to an already magic time.
Whether you read this at Christmas or when dreaming of it, I hope this vignette warms your heart too.
Even if you don't celebrate Christmas, you too can celebrate its warmth and goodwill.
In the words of Dr Seuss:
Christmas will always be
as long as we stand heart to heart
and hand in hand.