Havana street water-skiing
Travel brings delight in the everyday life of new places
Freya Stark, the remarkable British traveller and explorer of the Middle East and travel author, who left us a legacy of true adventure and discovery, was quoted as saying:
Travel does what good novelists also do to the life of everyday,    
placing it like a picture in a frame or a gem in its setting,
                             so that the intrinsic qualities are made clearer.
Travel does this with the very stuff that everyday life is made of, giving to it the sharp contour and meaning of art.
One such event for me to frame in this way happened on a wet Havana day, when the troubles of everyday life were put in perspective by a cameo story that unfolded before me.
It is one I call Havana street water-skiing 
Monsoon rains  flood Havana streets

The drainage system of Havana has long since stopped being able to cope with torrential rain, and this day proved the point.
We were travelling back from dance lessons and saw these Havana school children pausing to pick a way across the flooded street.
Mothers carried their primary school aged children above the water as it backed up from the flooded drains.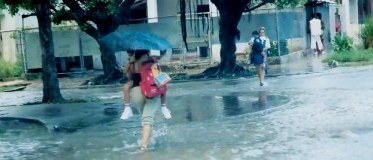 A bus swished around the corner.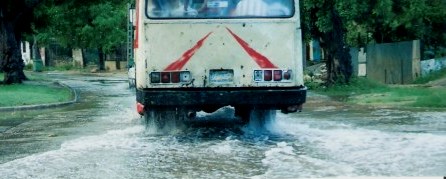 Opportunities for spontaneous play are always around the corner


As if they had been waiting, suddenly two young lads appeared and grabbed the bus bumper bar, using it to 'water ski' behind.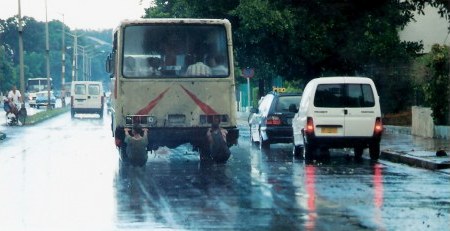 It was good sport and naturally needing to be shared.
Spontaneously, with no beckoning, two other lads joined in.
On the higher part of the road there was not that much water – just enough for them to keep scooting along.
Then came the corner - and yells of delight as they were dunked in the deeper water and backwash.
Havana street water-skiing has the same propensity to dunk you as any other form of water skiing.

Street water skiiing in Havana: delights shared
by participants and watchers alike

When you look around you, life is full of such stories and they give even the loneliest person some share in the life of others.
For a moment when you come across these cameos, you somehow connect with the spirit of those you are watching – and emerge the richer for the experience.
In the van travelling behind the bus where we saw the exuberance of youth and the absolute delight such a simple activity brought, several of my dancing colleagues uttered cross "tsk, tsk" comments, tut-tutting about risks.
They were being terribly correct and self-righteous about how dangerous this was, and how it should be illegal.
It made me grieve for any children they might later have.
Perhaps because my childhood was laced into colour by similar delightful activities, it reminded me of Kate Hepburn, who broke most of the rules.
As she said:
If you obey all the rules, you miss all the fun.
---
More Pages on Cuba here:
Havana pages
Agricultural Fair
The Art of Dominoes
Havana Back Street Rambles
Capitol Building
Havana Classic Cars
Creative transport in Havana
Malecón - Fish and Philosophy
Havana Angels
Havana Grandeur
Political Demonstration

Trinidad de Cuba pages
Palacio Cantero Museum
Trinidad de Cuba

Remedios
Remedios churches
Parrandas & Pedlars
Other Cuban pages
Cienfuegos
Almendares River Voodoo
Backroad Travel
Bay of Pigs
Viñales - Pinar del Rio