The
Malecón



Fish & Philosophy
The Malecón is Havana's living room

The Malecón is Havana's armchair from which to watch one of the most regular and colourful of all performances - sunset in the tropics.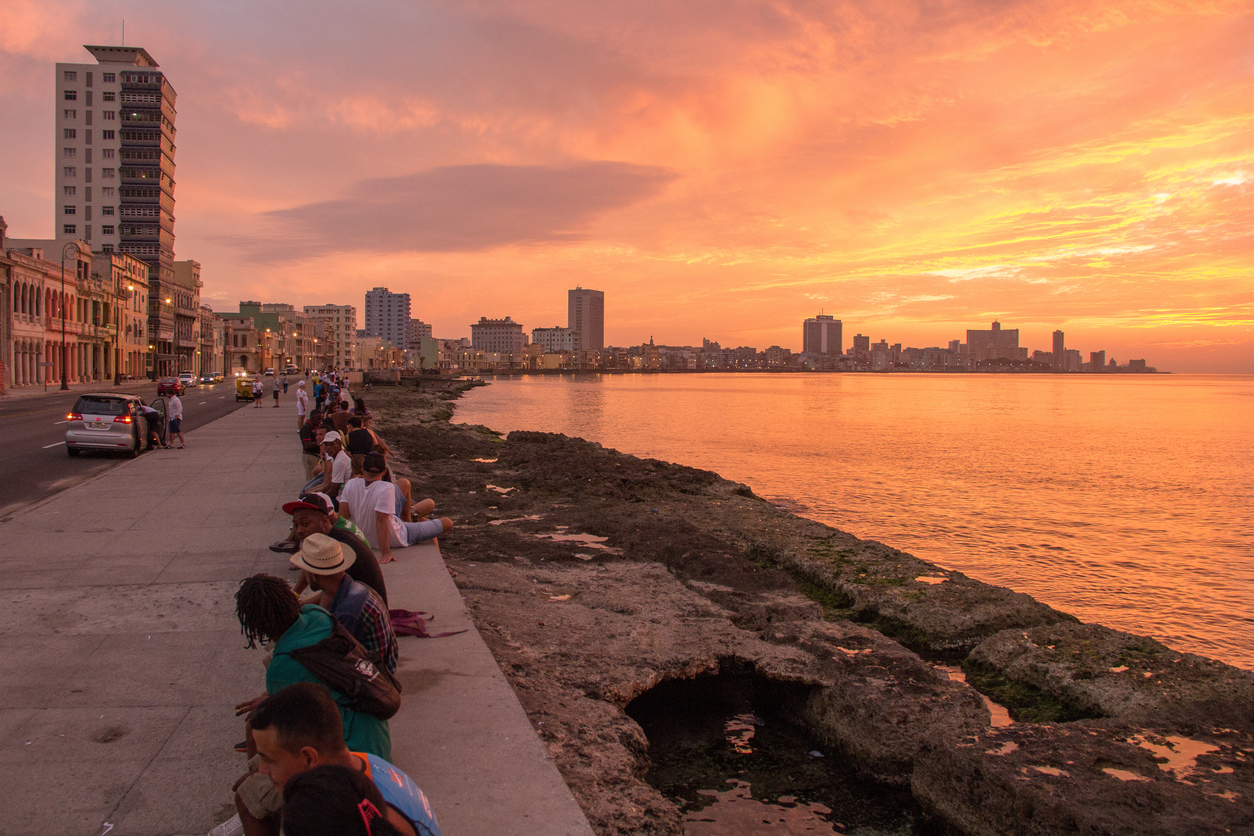 This is Havana's living room.
It is where people come to walk, to sit, to lie in the arms of their lovers, and to talk.
Often I came here just to sit, breathe the sea air, inhale the beauty of the place, and not really think of anything.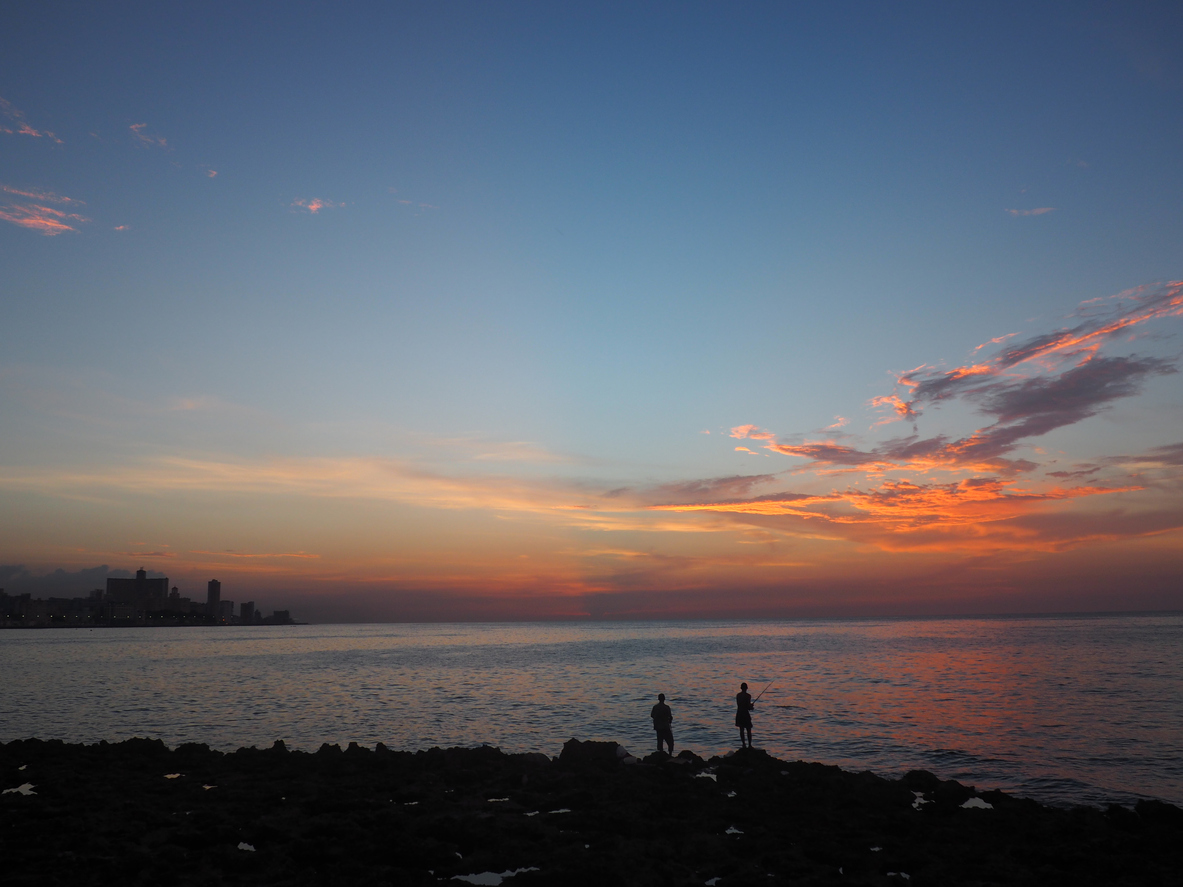 My love affair with Havana began on my first trip with my Australian tango and salsa teacher and fellow students.
We came to learn Cuban Salsa at the National School of Arts and some of us left permanently changed: enriched, and with a never-to-end love affair with Cuba and its people.
One of my friends once asked what kept drawing me back and my answer was simple. Here, you can be absolutely yourself. No window dressing – because here window dressing only counts in windows – and not very much there either!
I like this passage from William Least Heat Moon in Blue Highways: A Journey into America
for it resonates in truth to me.
What you've done becomes the judge of what you're going to do - especially in other people's minds.
When you're travelling, you are what you are right there and then.
People don't have your past to hold against you.
No yesterdays on the road
---
Books for a thoughtful traveller on the Blue Highway

Least Moon took two thoughtful books with him on his travels in his green van which he christened "Ghost Dancing": Walt Whitman's Leaves of Grass and Black Elk Speaks by John D. Neihardt.
I probably would have also brought along John Neihardt's other classic Lame Deer, Seeker of Visions. It would help me look at life from a more holistic perspective.
---
Cuba - a fertile medium for philosphical thinking - bred on the

Malecón
Brief times with my Cuban friends showed the focus on what is important in life.
In Havana  I spent a lot of time on the Malecón with them.
I heard the stories of their lives, told in matter-of-fact sentences.
Much of what I learned on the Malecón helped me more than seven years later when on another trip I travelled with Cubans on an unofficial  month with no plan adventure through the countryside of Cuba.
You can read about it in my book The Cuban Approach. You will find it at my Amazon author page here

---
Philosophy is fine - but fish feed the empty places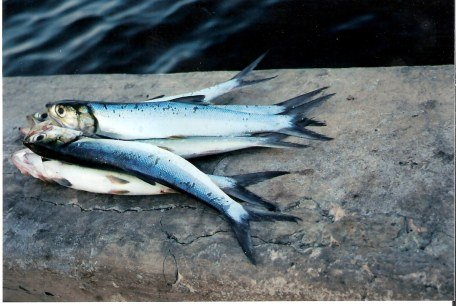 Understanding more of their lives I felt obligated to do something for my Cuban friends.
Hopefully, in some small way I made a difference.
Whenever I came, I brought simple over-the-counter pharmaceuticals, clothes I planned to leave behind, once even a Nebulizer – a machine that supplies asthma medication in a fine mist – and essential for those with severe asthma (Credit to Qantas who waived the weight restrictions so I could bring it), plus various practical items including a telescopic fishing rod and Johnson reel with hooks and lures, lead weights, and small pliers in a small but efficient tackle box.
Fishing is not just sport. It is a very important supplement to the table and so young and old gather along the Malecón to fish.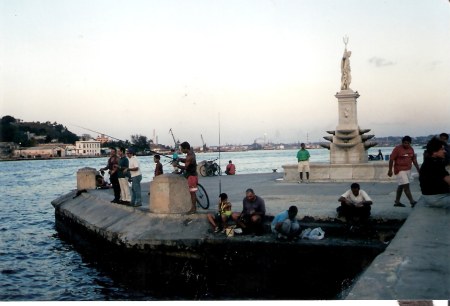 Another favourite spot is beneath the fort at the mouth of the Almendares River where it empties into the Straits of Florida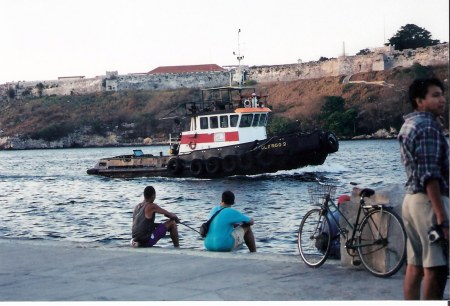 Either way, it is not a bad way to go shopping for dinner.
The
Malecón
as viewed from above, with the
Hotel Nacional
reflecting former pre-revolution graciousness while surrounded by the utilitarian boxes that followed
The best view of the whole bay along which the Malecón forms a barrier between sea and land came from an ugly skyscraper which I found to my amusement to be the roost of vultures.
As I was told it had formerly been residence for Russian workers, I wondered if there was any connection.
The Malecón, the Havana Sea Wall, curves 7km (4.3 miles) along the bay. Its official name is Avenida de Maceo and along it, faded pastel  façades dream back to grander days.
Not just a pretty face, when angry seas try to lash the city, the Malecón is Havana's first line of protection.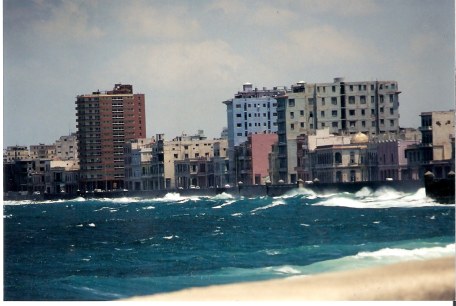 Social hub and bar, a place of friendship and lovers - the Malecón
is woven into Havana life as

both a place to dream and to share loss of hope

It is a main gathering point - the social hub.

As well as the fishermen, you see lovers cradled against each other, children at play, friends gathered together, people alone gazing at the sea and the horizon as they dream their dreams and think their thoughts - clearer for the sea air.

Once we passed a group of young men drinking the low quality rot-gut rum more readily available to those with limited funds than the better quality rum I could afford. They were singing and dancing to music from their boom box.

As we passed, one of my Cuban friends became quite thoughtful, as he said.

"That is the tragedy of Cuba.

For young men - no job, no house, no ability to build a family place of their own – just their friends, and a bottle of rum on the Malecón."

I think it was an even sadder statement in Spanish!
On guard on the
Malecón
As a backdrop to these snapshots of Cuban life, the Greek God Poseidon seems to be on watch on the Malecón overlooking the sea traffic as the sun sinks.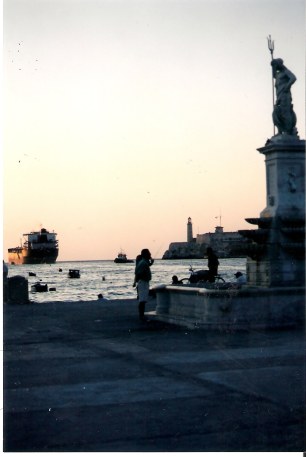 A mounted José Martí watches over those on shore.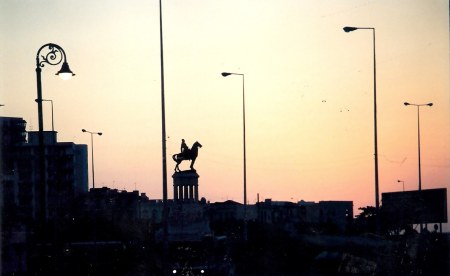 ---
How closely philosophy and fish are intertwined in the fabric of Havana life is reflected in so many Malecón memories.

In thinking about fishing and philosophy I realise that one of these activities is definitely more financially rewarding than the other.
In the words of Patrick F. McManus
Scholars have long known
that fishing eventually turns men into philosophers.
Unfortunately, it is almost impossible
to buy decent tackle on a philosopher's salary.
Havana pages
Agricultural Fair
The Art of Dominoes
Havana Back Street Rambles
Capitol Building
Havana Classic Cars
Creative transport in Havana
Havana Angels
Havana Grandeur
Political Demonstration
Street Water Skiing
Trinidad de Cuba pages
Palacio Cantero Museum
Trinidad de Cuba

Remedios
Remedios churches
Parrandas & Pedlars
Other Cuban pages
Cienfuegos
Almendares River Voodoo
Backroad Travel
Bay of Pigs
Viñales - Pinar del Rio
---