Paris Food

Paris reflects the French passion for great chefs & great food - so of course it is celebrated with the Flag Carrier airline

Georges Blanc is one of the great chefs of France .

It seems typical of the French respect for food that Air France provided an internship for Georges while he was undertaking his hostelry studies.
In this capacity, he travelled around the world with the airline before winning his 3 Michelin Stars.

Georges Blanc's quotation about what makes great food reflects my own.
Happy and successful cooking doesn't rely only on know-how;
 
it comes from the heart, makes great demands on the palate,
 
and needs enthusiasm and a great love of food to bring it to life.
In Paris, this love is reflected everywhere food is involved. Here, the corner store is art - not a replica of another chain store with clinically stark arrangements of shelves.

For example - the spice shop and restaurant Hediar

Hediar - typical of Paris's love of food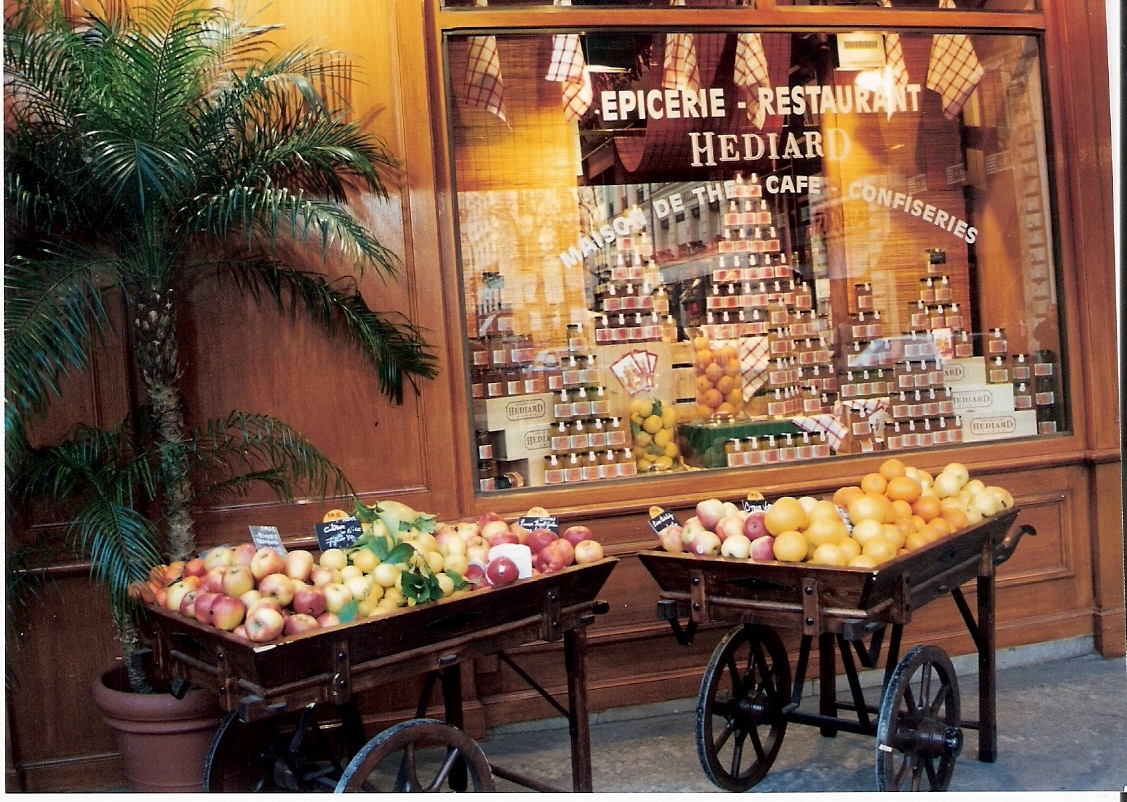 Hediar is an experience of sight and smell.

It is carefully laid out so every colour, texture and ambiance.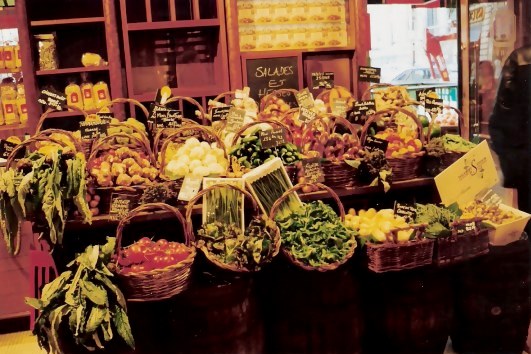 Fresh vegetables and herbs wait for you under looped garlands of dried peppers.
The art of the patisserie - creating jewels of Parisien food

Why are the French not fat?

It is has been said that it is because of the order in which the food is eaten.

Perhaps…but maybe it is just that food that looks like this…


…is made with so much love and care that this transfers all that good energy to those who devour the end result?

Or maybe it is because the French, like most continental Europeans, take the time to enjoy dining and not just stuffing food down one's throat in a hurry.

'Take away' food in Paris has added dimensions.

Who wouldn't be tempted by these delicatessen delights?


As Frank Lloyd Wright said:

Dining is, and always was, a great artistic opportunity.

In Paris the artistry of food  is understood

The Paris mecca for chefs: E. Dehillerin - a supply shop serving Paris chefs since 1820
For the cooks among us, here is an insider tip about bringing home a souvenir from Paris. Make it something unique: something to do with Paris food.

You can find a rich assortment of copper pots and moulds, all sorts of useful and top class knives, and a wide range of specialty kitchen utensils at E. Dehillerin - between the Louvre and Center Pompidou.

Since 1820 this business has been in the same family, selling to the chefs of Paris from the same location, on the corner between 18 and 20 Rue rue Coquillière and 51 rue Jean- Jacques Rousseau.


Even looking in the windows is captivating.
The giants supporting the doorway across the road are nicely reflected.



The windows almost demand that you enter.

This one tempts you with an assortment of copper pots and utensils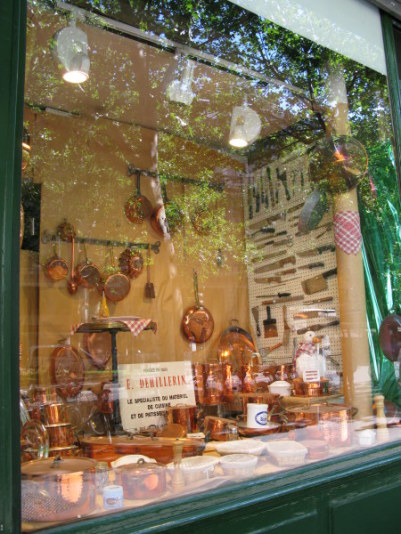 Inside, it is a treasure trove for anyone with an interest in cooking.
There are all sorts of copper utensils and moulds for every purpose.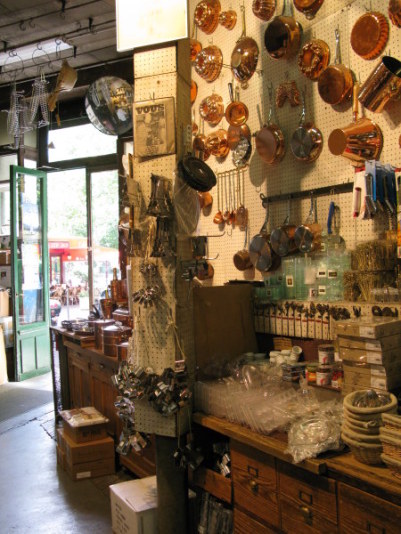 The  narrow aisles are stacked with basins, funnels, whisks …whatever a cook might fancy.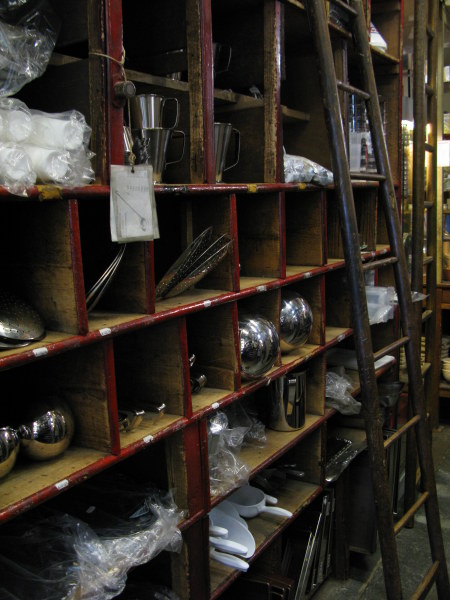 Patisserie pans are things strung from the ceiling.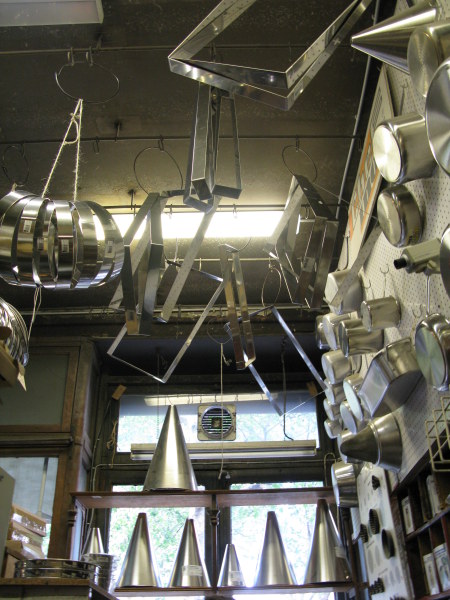 Moulds are displayed on the walls.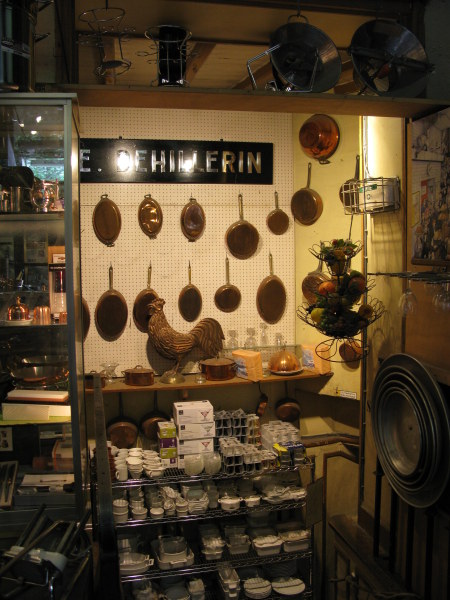 All sorts of specialty items are arranged on the shelves and in every corner and aisle of this shop for chefs in Paris.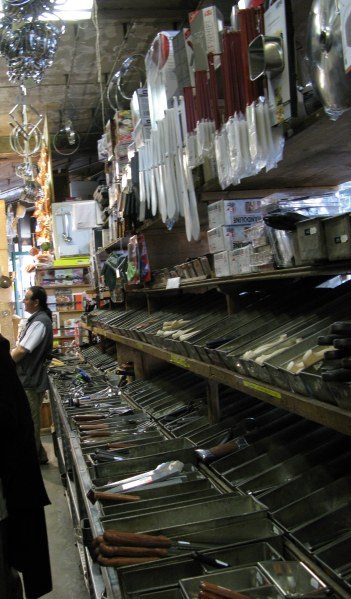 I had been searching for a particular sort of knife to cut slivers of orange or lemon rind into long circles which I could then "candy" in sugar and use for decorative desserts.

Not only did I find one – but two: one for paring up and down –  and the other to pare around, so to speak. They are not an expensive souvenir, but special.

If Paris isn't on your itinerary this year, you can share a bit of the magic by catalogue shopping with Monsieur Dehillerin.

For every art there are special tools, and for any cook – professional or otherwise - the marvellous cooking utensil shop of E. Dehillerin is a good stopping off point – together with the refreshments available across the road at the Taverne Karlsbräu.
Once you have exhausted yourself with exploring this off-the-beaten-trail attraction in Paris, you may feel the need for refreshment. In that case just stagger across the road with your parcels to where one of the great 'Open All Hours' restaurants of Paris awaits you: Taverne Karlsbräu  - with their specially brewed beer for the beer aficionados.

An 'Open all hours' restaurant serving great Paris food - but it's German-Paris food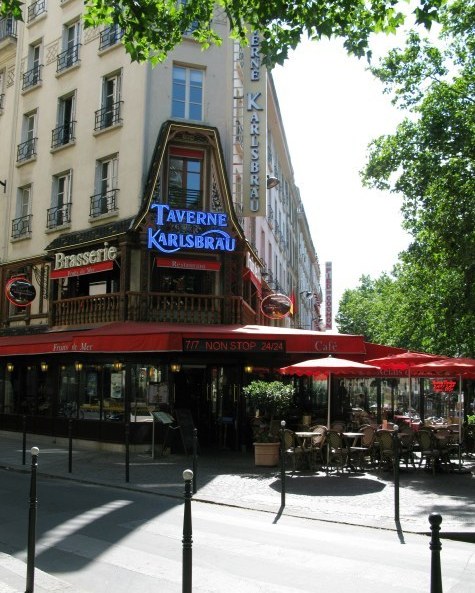 I used live not far from Alsace on the German border and was known to make day trips.
For those of you who can't do the same – Taverne Karlsbräu offers regional cooking that is special.
They even offer recipes for those who can't come in person.
My last visit made me remember a quote that was apparently printed in Vogue Magazine in 1956. It  is attributed to Harriet Van Horne, the New York syndicated columnist whose descriptive coverage of the 1960s Kennedy:Nixon debates landed her on Nixon's list of top antagonists.

I never read her political coverage, but from this favourite quote of mine, we share the same attitude about life - and she certainly understood cooking:
Cooking is like love.
It should be entered into with abandon
or not at all.

---
For more Paris pages: