Port de Pollensa
Mallorca

Port de Pollensa:

a relaxed coastal resort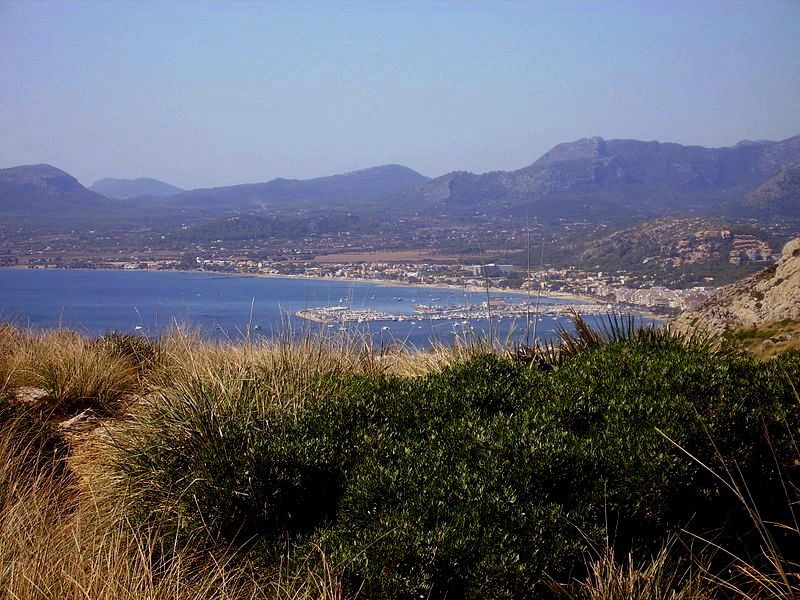 Photo courtesy of Wikimedia: Zairon [CC0] This file is made available under the Creative Commons CC0 1.0 Universal Public Domain Dedication
Lazing peacefully on the northern coast of Mallorca, Port de Pollença (as it is known in Catalan) or Puerto Pollensa (in Spanish), is now one of the secret favourite holiday destinations for those who love experiencing a Mallorca still retaining some of its original character.
The windswept wild beauty and intense colour of sunsets that fades to the most delicate shades make this an area much loved by those whose priority is not to find the next disco.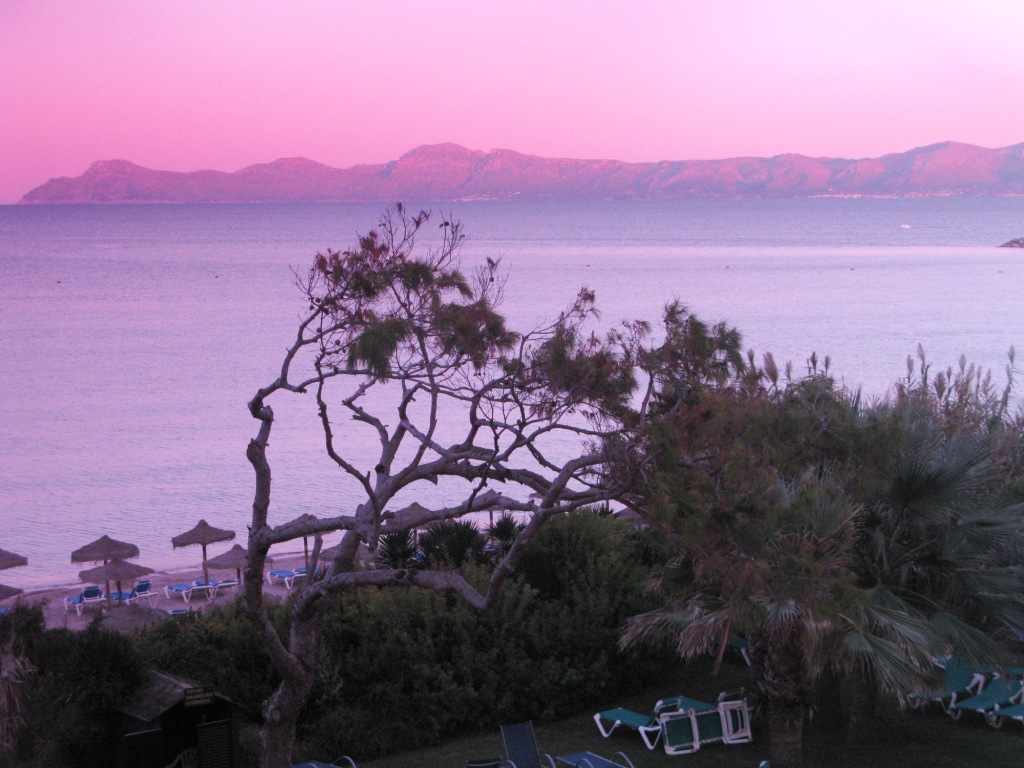 After staying here, this is how Agatha Christie described the view from her hotel as a part of her story 'Problem at Pollensa Bay' :

"... a small hotel standing on the edge of the sea looking out over a view that in the misty haze of a fine morning had the exquisite vagueness of a Japanese print."
These two photos give some illustration of what she is describing.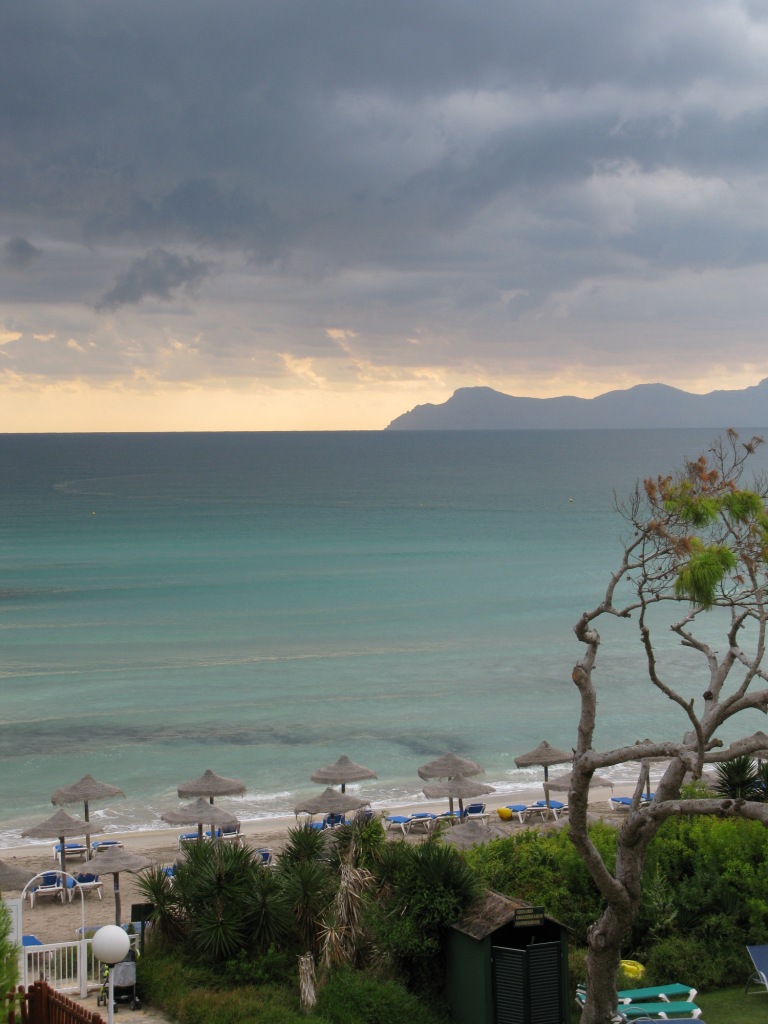 I was brought to Port de Pollensa in Mallorca to heal a wounded heart - guest of a caring friend.
She suggested an apartment attached to a small hotel and I volunteered to be the chef when we were 'in residence' and not off exploring the wilder areas of the island.
Beauty and the sea have a healing power.
Back in Mainz after the trip, I held a memorable 'Broken Hearts Party' - where everyone got a broken heart badge if they could attest to ever having had one.
It was a memorable evening - but that is another story.

Port de Pollensa as wartime seaplane base

This same peaceful bay where we now can relax and rebuild our souls with beauty and peacefulness has a sad history of different types of activity.
This photograph is in the public domain in Finland, because either a period of 50 years has elapsed from the year of creation or the photograph was first published before 1966.
Gone are the days when Germany supported General Franco, and Goering used the Spanish Civil War as a proof of concept for his new force - the Luftwaffe - basing troops of Condor Force at Port de Pollensa.
It was from this beautiful bay that amphibious fighters like this Heinkel HE 59 left to bomb the city of Guernica, as immortalised in the painting of the same name by Pablo Picasso.This is considered to be the first bombing of a civilian unarmed population by a military air force, and brought global shock and recriminations.
Following German reunification, the German government formally apologized to Spain for the bombing and in their statement 'reached out to Spain in reconciliation'.
Gone too, are the memorials to German military men who died in the Civil War – although legitimised by The Pact of Forgetting that was enacted on a legal basis in the Spanish Amnesty Law of 1977. This controversial law was designed to put to rest a past replete with torture, illegal detention, and execution under General Franco. However, in 2007 this was replaced with a historical Memory Law that formally condemned the Franco Regime and gave rights to victims on both sides.
The new law required removal of Francoist symbols from public buildings and spaces – and that meant renaming of many streets.  
But it was not until 2010 that the last of these left Puerto Pollenca.
Inscribed with the names of thirteen German military men who lost their lives while based here, a memorial stone had languished in an out-of-the-way space on the military base. Several days before the 73rd anniversary of the Guernica bombings, the local council finally had it removed, recommending it should reside in a museum in Palma.
Modern day seaplane bombers on the Bay of Pollensa
What does remain is the legacy of the bay being a perfect harbour base for amphibious bombers – but this time they are water bombers of the Spanish Emergency Force. The bay is a perfect place to scoop up their water payload for fire fighting purposes.

Photo courtesy of Wikimedia Commons:This file is licensed under the Creative Commons Attribution-Share Alike 3.0 Unported license No machine-readable author provided. Chisco2 assumed (based on copyright claims). [CC BY-SA 3.0 (http://creativecommons.org/licenses/by-sa/3.0/)]
Having worked for Ansett Airlines that used to fly from Sydney Harbour to Norfolk Island on Short S.25 Sandringham 'Flying Boats', this view captured my attention.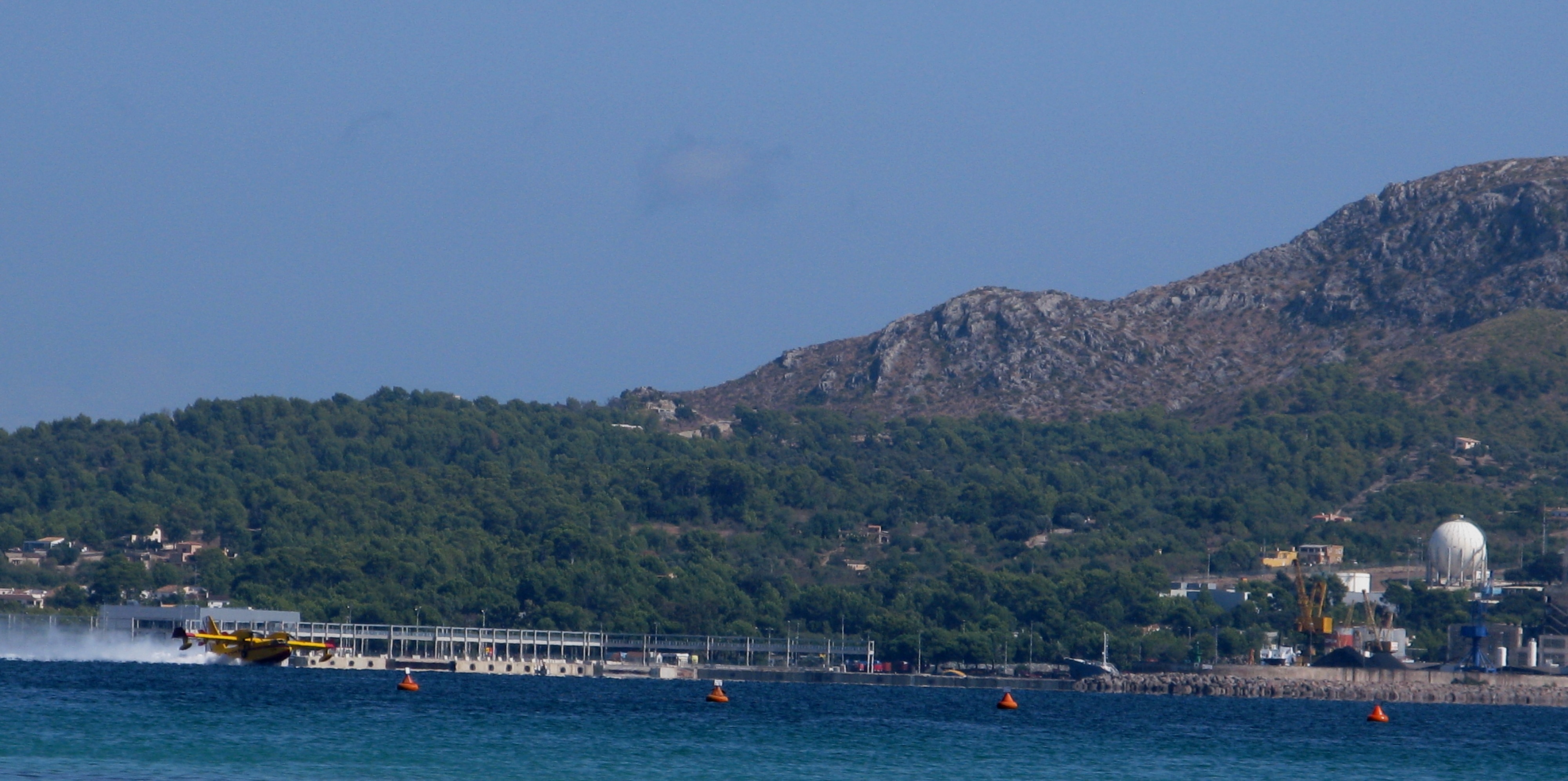 I thought it made a great juxtaposition of roaring power and deep relaxation: the aircraft on practice runs and bathers enjoying the lovely beaches of Pollensa Bay.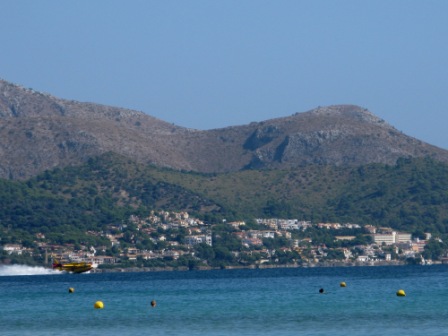 It seems surreal to have the peaceful bathing scene backed by a roaring seaplane, but I was later to learn that you can often see them on Pollensa Bay training runs.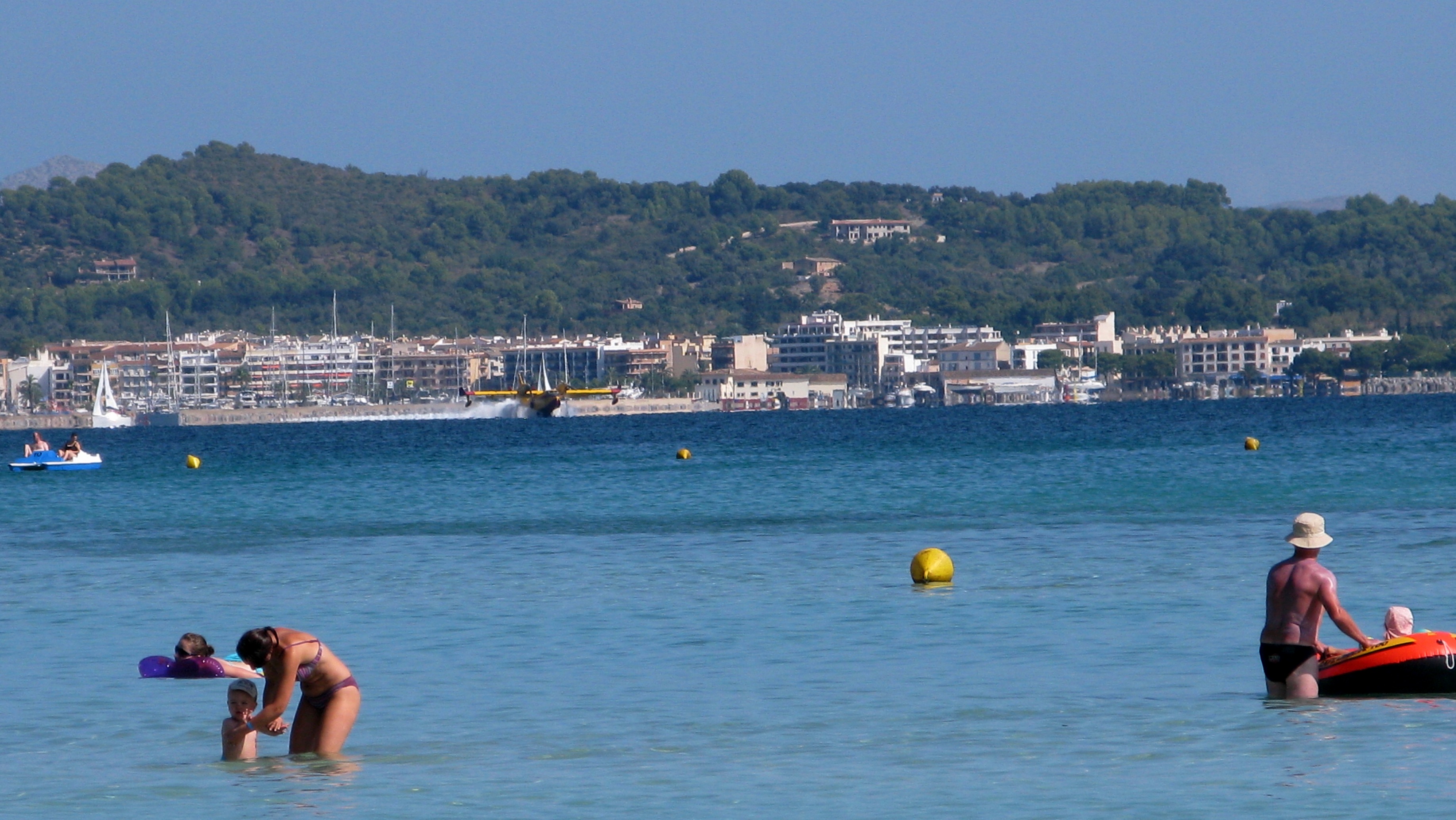 Having watched the specatacle of the water-bomber's departure we headed into town to hire a car.
It was wonderful. We made all the arrangements and were given the keys - no documents - and off we went on trust.
I guess they know it will be hard for you to drive off the island un-noticed, but it was refreshing and indicative of the kindness and opennness of the place.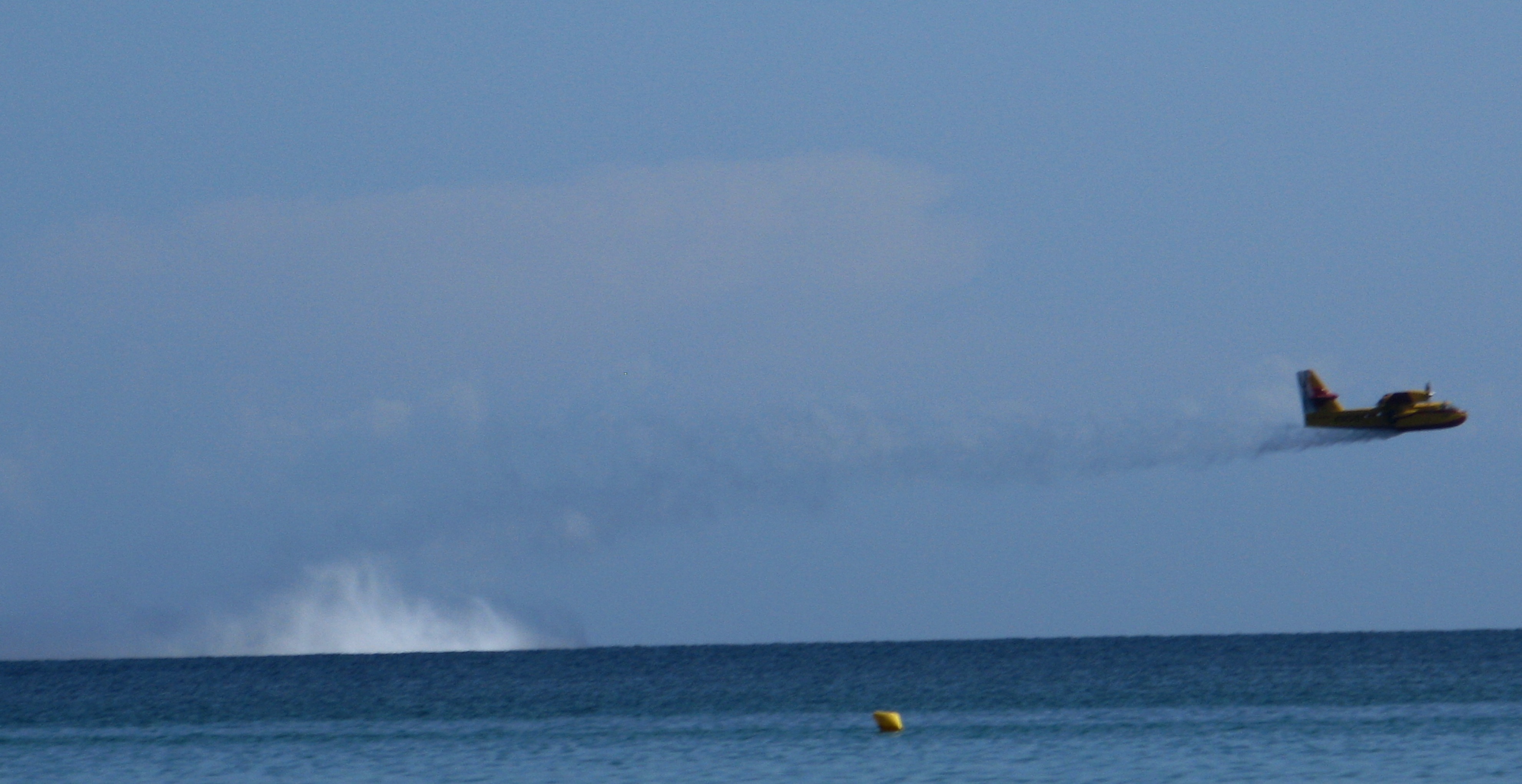 The coast road of north west Mallorca
The Formentor Cape has several spectacular viewing points. In the mist of the rainy weather we encountered there, there was no point in taking photos.
These from Wikimedia show how spectacular the views are in good weather. You can see to Menorca off in the distance to the east and back to the other lobster claw of Cala Fiquera in the west, with Alcúdia bay between.
Photo courtesy of WikemediaThis file is licensed under the Creative Commons Attribution-Share Alike 3.0 Unported license.
Although we later travelled on similar mountain tracks as those zig zagging upwards on the old donkey trails of Formentor, we were glad to be on the new road– especially given the waves of sea mist and rain that made travel 'interesting'.
The views downward were not for the faint hearted or for vertigo sufferers: 300 metres (984 feet)  straight down, and buffeting by fierce and unremitting winds.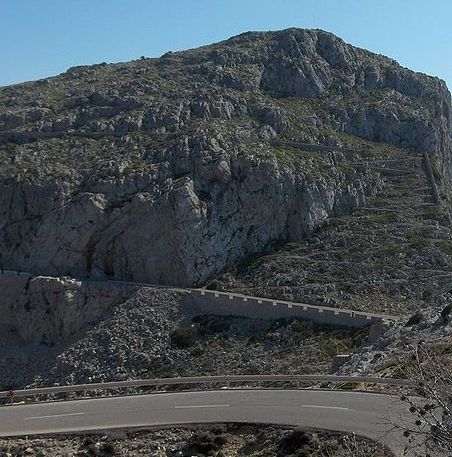 Photo courtesy of Wikemedia This file is licensed under the Creative Commons Attribution-Share Alike 3.0 Unported license.
We set off with the idea of just following our noses in an agreed general direction, my preferred method of travel.

Pollensa Bay is a sheltered bay sitting between the lobster style claws of the north east coast of Mallorca: Cap Farrutx forming the lower claw and the Formentor Peninsular the upper.
So off we set with me as designated driver.The beauty of being in Mallorca in mid-September is that the winding roads are not full of traffic and the rain squalls seem to add character to the drive.
Here, silver sections of sea drifted between sisters of grey.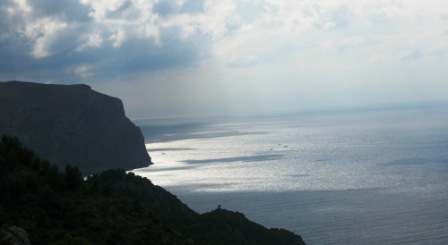 We had decided to head along the Serra de Tramuntana, which is the backbone mountain of Mallorca and containing its highest peaks. It is no wonder that this is the wettest part of the island, and in September the showers were sporadic but frequent.
At this time of year, the road has all the benefiits of marvellous views but few vehicles.
Between the rain clouds, the September sun painted the sea with slodges of dancing silver.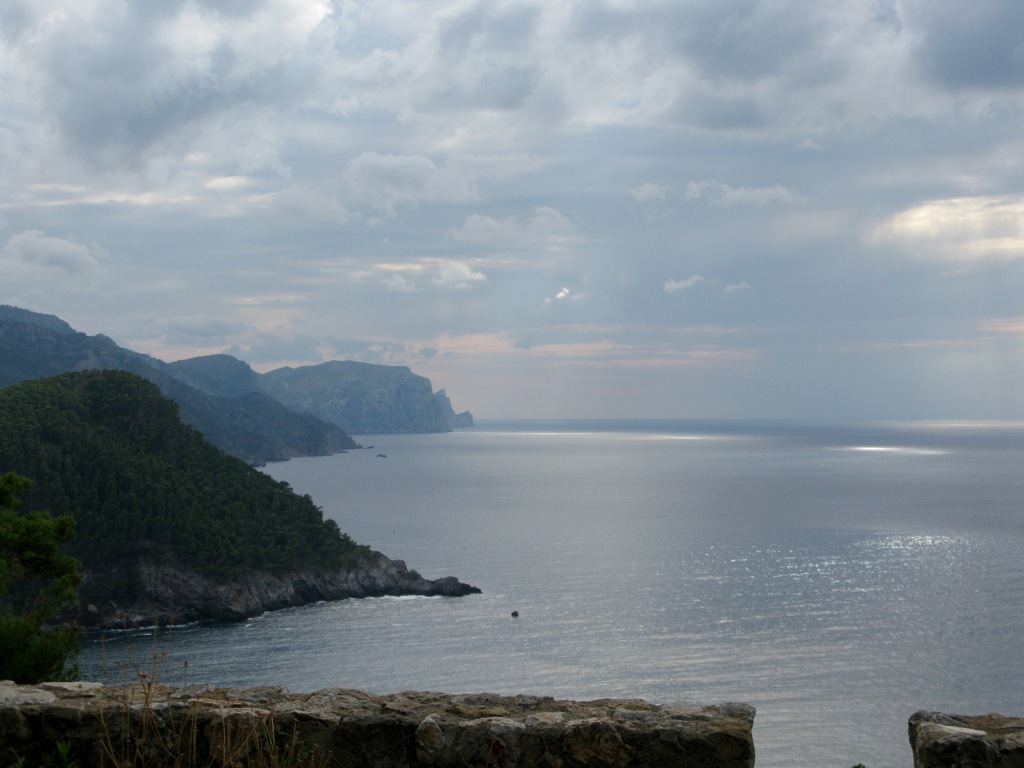 Even as the skies darkened, the sunlight silver seemed determined to paint the dark seas lighter.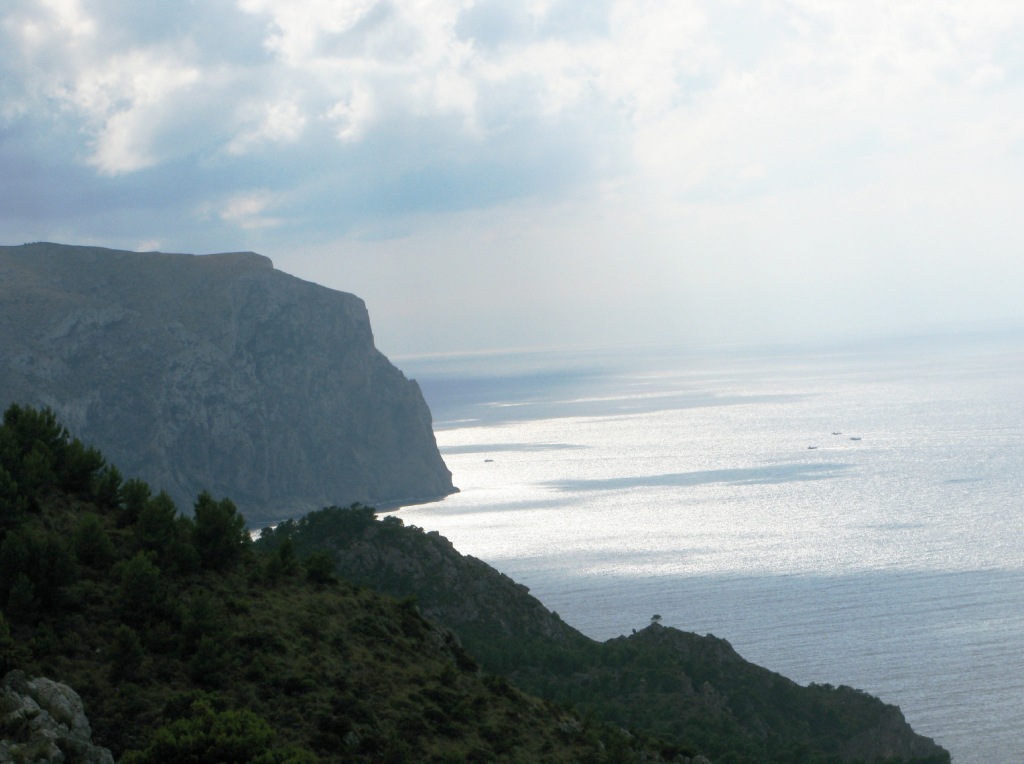 Then as suddenly, with storm clouds behind us, we found ourselves winding along a coastline of blue waters - as if a totally different sea from that of the last curves of the winding road.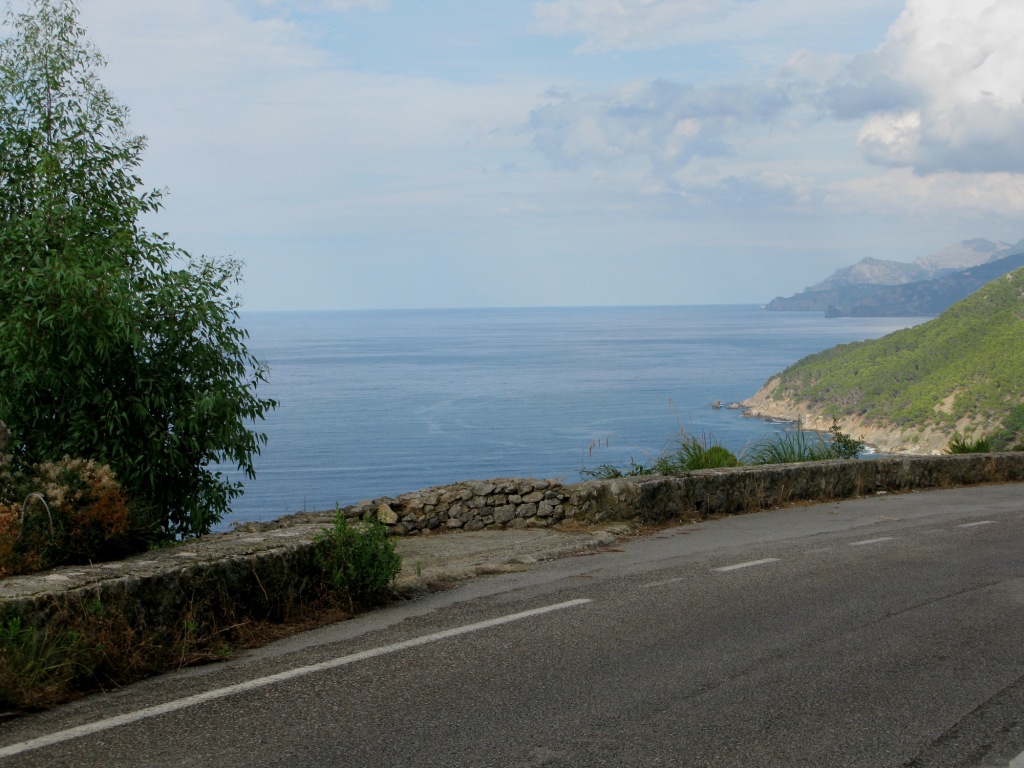 There are occasional small hamlets with spectacular views down the coast and wine terraces that date back to Moorish settlements.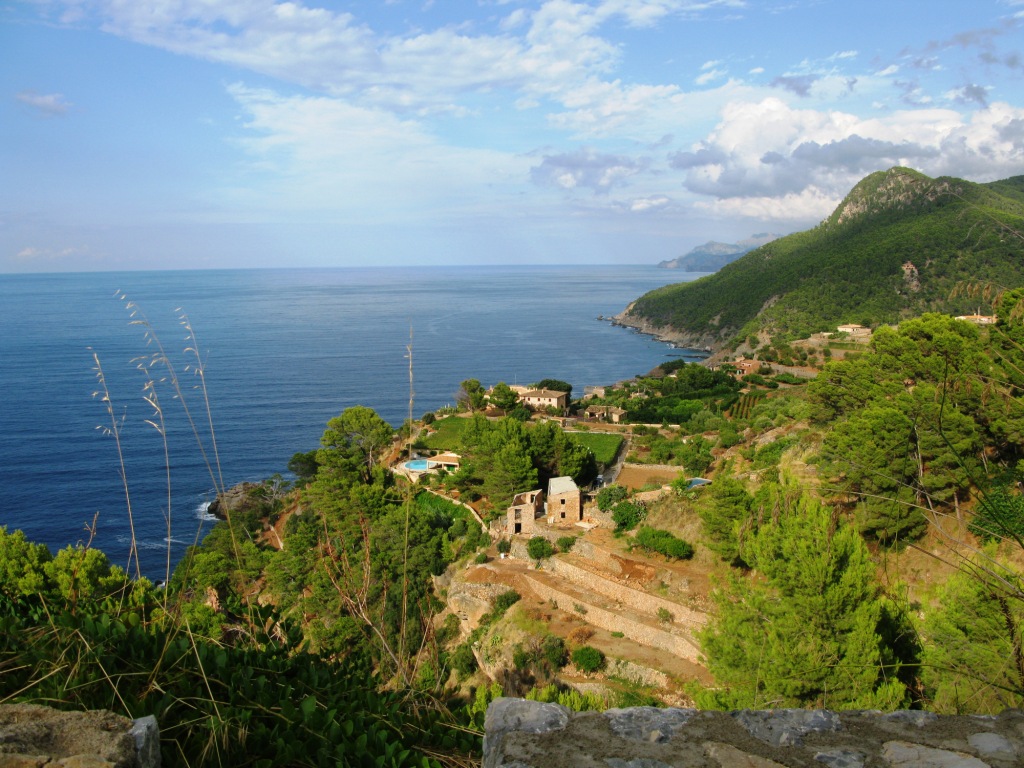 Banyalbufar and its marjades
Mallorca is known for the dry stone walls that harbour as much moisture as possible.
Around the Banyalbufar region there are reputed to once have been over 2000 'marjades' or terraces, mostly for wine, although this was once a great agricultural region producing a wide range of products.
These were all watered by careful use of aqueducts that saved as much moisture from the surrounding mountains as was possible.
The detail of dry stone-wall building has long been perfected in Mallorca, as you see when approaching the tiny village of Banyalbufar.

The coastal road winds right through the centre of town.

Banyalbufar these days has a population of about 600 - mostly Mallorcan.
At least one of these knows how to travel these roads with real delight, as this classic Yamaha motorbike attests. I had to stop and get a close up photo.

For a small pueblo, Banyalbufar has a peaceful and artistic feel, with lovely doors...

... and sculpture of a vineyard worker of the past.

Further along was another sculpture reflecting the agricultural past of this area during its period of occupation by the Moors when the region produced a wide range of market-garden products.
One lady seems to be reaching for the baby held by the other while what looks like a rope of onions rests in her lap.
Looking at an image that recalled a time long passed I thought of what Hippocrates said:
Life is short and art long.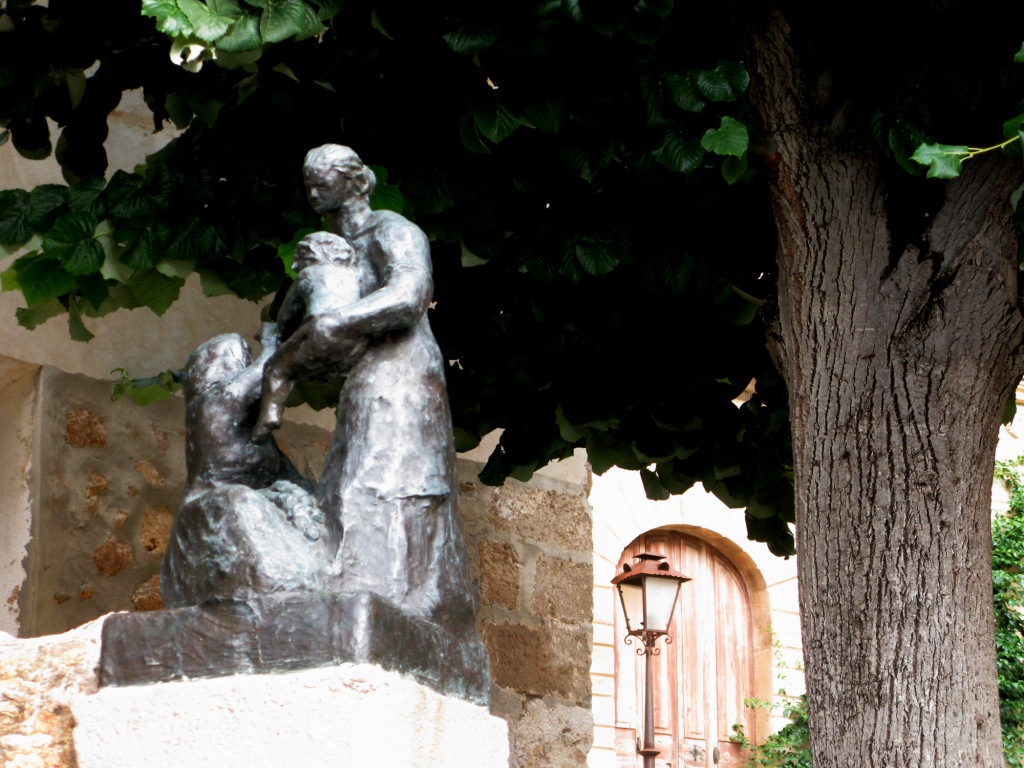 As we left Banyalbafur, a  bank of clouds marked out the coastline as far as we could see.
As we drove along the coast road of north west Mallorca, it was impossible to not feel positive about life and the future.
The feeling is well summed up by a quotation from Jawaharal Nehru:
We live in a wonderful world
that is full of beauty, charm and adventure.
There is no end to the adventures we can have
if only we seek them with our eyes open.